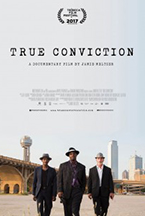 (The Annapolis Film Festival ran March 22-25 in, you guessed it, Annapolis Maryland. We have a slew of reviews coming your way so keep your dial tuned to HtN!)
Three men, wrongfully imprisoned, released years later after their convictions were vacated, gather together to right society's wrongs. They are heroes, navigating obstacles both external and internal as they journey forward to liberate the innocent. Sadly, the road is rough, and success distant. True Conviction, from director Jamie Meltzer (Informant), chronicles their bitter voyage. It's an excellent documentary about a terrible reality.
Christopher Scott, Johnnie Lindsey and Steven Phillips, who served 13, 25 and 24 years, respectively, are our protagonists. Rather than waste the remainder of their lives on anger and revenge, they have chosen, instead, to form a non-profit organization, House of Renewed Hope, that seeks to exonerate others like them, currently in prison. Theirs is an especially remarkable achievement, given what we learn about how they were convicted and how hard their subsequent lawyers had to fight to have the initial verdicts overturned. Our system of justice, it seems, all too often perverts the notion of "innocent until proven guilty." In their cases, that legal maxim was completely flipped. And yet here they are, trying to do good.
The film profiles their own personal histories and that of the other men at the center of two cases we follow. This is strong stuff, raw in its emotional power and brutal in its examination of our courts. I particularly liked the scene where they confront the original prosecutor of one of their clients (an imperfect word for the poor man behind bars who does not pay them): the man's denial of the evidence they present is staggering. Apparently, all that matters is a hunch. Thank God for DNA. And even that can be ignored.
Meltzer is respectful of his subjects, but allows them to emerge as fully realized human beings, which means they are as flawed as the rest of us, though empowered by the grace that comes from righteousness. At some point in the story, bad things happen, and the camera is right there to capture it. A harrowing, vital movie, True Conviction will make you rethink all your assumptions of law and order. If it doesn't, well, you can join that prosecutor on the wrong side of history.
– Christopher Llewellyn Reed (@ChrisReedFilm)