TRIBECA '13: SUSANNA LOCASCIO'S WRAP-UP
I don't know the origins of this, but common knowledge says that it takes ten years to become a New Yorker. If that's the case, the Tribeca Film Festival cruised past that mark last year. Like most of us, it seems to have needed a few growing years, even a few missteps, to become sure of its identity and place in New York's cultural ecosystem. I can't speculate about the institutional changes at work, so I'll instead credit some kind of strange alchemy, fortuitous timing combined with intelligent, thoughtful programming. Whatever the case, the 2013 festival seemed steadier on its feet than ever. I was surprised to find myself so completely immersed, and so enthusiastic, about the films and events. It was an aerobicized Tribeca, leaner, stronger, and brimming with energy and specific intent. The Tribeca Film Festival has begun to fully realize its promise, bringing together scrappy independent filmmakers and industry vets, star wattage and new discovery.
In addition to the films, there were extensive opportunities to learn, from self-reflexive panels on the established industry, to boundary-tickling transmedia projects. Or even chatting with badge-less civilians on the fairly ubiquitous rush ticket lines, who dedicated their most precious currency—time—because they love to go to the movies. And all of this under what seems to be an evolving, very well-funded organization with a passion for films as well as the conversations around them. They got a curmudgeon like me to go to a transmedia event! That kind of says it all. Inspired by this alchemy, here is a somewhat rambling summation of what I enjoyed at the 2013 Tribeca Film Festival.
FEATURE FILMS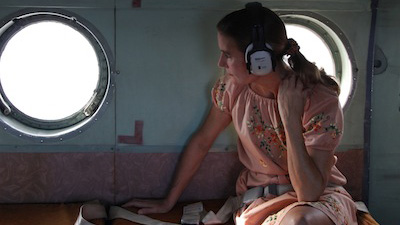 Alias Ruby Blade (Alex Meillier, 78m) — By some strange luck I happened to watch documentaries Alias Ruby Blade and Cutie and the Boxer one right after the other. Both are complicated, modern love stories, a thematic coherence that was entirely accidental, especially since the characters they follow and the terms of their relationships could not be more different. Alias Ruby Blade is the story of Australian woman Kirsty Sword, whose travels in Indonesia inspire her to become an activist in support of East Timor's struggle for independence. When resistance leader Xanana Gusmao is imprisoned, Kirsty becomes an operative (aka Ruby Blade), smuggling communication and supplies between the jail and Timorese leadership in Jakarta. Under these tense, dangerous circumstances Kirsty and Xanana fall in love, an innocent romance built on small gestures, and captured in the videos, photographs, and gifts (bonsai trees! paintings!) they exchanged. This delicate relationship carries them through the violence, turmoil, and escalating global involvement, to East Timor's eventual triumph and establishment as a nation. Alias Ruby Blade is a testament to the strange, universal language of love.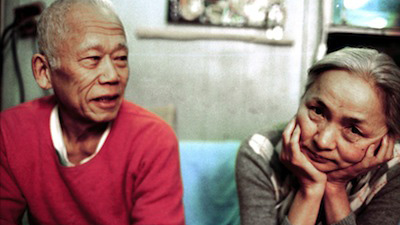 Cutie and the Boxer (Zachary Heinzerling, 82m) — Despite its sweet name, Sundance winner Cutie and the Boxer is a much more sobering story. It follows the lifelong relationship between Japanese artist, provocateur, and recovered alcoholic Ushio Shinohara and his wife Noriko. She came to New York at the age of 19 and wandered into his studio; forty years later they are still sparring. Now 80 years old, Ushio still creates his signature boxing paintings, lacing up gloves and pummeling the canvas with admirable strength. Noriko is his reluctant assistant and caretaker, and a talented artist in her own right, the equal that Ushio in myriad ways fails to acknowledge. If Noriko's bitter complaints have worn out the grooves, there's still a tender, tough affection between them. Despite brushes with fame, fortune, and Warhol, the Shinoharas cling to the fringes of the New York art world, ensconced in their haphazard DUMBO loft, and money is a constant concern. The film ends with a hopeful note, a gallery exhibit where both of their work is shown, aptly titled "Love is a Roarrr." But director (and cinematographer) Zachary Heinzerling has made a cautionary tale for any artists or lovers who move to New York with stars in their eyes. How will that plywood palace in Bushwick look to you in forty years?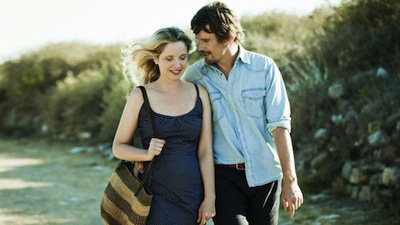 Before Midnight (Richard Linklater, 108m) — Questions of relationship were also the basis for some of the standout narrative films of Tribeca. Richard Linklater's anticipated Before Midnight lives up to the standard set by the trilogy's earlier films, Before Sunrise and Before Sunset. It picks up the story of spirited Parisian Celine (Julie Delpy) and scruffy writer Jesse (Ethan Hawke), and continues in what is now the series' established structure: their relationship revealed through languid, tracking shots of clever conversation. At this point Celine and Jesse have been together for years, and are on vacation in Greece with their daughters, and the sun-drenched landscape provides a somewhat unlikely backdrop to their increasingly fraught exchanges. It's amazing how scripted these films are given how organic they feel. A couple fighting in a hotel room is usually boring to the point of unwatchable, but Linklater, Delpy, and Hawke have found a rhythm in the visual and scripted language that is a highly intelligent, choreographed version of life. If Celine's angry rants elicited a knowing response from the women in the audience, Jesse's protest that she is "the Mayor of Crazy Town" had everyone laughing.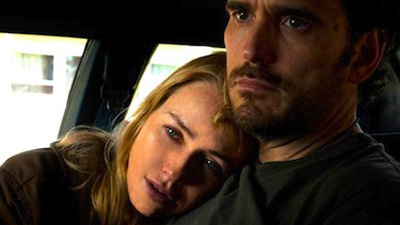 Sunlight Jr. (Laurie Collyer, 90m) — Relatable as the film is to the Tribeca audience, Jesse and Celine's emotional brinksmanship is a luxury. Laurie Collyer's Sunlight Jr. could also be considered a relationship film, but one entirely informed by class. Southern Florida's sun-drenched strip malls, pawn shops, and gas stations are as far from the Greek islands as you can get. Collyer (Sherrybaby) built her new film on themes from journalist Barbara Ehrenreich's Nickel and Dimed, an experiential study of the working poor in America. Collyer set the film in the St. Petersburg area of Florida (infamous as the crummy paradise in Harmony Korine's recent Spring Breakers), a landscape that is a visual metaphor for its own limitations (and perfectly evoked by Jade Healy's production design). Naomi Watts plays Melissa, a convenience store clerk who lives in a cheap motel with her boyfriend Richie (Matt Dillon), who was paralyzed in an accident and now collects disability checks, most of which he spends on booze. Still, there's heat and intimacy between them, and it's only when Melissa learns she's pregnant and loses her job that she's forced to reconsider her choices. Collyer does a nice job resisting the clichés inherent in these characters, supported in great part by her cast, which includes The Walking Dead's Norman Reedus as Melissa's thuggish ex-boyfriend, and Tess Harper as her alcoholic mother with a house full of foster kids. The film's arc may appear slight to some, but I thought the clear-eyed ending had a surprising power and strength.
Bluebird (Lance Edmands, 90m) — If the Florida landscape is uninspiring, the frozen forests of Maine in Lance Edmands' ensemble film Bluebird are downright unforgiving. Like Collyer, Edmands uses landscape shots as transitions, and shows us a working class community constrained by a failing economy. But in Bluebird the characters don't make choices as much as react to forces greater than they are. A bus driver's accidental negligence leads to the injury of a child, and the film is dedicated to the personal, internal way this tragedy unhinges the families involved. The characters' varying responses to the accident are painfully muted, terse and frigid like the world around them; when their emotions eventually break through it's like ice cracking. Edmands draws strong performances from his cast, especially Amy Morton (Up in the Air) and Margo Martindale as the mothers of the two families. I've seen Morton on Broadway in August: Osage County and Who's Afraid of Virginia Woolf, but it was a thrill to see her in a film like this. The camerawork is notably fluent, from stalwart DP Jody Lee Lipes (Martha Marcy May Marlene, Tiny Furniture), whose composed frames and frequent master shots showcase the work of production designer Inbal Weinberg (Blue Valentine, Pariah). Though it was his feature debut, Edmands showed maturity in surrounding himself with such talent. [Read my HTN Conversation With Lance Edmands]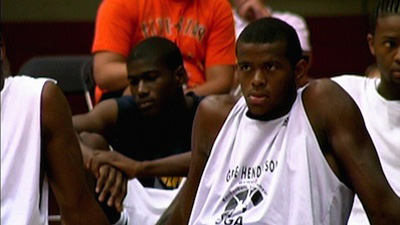 Lenny Cooke (Josh & Benny Safdie, 87m) — Tribeca premiered three documentaries that I will be talking about all year. Brothers Josh and Benny Safdie continue their winning streak with Lenny Cooke, a doc about the former teenage basketball star. It's a variation on Hoop Dreams done in the Safdie style, less systemic critique than character portrait in fuzzy video, lo-fi and with a lot of heart. The film is built on footage shot by producer Adam Shopkorn, who spent a year filming Cooke at his peak back in the early 2000s, when Lenny was expected to go pro. For reasons both obvious and obscure, Lenny is not drafted to the NBA, and begins a slow downward drift through the minor leagues. When the Safdies catch up with him ten years later Lenny is making ends meet down in Virginia. The film layers Shopkorn's video with TV coverage, including a memorable interview where Lenny gives an ESPN dweeb in a ski sweater a tour of his 'hood in Bushwick. At basketball camp we hear Kobe Bryant warn the young players, "Don't rely on basketball for your happiness," but we see Lenny partying in Vegas and failing to show up to practice, signs of what's to come. In the easy explanation, Lenny's story plays like a Scared Straight for young athletes, but there's also a deeper, unspoken story about racism, and the corporate mining of talent from inner-city neighborhoods. But what the Safdies' work does best is reveal character, to find the human moments and hold on them. The Lenny the Safdies connect with is older and wiser, a father and family man, but his brush with greatness and the past weigh on him. His advice for young kids to "think positive and stay humble" is solid, but you believe him when he says bluntly, "I ain't shit. I'm tired as a motherfucker." [Read my HTN Conversation With Josh and Benny Safdie and Adam Shopkorn]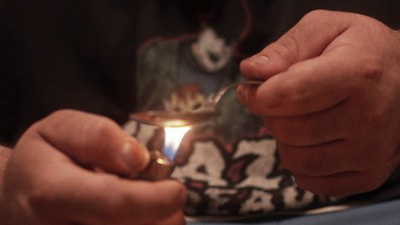 Oxyana (Sean Dunne, 81m) — Remember that awesome short doc American Juggalo? Director Sean Dunne (The Archive) continues in that, er, vein with his new doc Oxyana, an intense portrait of a West Virginia community ravaged by addiction. Oceana, once a quiet, idyllic Appalachian mountain town, has been overrun by prescription painkillers, and this "hillbilly heroin" has turned half the population into addicts. Pills are $50 a pop, and as the coal mining jobs disappear it takes increasingly harrowing means to support that kind of habit. Dunne talks to a doctor at the local hospital about the daily OD deaths and infants on methadone, and to law enforcement too flooded with drug busts to keep up with the paperwork. But the film's heart is the time Dunne spends with addicts, who cry, shoot up, and lay bare every vulnerability in front of him. It's a bleak, painful world, and a heartbreaking incongruity is how good the film looks. Dunne once again teamed up with cinematographer Hillary Spera (American Juggalo, After Tiller), whose level gaze expertly frames the subjects. Dunne gives some relief in montages of floating tracking shots of the town and landscape, with a score by country singer Jonny Fritz and John McCauley of Deer Tick. But it's a heavy film, and there's no obscuring that it's what one resigned woman calls "one of those lose-lose situations."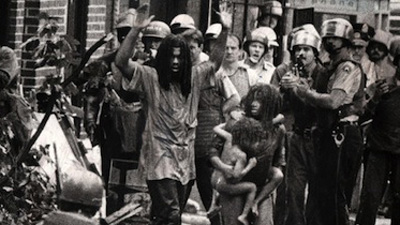 Let the Fire Burn (Jason Osder, 93m) — Unquestionably my favorite film at Tribeca was Let The Fire Burn, an incredible all-archival documentary that explores the events of May 13, 1985, when a violent raid by Philadelphia police on fringe group MOVE's compound left 11 people dead and several city blocks engulfed in flames.  Similar to Oxyana, director Jason Osder and editor Nels Bangerter made the decision not to include any talking heads. Instead they tell the story through a masterful edit of news coverage and video footage of depositions and hearings (for which they were rightfully recognized with Tribeca's Best Editing Documentary Award). Though choices are clearly being made in the edit, they largely reserve judgment, and leave it to the audience to interpret events. It's a shrewd approach: viewed from a historical distance, the source material more clearly reveals the racism of the authorities at the time including, complicatedly, Philadelphia's first Black mayor Wilson Goode. It's a troubling, difficult story, and Osder's film treats it with the seriousness and care that it deserves, revealing history through a brilliant use of formal technique. I look forward to seeing it again.
SHORT FILMS
Tribeca has an extensive short film program. Unfortunately I wasn't able to see them all, but here are some up-and-comers that caught my eye.
ICE (Anthony Tarsitano, 19m) — I just recently rewatched Goodfellas and The Departed, and it was a nice surprise to see actor Kevin Corrigan pop up in this short film. He stays true to those roots as Ronnie, muscle for a small-time gangster, but this time his heart isn't in it. Melancholy and noncommittal about his work and his girlfriend, Ronnie seems to care only about the elaborate ice sculptures he carves at night. Nice ensemble energy reminiscent of Steve Buscemi's Trees Lounge.
Atlantic Ave (Laure de Clermont, 13m) — A young woman in a wheelchair meets a male prostitute under a bridge in Brooklyn and hires him to be her lover. Wow, this film could have gone wrong in so many ways, but leads Leopoldine Huyghues-Despointes and Brady Corbet are pretty fearless in this tough, tender film.
Royal American (Michael Scalisi, 8m) — A narrated collage of super-8mm film that celebrates the importance of writing letters. Friends could tell you I'm an analog person with a stationery fetish, so Scalisi is preaching to the choir here. But there's something fresh and amateur in the best way about this personal doc, an ode to "the thrill of the awaited reply."
Life Doesn't Frighten Me (Stephen Dunn, 13m) — I assumed this offbeat, coming-of-age story about a girl grappling with peer pressure and puberty was directed by a woman, and I was wrong. There are a lot of moving parts here—a story about a girl being raised by her grandfather, surreal Halloween costumes and art direction a la Michel Gondry—but even with a Sufjan Stevens song, the film doesn't capsize under twee stylings. I wanted to see more.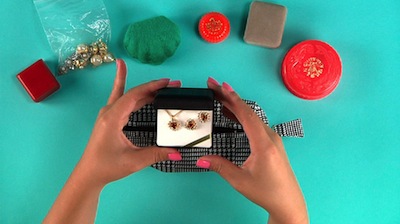 Grave Goods (Leslie Tai, 12m) — Highly present though we never see her face, filmmaker Leslie Tai sifts through memories of her deceased grandmother by cataloging her possessions. From Tai's pink nails to the turquoise background, the colors are striking. Occasional video clips culled from a stack of DV tapes Tai filmed over the years give her grandmother a presence and a voice, but rather than cutting to the tapes Tai films herself playing them for the camera on an old TV. A clean, graphically pleasing style countered by a deeply felt grief.
Recollections (Nathanael Carton, 13m) — A simple, moving doc about volunteers in Yamamoto who are helping clean and restore photographs recovered from the Tohoku earthquake and tsunami in Japan. Their effort is aptly called Project Salvage Memory, and it made me quite weepy to see survivors reunited with photographs of their families, such a simple gesture bringing comfort to those coping with loss.
The River (Sam Handel, 13m) — Set in the Berkshires on a sweltering, golden summer day, a very pregnant Lauren Ambrose plays a cashier dreaming of a swim in the cool river. It's a sweet, simple story about the obstacles she pushes past to get there, with a nice cameo by Adam Driver as a townie. Sometimes less is more.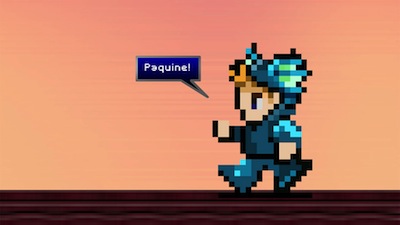 RPG OKC (Emily Carmichael, 9m) — An animated film done in the style of 8-bit video games (I finally figured it out: Role Playing Game OkCupid!). I'm not really familiar with this stuff, but basically an armed guard from one world falls for what appears to be a kangaroo from another world he calls the Negative Realm, and they decide to meet up. Eh, it doesn't matter. It's worth it just for Carmichael's curious dialogue, half modern and half in character, eg: "Shut up or I shall seriously fucking slay thee."
Sandy Storyline* (Rachel Falcone, Laura Gottesdiener, Michael Premo) — An edited selection culled from an ongoing participatory documentary of media contributions from the public about Hurricane Sandy and its aftermath. A collage of audio, photos, text, and video, it's an interesting portal into the range of experiences New Yorkers had during the storm.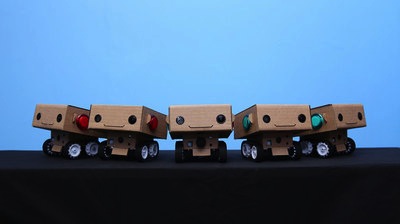 Robots in Residence* (Brent Hoff, Alexander Reben) — Billed as "the world's first documentary shot and directed entirely by robots," the creators built cute, 1980s throwback cardboard robots equipped with cameras and mics, christened Blabdroids, then sent them out into New York City to ask people personal questions. They call this an "electromotional experience." Romeos take note: women were oohing and aahing over these things as if they were puppies.
*Technically these last two are installations from the transmedia program Storyscapes, but everyone keeps telling me transmedia is the 'future of independent film' so I'm listing them here.
EVENTS
In conclusion I'd like to note some of the festival-specific Tribeca events I managed to sandwich between screenings, if only because they were really worth it.
Big Data and the Movies — Part of the (free!) Tribeca Talks Industry series, this excellent panel broke down some very useful perspectives on how big data is changing independent film from development to marketing to distribution. Moderator Richard Whittington (and employee of sponsor SAP) did a nice job asking specific, useful questions, and directing them at each of the panelists. There are some great advantages to be gleaned from all of this data, and Eugene Hernandez (Director of Digital Strategy at the Film Society of Lincoln Center) gave the example of how they are beginning to correlate Facebook 'likes' with ticket sales, data that they use not to help push the crowd-pleasers but to target and increase attendance for the more obscure or challenging films. Still, the worry that Big Data will overpower creativity kept resurfacing, what Hernandez called "the tension between what the data tells you and what your heart tells you."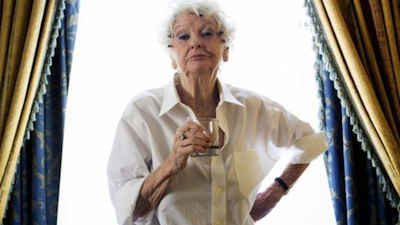 Elaine Stritch: Shoot Me (Chiemi Karasawa, 80m) — One of the Tribeca Talks After the Movie selections, there was a screening of this new doc on legendary performer Elaine Stritch, as well as an entertaining Q&A moderated by New York Times theater critic Charles Isherwood. The film is less a traditional narrative doc than an experience of being in Stritch's presence: she talks to the camera, even directing B-roll shots. A lifetime in the entertainment industry gives you the right, especially when it's done with Stritch's charm and sass. A grand dame ensconced in a suite at the Carlyle Hotel (my New York retirement fantasy!), Stritch is like an eccentric Eloise, well into her 80s and still pulling off her signature outfit of an oversized shirt worn over black tights as if they're pants(!). She's fiercely intelligent, candid, and very funny. The film is a wonderful primer on showbiz, and a surprisingly intimate, moving portrait of a woman facing her own mortality. But, as Stritch puts it, "dying is easy, comedy is hard."
Inequality For All (Jake Kornbluth, 89m) — Another Tribeca Talks After the Movie event, this doc about income inequality is built around a class taught by Berkeley professor and distinguished political economist Robert Reich, who has also worked in the Ford, Carter, and Clinton administrations, most famously as Clinton's Secretary of Labor. For those not inclined to this debate, what could be a dull topic is made considerably more digestible through Reich's intelligence and sense of humor. Kornbluth & co also have a clever way with infographics, and anchor Reich's data with stories of American families under financial strain. It isn't breaking any genre conventions, but it's a very relevant issue film with a strong character at its core. After the screening film critic Elvis Mitchell moderated a Q&A with Kornbluth, the producers, and Reich, and if that discussion is any indication this doc will generate some interesting conversation with its September release.
Tribeca Talks Directors Series: Clint Eastwood with Darren Aronofsky — Though the event opened with an overly long, somewhat fawning short doc about Eastwood, the film helped set the stage for the conversation. Darren Aronofsky really questioned Eastwood like a director, focusing mainly on his process and approach to the craft. Any lingering shadows from Eastwood's performance at the 2012 RNC were quickly dispelled by his thoughtful, wry answers (though he kept rocking back onto the rear legs of the director's chair he was sitting in, making me very nervous that there would be some kind of chair malfunction, and then the headlines…). For Eastwood, directing seems to be a grounded exercise involving force of will more than divine inspiration. One of the highlights was his explanation of why he doesn't like to say, "Action!" on set. Presumably from years of shooting Westerns, he learned it makes the horses nervous, in part because upon hearing the word the actors reflexively squeeze tighter, signaling the horses to go. He figured that if it makes horses jumpy, it probably makes actors jumpy, so he prefers to ease into it with a "go when you're ready." The interview was thankfully free of philosophical grandstanding, and full of this kind of detail-specific director's advice that I find most helpful and interesting.
— Susanna Locascio