(Filmmaker Britni West's writing/directing/editing debut Tired Moonlight won the Jury Award for Narrative Fiction at the 2015 Slamdance Film Festival. She's now showing her excellent film at the New Directors/New Films showcase at the Film Society Lincoln Center)
The idea of a sleepy, stuck-in-time town steeped in Americana grows further with every Apple product and technological promise. It's the dream-like nature Britni West captures in her debut feature, Tired Moonlight, that strives for a balance between a home and a NASCAR-soaked nightmare.
The film explores the somewhat-intersecting lives in an undefined small town in Montana. Dawn (Liz Randall) lives with her three poodles and incorporates the type of scraps found on the side of the road (a fax machine/copier) into a positive, possibly life-changing discovery (after buying multiple crossword puzzles, she uses the copier and sells the copied bundle on eBay). Sarah (Hilary Berg) works at the supermarket and tries to settle for a relationship with Charles (Charles Smith). And Sarah's daughter, Rainy (the incredibly named Rainleigh Vick), exists with two other children to frolic and remind us not to be such cynics even if the lingering question of "where are their parents" can be answered with a shrug–this is a safe place compared to anywhere else.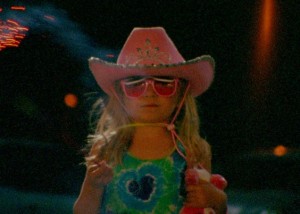 But that doesn't mean a lack of cynicism: Paul (Paul Dickinson) explodes back into the town (and Dawn's life) as he cleans out his deceased mother's storage unit. He's all the unsure positive manic energy of a the Beat Generation looking for a destination without any of their negative vices. "Crazy" Mike (Alex Karpovsky, also an associate producer) tries to keep his video store afloat without coming back to care for his mother.
West and Cinematographer Adam Ginsberg's hand-held, 16mm view transcends the on-going debate to define this format whether it's "docu-fiction" (aside from Karpovsky, the majority of the cast are non-professional actors) or "chimera" (that is a narrative but using formats better established in documentary). Tired Moonlightis a testament to how small-town stories can be the same as escaping to the city, or vice versa, and how those mythologies are how we interpret them. Dawn wants a big break, but would it be different if she weren't in this town? Paul's prose reflects someone broken regardless of where he goes, even in an attempt at courting an old acquaintance and Sarah begins to cool on just being a motorhead's girlfriend.
One of the strongest traits in Tired Moonlight is West's refusal to make a monster or something to haunt the town. There aren't any good ol' boys leering or the threat of something sinister, aside from the camera exploring undefined roadkill. Like the polar opposite of Laurel Nakadate's 2010 The Wolf Knife that took on the stucco hell of Florida and road houses of Tennessee, Tired Moonlight shines on the simplicity of its world. Even as Sarah, walking beside her daughter, woefully self-narrates the news of a former beau's marriage, "[He] still has my name tattooed across his stomach and my kid still has his nose."
It's a quick, but efficient line that captures the concept that we're not beholden to the myth of americana, although it is very enticing.
– John Lichman (@jlichman)