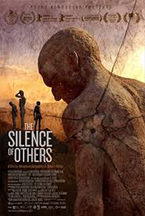 (The 2018 AFI Docs Film Festival ran June 13-17 in Washington D.C. Hammer to Nail lead critic Chris Reed, who also hosts a killer podcast on documentary filmmaking called The Fog of Truth, was at the fest and will be providing his usual excellent reviews and interviews.)
There is so much history to cover in The Silence of Others, a new documentary from directors Robert Bahar and Almudena Carracedo (Made in L.A.), that it's a wonder there's still room for present-day storytelling in its brisk 95-minute running time. And yet Bahar and Carracedo not only successfully deliver the narrative details of their real-life drama, but adequately provide the context we need to appreciate its socio-political resonance. Furthermore, given the movie's focus on the past crimes of a dictator and his minions, it holds particular import in a world moving, today, ever closer to an embrace of would-be, and actual, strongmen.
Francisco Franco (1892-1975) ruled Spain with an iron fist from the time he seized power in 1936 until his death. 40 years of authoritarian government took its toll on Spain, and how the nation has handled its approach to reconciliation and retribution since the 1970s has come under increasing scrutiny, both within and without its borders. At the root of the issue is the 1977 "Pact of Forgetting" – or "Law of Amnesty" – that the then-young democratic institutions passed as a way of moving forward without having to look back (always a messy process). Unfortunately, this meant that many Franco collaborators could – and did – remain in power. The younger among them live on to this day, unpunished, sometimes side by side with their former victims. But a day of reckoning may be coming, finally, and The Silence of Others is about the movement to turn back the amnesty law and hold perpetrators responsible for their crimes.
We meet a large cast of activists – former prisoners of the Franco regime, human-rights lawyers, etc. – working to bring the malefactors to justice. The problem is that the Spanish courts won't allow any cases to come to trial, as they violate the 1977 pact. So our protagonists turn to Argentina, where a judge is willing to bring charges against select individuals under international law. The question then becomes whether Spain will allow its former civil servants to be extradited or not.
Although I knew a bit about 20th-century Spanish history, I learned a lot watching the film. I had not realized that so little had been done to expunge the Franco years from the country's present; indeed, many streets and public squares (at least at the start of the film) still bear the name of Franco's ministers, and Franco's burial site is still very much a monumental shrine. Imagine visiting Germany and seeing a giant memorial built to Hitler at the Eagle's Nest. How did Franco escape the same fate as his one-time fascist contemporaries? Questions, indeed…
Beautifully photographed by Carracedo, doubling as cinematographer, The Silence of Others is a profound exploration of history's odd crab-walk into the future: as former U.S. President Obama said, "We zig and zag, and sometimes we move in ways that some people think is forward and others think is moving back." There are a lovely series of shots of the lone set of statues in Spain in honor of Franco's victims – the "Mirador de la Memoria" (or "Balcony of Memory") in the Valley of Jerte – which, as soon as they were unveiled, were riddled with the bullets of modern-day Franco supporters. The response of the sculptor, as reported here? "They completed my work." Think the era of dictators and totalitarian societies is over? Think again. Stand up for what you believe in, no matter the consequence, lest the "silence of others" becomes your own.
– Christopher Llewellyn Reed (@ChrisReedFilm)