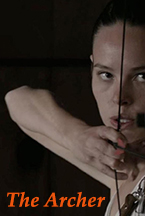 (The Annapolis Film Festival kicked off March 30 and wrapped up April 2. Here's some coverage from the fest…)
An engrossing, if sometimes silly, thriller that straddles the thin line between excitation and exploitation, The Archer announces, in the first title card, that it is "inspired by true events." Maybe. We learn at the end the exact nature of the original source – excessive punishments handed down to juveniles in Pennsylvania – but until we get there, The Archer feels far more inspired by the legion of "women in prison" films that have preceded it, as well as by the more contemporary Netflix show Orange Is the New Black. There's nothing wrong with honoring these influences, and director Valerie Weiss (A Light Beneath Their Feet), working from a script by Casey Schroen, mostly succeeds in creating an adrenaline-fueled, violent romp in which a strong and vibrant young woman turns the tables on her male oppressors, finding love – in the person of one of her fellow prisoners – along the way. Like the mythical Diana (and as the title promises), our heroine is good with a bow, so expect much shooting of arrows and piercing of flesh. In other words, a good time.
That main character – named, appropriately, Lauren Pierce – is played by Bailey Noble (Adilyn Bellefleur on HBO's True Blood), who brings the requisite physical and emotional intensity to the part. Young enough to work as a teenager, and athletic enough to work as a badass, Noble owns the movie, a lithe avenger like no other. We learn right away of her archery skill, as we witness her school's win at a championship tournament. We also discover that she has a crush – it appears, reciprocated – on her best friend Emily, whose boyfriend she puts in the hospital (she's a tough one, that Lauren) when he grabs Emily the wrong way. Before she knows what's happening, Lauren is in court, where her mother's misguided decision to sign the paper handed to her by the judge lands Lauren in a special juvenile center far from home. Once there, Lauren discovers a remote. nightmarish institution populated by girls who are systematically abused by the male guards, with no hope of rescue. Chilling? Yes. Completely over the top? You bet, signaled by the dripping carcass of a wild boar that first greets us upon arrival. This will either be a terrific escape movie, or something ridiculous.
Fortunately, it is mainly the former. Lauren quickly makes friends with the true bad girl of the joint, Becky (an appropriately sullen Jeanine Mason (Default), and together they team up against the warden, Bob (Bill Sage, Ned Rifle, and many another Hal Hartley film), all the while investigating the reasons why so many young women have been sentenced by a judge acting with apparent impunity. Unfortunately, it's in the characterization of Bob – and, in fact, all the male characters – that the film breaks down. While the film is otherwise a wonderful paean to female solidarity and strength, and Weiss can make all the men evil (as she does) if she wants, it's unfortunate that she also makes them one-dimensional, or at least directs the actors to behave like caricatures of villains. If only they were worthy adversaries to the marvelous Lauren and her only slightly-less-wonderful sidekick Becky, what a movie this would be. As it is, it's still good fun, and delivers a satisfying punch – or however one would describe an arrow ripping through skin – at the end, though it remains haunted by this narrative imbalance.
– Christopher Llewellyn Reed (@ChrisReedFilm)