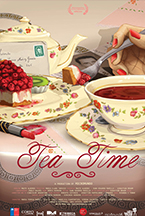 (The 2015 Seattle International Film Festival started May 14 and ran all the way until June 7. HtN was on the scene for several reviews like this one, the latest from Chilean filmmaker Maite Alberdi).
It sounds ludicrous, but one of the most intriguing films I saw at SIFF 2015 is a documentary about a bunch of old ladies drinking tea. Fans of the Food Network or Hannibal know that food preparation cinematography can be staggeringly beautiful. But picturesque close-ups of the assembly of beautiful cookies, sandwiches, cakes, and steeping tea are only half of what makes Maite Alberdi's Tea Time (La Once) so compelling.
Patience is a virtue, and in filmmaking, it can pay off like gangbusters. Such is the case in Tea Time, which was shot over a period of four years. A group of Chilean septuagenarians have been meeting for tea once a month since graduating high school in 1952. They began with eight women. There have been many changes over the years, such as marriages, children, divorces, and deaths. But recently, the biggest change has been their morbidly dwindling numbers. Watching our friends die is something we will all have to face one day (if we're lucky).  Their one constant is the time they spend together around a tea tray.
The camera stays close, so the audience is central to the action. You're not a fly on the wall; you're a fly on the Lazy Susan. Alberti has a tendency to put the camera on listeners, rather than talkers, which helps gauge group response to the conversation and gives the storytellers a voiceover narrative quality.
Alberdi wisely allows the subjects to direct the narrative. It's clear by their surroundings, clothing, and interactions with servants (plus the presence of servants) that they are well to do. But everyone has a struggle and these women aren't shy about sharing their ups and downs. What unfolds is a classed-up, Real Senior Housewives of Santiago. It's an opera in four acts, one tea per year, each announcing its commencement in the Dickensian fashion of five chimes from the grandfather clock.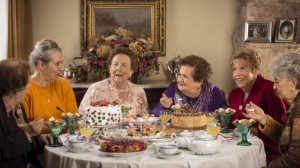 The conversation covers a wide range of topics including gossip, marital complaints, religion, eulogy, and the World Cup. There is the occasional small-mindedness, especially regarding lesbianism – a throwback from their conservative upbringing. There is also an amusing a discussion about youth culture what with their "twerking" and "emos." Whenever the conversation turns maudlin, someone always suggests they change the subject. They are generally able to keep things light. One woman describes her regular kidney dialysis treatments as if they are a minor annoyance and not the only thing keeping her alive at that moment. Everyone else obliges her by pretending not to worry.
Some sessions feature a guest, be it an interloping friend or a recorder concert from one of their grandchildren. [Side note: I have yet to hear of a child prodigy recorder player.] The ladies also contribute funds each time toward their annual outing. The only time the camera goes wide is when it follows them on one such trip. The four remaining women sit on lawn chairs, reading in silence – a stark contrast to the loquaciousness of their teas. They stand tentatively and struggle up a small hill. The woman with kidney issues lags behind. Around the dining table, these women are ageless. The tradition keeps them young. They can enjoy each other's company as they have for sixty years. Outside that room, Father Time crashes the party. It's these moments in which religion is a comfort to many. As far as they're concerned, there is a posh dining room waiting for them in the afterlife, where the original eight can reconvene. Their eternity involves bottomless pots of tea, and endless cakes and sandwiches. No husbands anywhere in sight.
– Jessica Baxter (@TehBaxter)