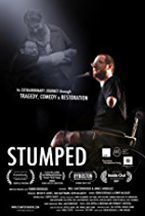 (The Annapolis Film Festival ran March 22-25 in, you guessed it, Annapolis Maryland. We have a slew of reviews coming your way so keep your dial tuned to HtN!)
Funny, bittersweet, sad and disturbing, all at the same time, Stumped, director Robin Berghaus' debut documentary feature, tells the surprising story of Will Lautzenheiser, who has neither arms nor legs, though until 7 years ago, he was in possession of all of them. We watch, in awe, as this physically reduced human being strikes a blow for self-determination and against kismet, embracing stand-up comedy as a way to laugh the tears away. He is anything but "stumped" by the hand of fate, in other words (and would no doubt do something cleverer with such a twisted joke). He's a man on mission to live life to the fullest.
In the fall of 2011, Lautzenheiser, a filmmaker, had just taken a teaching job at Montana State University when, on the first day of classes, he felt cramp-like pains in his arms and legs. So, naturally, he visited a hospital. By the very next day, he had gone into septic shock. The cause? Group A Streptococcus infection. To save his life, surgeons were forced to amputate his limbs.
After an opening that showcases Lautzenheiser, back in his native Boston, performing in a comedy club, the film flashes back to the medical crisis that put its subject in a wheelchair, and then chronicles all that has happened since then. Berghaus cuts between the present of the movie, as Lautzenheiser and his boyfriend Angel prepare for the former's arm-transplant surgery (you read that correctly – I didn't even know such a thing was possible), and the years since the initial health crisis. Fortunately, Lautzenheiser is truly a funny man, or the material might overwhelm us with grief.
Along the way, we meet Lautzenheiser's identical twin brother, Tom, as well as the doctors at Brigham and Women's Hospital (also in Boston) whose research and practices may give our hero a new pair of arms. We also meet Richard Mangino, a man who has already gone through such a procedure (and whose forearms, even if a different color than the rest of him, work pretty well). As discomfiting as the material can be to watch (it's more so to live it, I'm sure), it's also deeply fascinating. Cutting-edge science has a way of making for a good story.
The film provides quite a narrative odyssey, then, filling the viewer with a variety of emotions, all cathartic in some way. Berghaus proves herself more than worthy of her subject, delivering an intimate cinematic portrait that is a stirring testament to Lautzenheiser's bravery and indomitable spirit. Stumped stands tall, delivers a powerful message of hope.
– Christopher Llewellyn Reed (@ChrisReedFilm)