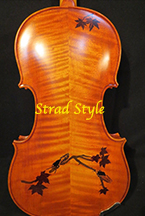 (The 2017 Slamdance Film Festival kicked off on January 20 and ran through January 26. The HtN staff repped Slamdance hard with reviews like this one, Documentary Grand Prize Winner Strad Style.)
Strad Style, a new documentary from director Stefan Avalos (The Ghosts of Edendale), tells a remarkable true-life story about one man and a seemingly impossible dream. Daniel Houck, a self-taught violin maker (in his spare time) from Laurelville, Ohio, lives on limited funds in a ramshackle house without heat. One day, he befriends up-and-coming classical violinist Razvan Stoica on Facebook and offers to make him a replica of a legendary violin, the 1743 "Il Cannone," by Giuseppe Guarneri (known as "del Gesu"). Houck, it turns out, has always seen himself in Guarneri, a talented, if temperamental and disorganized, craftsman, though his friends early on nicknamed him "Strad" after the better-known (and more disciplined) Antonio Stradivari, del Gesu's contemporary. Houck sees the challenge of recreating "Il Cannone" as his own manifest destiny, and though the task is daunting, he brooks no thoughts of failure.
To complicate matters, Stoica requests that Houck have the violin ready in eight months, as he'd like to use it for a concert in Amsterdam. Somehow, then, with almost no resources, Houck must fulfill his promise to Stoica. The film documents, in close proximity, the 8 months from start to finish. Houck is quite a character, a man as comfortable with car engines, farm animals and tattoos as he is with a gracefully carved wood. In fact, his versatility proves stunning: what he is able to accomplish, on his own, with virtually no money, beggars belief. The process, however, is not smooth, for Houck's comparison of himself to Guarneri is not made loosely, his own manic energy both obstacle and opportunity to success. Embedded in Houck's house, Avalos, a one-man film crew, captures it all, both the good and the bad, allowing Houck to ramble and digress on camera. So often, it seems as if the poor man, talent and all, may not make it, yet watching him struggle is part of the beauty of the film.
No detailed plot spoilers here; you'll have to watch the film yourself to see exactly how it all turns out. Let's just say that it's a deeply satisfying bit of cinematic storytelling. Avalos, himself, is a classically trained violinist, so he brings a great understanding and appreciation of that craft to this movie. Always present, yet never obtrusive – it's almost as if Houck is talking to himself, or to us, so quiet does the director usually remain – Avalos shows us a true creator at work, the obsessive builder as artist. It remains unclear, at the end, what will happen next for Houck, but we can only hope that he rises above the demons that have heretofore kept him from realizing his full potential and embraces the new opportunities on the horizon. I'm sure that this film, a brilliant testament to his strengths, can only help. Watch Strad Style, then, and become a fan.
– Christopher Llewellyn Reed (@ChrisReedFilm)

Strad Style Trailer from Stefan Avalos on Vimeo.