SLEEPING WITH OTHER PEOPLE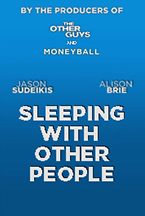 (The 2015 Seattle International Film Festival started May 14 and runs all the way until June 7. Keep an eye on HtN for several reviews like this one, the latest from Writer/director Leslye Headland).
Writer/director Leslye Headland's Sleeping with Other People is a Rom-Com that exists in the space between sincerity and satire. It's hard to top Headland's own description: "When Harry Met Sally for assholes." But if you were truly an asshole, you'd be annoyed by the film's frequent moments of earnestness. Moreover, fans of that saccharine, genre-defining film might have trouble empathizing with Headland's deeply flawed protagonists. With its sexual implicitness, casual swearing, and unabashed recreational drug use, Sleeping with Other People is more akin to the films of Judd Apatow and Nicholas Stoller than to Rob Reiner.
Our story begins way back in the shaggy-haired times of 2002, when Jake (Jason Sudeikis) and Lainey (Allison Bree) have a meet cute in a dormitory at Columbia University. Jake bails out Lainey as she's about to get 86'd for drunk and disorderly conduct (i.e. yelling and banging on a guy's door) in a hall that's not her own. As she explains to Jake once he's spirited her to his room, she had planned to lose her virginity to the target of her rampage. But, the guy behind door #1 did not want that kind of pressure. As luck would have it, Jake has also never done the deed and they bond over their woeful virgin status. After smoking a giant doob, they decide to throw each other a bone (so to speak) on a conveniently placed couch on the roof – which just so happens to feature a super romantic view of New York City. Surely these two are going to be together forever.
Fast-forward ten years: Jake is running down the street after a weeping woman who is not Lainey. We learn that Jake has spent the last decade unapologetically bedding as many women as possible, and failing to make a commitment of any kind. He uses semantics to justify his promiscuity to his jilted conquests. Sometimes it works and sometimes it gets him pushed in front of a moving cab.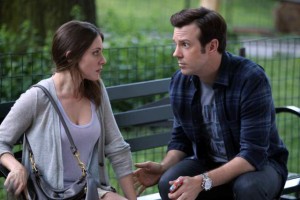 Meanwhile, Lainey is struggling through a therapist-mandated infidelity confessional to her fiancé (Adam Brody). She tells him she did it because she has a "love addiction," but he doesn't buy it. And, before she knows it, she's single too. Her therapist encourages her to attend a sex addiction meeting where she runs into Jake. They haven't seen each other since that fateful night. On account of the circumstances for their run-in, their past-decade recap is more intimate than is customary. Lainey explains to Jake that she's been having an affair with Michael (Adam Scott sporting the world's most unfortunate moustache), the guy who was behind door #1 back in college. Only he's with someone else and has no intention of ever leaving her. Jake gives Lainey the long version of why he's at the meeting, and she sums it up in one line: He'd "rather be the bad guy than tell the truth."
A Facebook friend request leads to a dynamite date. They have an instant rapport and are obviously attracted to each other. But since they spend much of the evening discussing their fidelity issues, they decide to remain friends. And therein lies what I felt was a distracting plot point in an otherwise well-executed movie. I get that they are both unstable enough to think that having a sexually tense friendship is better than attempting a romantic relationship. But after months of doing this, they realize that it's more than just sexual. They are actually in love – to the point that spending platonic time together is torture. And they admit as much on several occasions. I know that every Rom-Com needs an obstacle. But this one just doesn't scan. There are any number of pre-existing excuses in the narrative that would have made more sense, like the fact that Lainey's still in love with Michael and is always waiting in the wings for him. Or that Jake is trying to make a real go of it with other women. But they stick with the "friendship preservation" bit, and it makes an otherwise entertaining movie, frustratingly implausible.
Aside from that, Sleeping with Other People is an extremely entertaining movie. The leads have excellent chemistry (not that it'd be hard to pretend to be in love with Allison Bree). The characters do silly things but they are also actually funny people who you can imagine hanging out with. They're damaged, and sometimes act like assholes, but their hearts are in the right place. It's a nice change of pace from Headland's debut film, Bachelorette, in which nearly every character is 100% deplorable.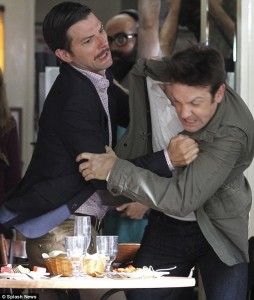 Even more charming are Jake's best friend, Xander (National Treasure, Jason Mantzoukas) and his wife, Naomi (Andrea Savage, The Hotwives of Orlando, the brilliant "Breastalyzer" episode of The League). Xander and Naomi are a rarity in any genre, not just Rom-Coms. They are a married couple with young kids who are actually happy and in love despite addressing the pitfalls of such a relationship. Sure, they're always tired and they miss having the freedom to spontaneously take "Molly" on a weekend afternoon like Jake and Lainey can. But they also like to touch each other and spend time together. They have no regrets about the direction their lives have taken. I could have gleefully watched an entire movie about these two. Fortunately, Headland seems aware of their intense affability, because she grants them a bonus improv scene, which rolls alongside the end credits.
Truly squandered, however, is poor Natasha Lyonne, whose character takes a dump on the Bechdel Test by only talking to Lainey about Jake. Her character is so dispensable, I forgot she was in the movie until I glanced at the press notes. In contrast, a sixty-second monologue by Billy Eichner at the sex addiction meeting is completely essential. Another character who needs his own movie.
The reason the flaws are so frustrating is that the film does so many things extremely well. It's brimming with moments of verity. Headland's incorporation of text messaging culture is effortless and insightful. It hasn't been easy for filmmakers to capture how Smartphone culture effects modern dating for middle-aged people, but Headland nails it. One of Jake's "relationships" plays out via text over the course of an afternoon while he has his phone off. It's also refreshing to see innocuous recreational drug use by adults in a movie that doesn't lead to a ghost hand coming out of the TV.
Regardless of your feelings about When Harry Met Sally, make sure to put Sleeping with Other People on your watch list. You'd be an asshole to miss it.
—Jessica Baxter (@TehBaxter)