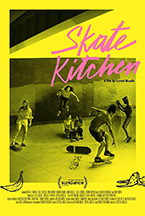 (The 2018 Sundance Film Festival runs January 18-28 and Hammer to Nail promises more reviews than any other outlet! Stay tuned for interviews, features and reviews…)
Crystal Moselle has done it again! That is to say, she's found another group of young subjects on the streets of New York City to ingratiate herself with, and has once again painted a captivating portrait of their lives. In Skate Kitchen, Moselle weaves a loose narrative around a band of girl skateboarders who tear up the concrete jungle. Her progression from documentary The Wolfpack to this scripted feature is quite incredible. Bursting with energy and a youthful vitality, the filmmaking in Skate Kitchen feels 'fresh to death,' though the teen characters in the film would probably hesitate to use that phrase. The new slang term for hip, cool or generally good in nature is apparently: 'valid.' After seeing this film, I doubt anyone will question the 'validity' of Crystal Moselle's directorial talents.
Camille (Rachelle Vinberg) is a shy but talented skater from Long Island who drops into a Manhattan skate park and impresses a bunch of other girl skaters who bring her into their fold. She assimilates with the crew easily, and their new sisterhood becomes her entire life. News of a serious injury unsettles her mother, who threatens to take away her board, and the conflict escalates to the point of Camille running away and crashing with one of her cohorts. She reveals to her new roommate a troubled past with her parents that is so specific one wonders if it is Rachelle's truth. Just to reiterate: Skate Kitchen is a real skate crew and these girls can really skate – you can look them up on Instagram. There are no stunt doubles. And so at times it is tough to separate the fiction from the reality.
One clear point of dramatization is Camille's romantic interest Devon, played by Jaden Smith, the only professional actor in the film. Devon is a photographer and starts taking pictures of Camille. Problem is, Devon has a rocky history with one of the other Skate Kitchen girls, (in fact the same girl Camille is crashing with) and when a picture of Camille surfaces on his Insta feed, the group calls into question her loyalty. Exiled, Camille starts skating with the rival male crew, and the tension boils in the summer heat of the city. Jaden Smith's low-key performance as Devon perfectly fits into Moselle's milieu, and the way he handles his evolving relationship with Camille is both surprising and realistic. There are traces of Harmony Korine throughout but Moselle has a much gentler touch with her characters that favors authenticity over shock value, and the film is better for it.
Kinetic cinematography from Shabier Kirchner, who must've been skating behind them half the time, adds a visual energy that bolsters the narrative, yet is cinematic enough to distance itself from a skate video. (There's no fish-eye lens here). The skating scenes glide along to a killer soundtrack that includes Khalid's Young, Dumb and Broke, the new generation's fittingly titled self-effacing anthem. I found myself feeling nostalgic for a time I never personally experienced. As a New Yorker, I see skateboarders all over the city, but rarely are they female. It's refreshing and empowering to see these young women asserting their independence and landing kick-flips in front of stunned male on-lookers. Moselle seems the perfect person to immortalize these girls' summer of skating in what's destined to become a cult classic.
– Matthew Delman (@ItsTheRealDel)