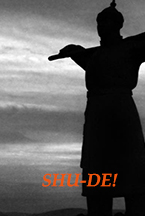 (Michael Faulkner's doc SHU-DE! has been making the rounds at film festivals. It most recently played the 2016 Nashville Film Festival and you can catch it this month at the 2016 Maryland Film Festival)
[DISCLAIMER: Though I do not know the director, Michael R. Faulkner, both editor Nick Kovacic, and one of the producers (and camera operators), Nick Midwig, are graduates of the department of which I am the Chair, at Stevenson University. And yes, we do graduate (some) students not named Nick …]
Tuva, a Siberian republic of the Russian Federation, bordering Mongolia, is home to practitioners of a near-mystic craft known as throat singing. To those who have never heard it, this music, created by Central-Asian herdsmen, sounds almost unearthly, thanks to the overtones generated by the singers; the notes seem to emanate as if from a small box inside the larynx, pitched simultaneously low and high. Through controlled breathing, a good artist can keep those notes going almost indefinitely, without pause. There is an almost spiritual, chant-like quality to the sound that lends gravitas to the simplest of melodies. Even to those for whom this art form is initially unfamiliar, the haunting beauty of its droning melodies holds forth the promise of ancient truths revealed.
Beat boxing – the art of vocal percussion – on the other hand, though no less intricate, is certainly more familiar to American audiences. Imagine the potentially odd (and beautiful) collision of the one with the other. In SHU-DE!  (Tuvan for "let's go), the debut documentary feature from Michael R. Faulkner, we embark on a journey both geographical and musical, where the musical traditions and rugged landscapes of Tuva play host to Shodekeh, a Baltimore-based beat boxer. He travels to Central Asia to explore throat singing in its natural habitat, and present his own signature rhythms to a public as eager for novelty as is he. The result is a movie that, though somewhat loosely structured (both a strength and a weakness), offers a stunning series of tableaux vivants, set against gorgeous backdrops, where various musicians join forces with Shodekeh to create one mesmerizing composition (pictorial and musical) after another.
Shodekeh, himself, is a perfect audience surrogate. Though by no means a novice to throat singing, this is his first time in Tuva; the voyage unfolds as freshly to him as to us. He is ostensibly there to participate in various tournaments and festivals, but this is clearly as much pilgrimage as competition, an opportunity to expand his vocal horizons. Shodekeh, self-taught and versed in improvisatory technique, is met, upon arrival, by members of the Alash Ensemble, which had traveled to Baltimore in 2011 and set up this reciprocal visit.
The rest of the movie unfolds in a distinctly impressionistic fashion, following the same process that Shodekeh and his friends use as they create their multicultural music. In the middle of certain performance sequences, we may find ourselves treated to a montage of either local animals or the human subjects – or both – looking at the camera as Shodekeh's beats and the Alash Ensemble's plaintive cries combine in ecstatic union. Or the camera may swoop far above the earth to reveal the wonders of the wild steppe. It's all quite magnificent, though sometimes what story there is gets lost in the mix.
Which shouldn't really matter, though viewers hungry for narrative may be frustrated. For example, all of a sudden, without preamble, we find ourselves in the company of Annie Lynch (of "Annie and the Beekeepers"), who performs – with Shodekeh and a local female throat singer – a beautiful song entitled "In the Water" (followed by one of the above-mentioned montages). It's one of my favorite sequences in the film, but Annie comes and goes without any explanation. And so it goes. If these kinds of narrative ellipses are no barrier to your enjoyment – if, indeed, they add a welcome air of mystery – then you should be able to sit back and allow the many visual and aural treasures of SHU-DE! to wash over you with nary a sour note.
– Christopher Llewellyn Reed (@ChrisReedFilm)