Sebastopol Documentary Film Festival is Just Around the Corner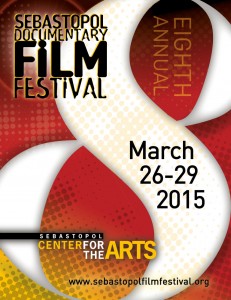 As a resident of the Northern California Bay Area, I'm always on the lookout for local film festivals that are interesting and fun to attend. About 5 years ago, the Sebastopol Documentary Film Festival started coming up more and more in conversations so, I decided to check it out. Since that time I've tried to attend the festival every year and was even a juror in 2011. It's been a pretty amazing experience to attend the festival and watch it grow in terms of attendance, programming and accolades and this year looks like the festival is again taking another big step forward with solid programming and intriguing special events.
I'll post the press release in full below but some immediate highlights include a tribute to the recently departed Les Blank. A Bay Area resident, Blank's films are intriguing slices of life as well as huge influences to his colleague Werner Herzog. The festival will be presenting Blank's incredible Burden of Dreams alongside 6 other Blank films including a sneak peak of his final documentary film throughout the weekend.
Another cool event is the "Peer Pitch Panel" which is sponsored by Docs in Progress and The D-Word which are both essential sites for documentary filmmakers. For a small fee up to eight filmmakers may pitch their project idea to a panel of experts and get feedback and insights as to how their film can be sold, marketed and brought to life. I attended this event in 2013 and found it incredibly supportive and insightful. It is also very well attended and serves as a great motivator in terms of getting off your rear and making your own doc.
Again, the Sebastopol Film Festival is a fest on the rise. Sebastopol itself is a wonderful, small, quintessential Northern California town and the community really turns out to see the films and attend the special events. There are many neighboring towns to stay at and visit and although we're a bit late getting word out about this years festival, if you have the time it's a wonderful weekend experience.
8th Sebastopol Documentary Film Festival, March 26-29
The Sebastopol Center for the Arts proudly presents the 8th annual, award-winning Sebastopol Documentary Film Festival, March 26 – 29. With a mission to bring the best documentaries and filmmakers in the world to Sonoma County each year, SDFF will once again fulfill that mission and bring audiences and filmmakers together in a 4-day celebration of non-fiction film.
The festival will feature 70 extraordinary documentaries to be shown at 5 venues in historic downtown Sebastopol. Beginning with Thursday's Opening Night Film & Party through Sunday's full slate of films, this year's festival brings over 100 filmmakers and guests to town for this annual documentary film event. Filmmakers and subjects are coming from as far as Poland, Spain, and the U.K. and as close as Sebastopol.
Highlights include:
Opening Night: California premiere of How to Change the World, the story of Greenpeace's founding and launching of the worldwide environmental movement. Director Jerry Rothwell and Greenpeace founders will be in attendance. 2015 Sundance Film Festival World Cinema Jury Award for Editing.
A tribute to Bay Area filmmaker Les Blank including his opus, Burden of Dreams and six other iconic films. A Sneak Preview of his final documentary work will be screened as part of this program.
"This year we received an unprecedented number of films submitted for consideration," commented SDFF Program Director Jason Perdue. "This resulted in our most extraordinary and diverse program of non-fiction films that we've ever brought to Sonoma County.
Tickets are now on sale and record attendance is expected at this popular festival.
http://sebastopolfilmfestival.org
707-829-4797