RAISE HELL: THE LIFE AND TIMES OF MOLLY IVINS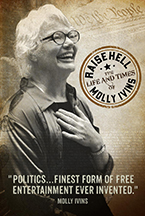 (The 2019 SXSW Film Festival runs March 8-17 in the fantastic city of Austin, TX. Lead critic Chris Reed is on the ground in Austin and has his usual massive slate of reviews and interviews. Stay tuned! Like what you see here on Hammer to Nail? Why not pay just $1.00 per month via Patreon to help keep us going?)
The late syndicated columnist Molly Ivins (1944-2007) wrote with biting wit about many a subject, but reserved her greatest barbs for her home state of Texas, particularly its politicians. Among her many books, perhaps the most caustically titled were the 2000 Shrub: The Short But Happy Political Life of George W. Bush and the 2001 The Betrayal of America: How the Supreme Court Undermined the Constitution and Chose Our President, both taking our nation's 43rd president to task for being ill-qualified and illegitimate. A force of nature – until a lifetime of drinking and smoking took its eventual toll – she held nothing back, carving her place among the great journalists of our time through sheer strength of will and intellect.
Now, 12 years after her subject's death, director Janice Engel gives us, with Raise Hell: The Life & Times of Molly Ivins, the comprehensive cinematic portrait that Ivins and her many fans deserve. Larger than life, both physically and mentally, Ivins emerges from the screen as a legend whose reality matches the myth. She's entertaining and vital, all in one brilliant package.
From an early age, Ivins stood apart from the crowd, literally as well as metaphorically, reaching a height of 6 feet by the time she was 12. The child of a conservative father, she grew up in Houston and, at some point, began to realize that the adult rhetoric that justified the segregation and racism of the world around her just didn't make sense. Four years at Smith College in Massachusetts helped broaden her educational horizons, though the buttoned-up atmosphere there didn't quite suit her tastes.
Ivins graduated from college in the late 1960s with an antagonistic view of authority, a strong work ethic and a confidence born of having to prove, over and over, that this tall, big-boned young woman who spoke with a heavy Texas twang had a powerful brain on top of her large shoulders. She was ready to take on the world, and that she did, with newspaper gigs in Minneapolis, Austin, New York, Denver, and then Dallas, where she made a splash at the Times Herald before heading back to Austin to write for the Fort Worth Star-Telegram. From her perch back in her home state, Ivins developed a national following as an irreverent progressive who punctured the hot-air balloon of self-important right-wing leaders (and sometimes of those on the liberal side, too). She was sui generis and is dearly missed.
Engel (Jackson Browne: Going Home) tells the story using present-day interviews (with folks like Paul Krugman, Rachel Maddow, Dan Rather, Cecile Richards and Ivins' brother and sister, among others) and archival footage. Through the latter material – of which there is quite a lot, and of great variety – we hear and see Ivins at various stages of her career, gaining a detailed sense of who she was as both person and journalist (the two roles barely distinguishable). She lived as hard as she worked, unfortunately, which was her ultimate undoing. Still, thanks to this rich, complex documentary profile of her, she lives on, as vibrant as ever.
– Christopher Llewellyn Reed (@ChrisReedFilm)
Like what you see here on Hammer to Nail? Why not pay just $1.00 per month via Patreon to help keep us going?