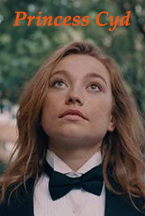 (The Maryland Film Festival kicked off May 3 and ran through the week to May 7. Our own Chris Reed lives in Maryland and will be all over the fest like tourists on a crab buffet so stay tuned.)
It's always a lovely experience to see that which one holds dear represented on screen with thoughtful care. Though Princess Cyd is about many things – including the sexual explorations of its 16-year-old titular character – it's the pitch-perfect creation of a circle of committed intellectuals that raises it beyond the level of your typical coming-of-age story. As an academic (granted, an M.F.A. and not a Ph.D.), I appreciate the richness and verisimilitude of writer/director Stephen Cone's world-building here, where words matter and all belief systems are welcome. With his talented cast working off the insightful script he has written for them, Cone (Henry Gamble's Birthday Party) fashions a moving drama that hits all the right – though never predictable – beats on its journey towards an extremely satisfying conclusion.
As the film begins, we listen in on a harrowing 911 call in which a man tells the operator of a shooting that has killed two, leaving a little girl unharmed. Flash-forward nine years, and that girl is a bold and athletic young woman named Cyd, whose father (not at home when the shooting took place), at wit's end dealing with teenage angst, asks helps of his sister-in-law in Chicago, who agrees to host Cyd for a few weeks. That aunt is Miranda, a celebrated author whose works remain mostly unknown to Cyd, who blithely announces, upon arrival, that she's doesn't really read. Poor Miranda registers mild shock at this statement, but she gamely soldiers on in her role as temporary surrogate, doing her best to reconnect with her dead sister's daughter. Miranda still lives in the house in which she grew up, which Cyd finds odd, though she appears to like sleeping in her mother's old room. These two mismatched souls, both open to new experiences, nevertheless find a kind of rhythm, each influencing the other by example. Cyd finds Miranda's friends interesting, and actually cracks open a book, while Miranda – single by choice, and not unhappy about it, despite Cyd's skepticism – locates a long-lost bathing suit and joins her niece in sunbathing.
Along the way, Cyd, heretofore into boys, meets Katie at a local coffee shop. The slightly older woman attracts Cyd with her partially shaved head and soulful eyes, and the two embark on a friendship that just might turn sexual. Cone handles all of this with grace and charm, never frontloading his text with overwrought meaning. Though much is said, courtesy of our intellectual friends, nothing even approaches on-the-nose dialogue. Subtext is everything.
The superlative cast includes young Jessie Pinnick (Imogen) as Cyd; self-described "punk performer, clown, writer and gender warrior" Malic White as Katie; and James Vincent Meredith (Starz's Boss) as Anthony, a journalist-author friend of Miranda's with a yen for more than friendship. It's Rebecca Spence (Grace Is Gone), as Miranda, who is the real standout, however, imbuing layers of meaning in every line, always believable, whether as a writer and deep thinker or as a woman who still loves her lost sister and longs to connect with her niece. The film may be named after the younger woman, but it's Spence's Miranda who lends this powerful story its profound narrative charge, defending her right to be who she is while acknowledging the possibilities beyond her understanding. Life is full of choices; make your own, but always consider the alternative, and love those who make different choices. That's a philosophy we should all defend.
– Christopher Llewellyn Reed (@ChrisReedFilm)