PORTLAND FILM FESTIVAL '14: WRAP-UP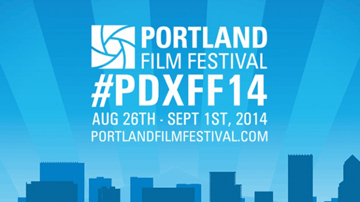 (The 2014 Portland Film Festival ran August 26th through September 1st in Portland, Oregon. Visit the festival's official website for more information.)
In its second year, the Portland Film Festival had quite a growth spurt, sprawling across seven different theaters and incorporating an impressive variety of panels, live music and outdoor events. Founder Josh Leake is rambunctious (his word) and unflappable, handling every aspect of the festival and taking the inevitable growing pains in stride. The programming cast a wide net, from the opening night comedy Sex Ed (which got a big thumbs up from Eli Roth during the Q&A), starring the all-grown-up Haley Joel Osment, to a broad slate of American and international indie narratives and documentaries.
There was a solid representation of indies from Slamdance, including Narrative Jury Prize winner Rezeta and Portland's own I Play with the Phrase Each Other (read the full H2N review here). I didn't manage to meet up with Oren Carmi who flew in from Israel for the screening of his Coen Brothers-esque comedy-thriller Goldberg and Eisenberg, but it was great to run into Chris Furbee, director of the intense, autobiographical doc Huntington's Dance and Blake Robbins, director and star of the searing family drama The Sublime and Beautiful. Robbins shared a fascinating and inspiring story about the many upheavals he faced and the creative business decisions he made to navigate his film through financing, production and release.
On my first full day in Portland I wandered around a bit, feeling like I should be packing in experiences, kind of lonely and a bit disoriented, and ended up seeing my state of mind mirrored in a matinee of Proud Citizen by director/co-writer Thom Southerland. Co-writer Katerina Stoykova-Klemer plays Krasimira, a little-known Bulgarian playwright who travels to Lexington, KY to see her play produced by a local community theater. The film has an uncanny documentary look and feel, to the point where I had to keep reminding myself "this couldn't have happened with a camera in the room." But beyond that it nicely captures the impermeable quality of a city when you get plunked down in it—the mood and feeling of that particular experience. Stoykova-Klemer's natural charm builds on you as Krasimira's character blossoms in the course of the movie, building to a dinner at which she recites a wonderfully wise and simple poem from her notebook.
In the doc Surviving Cliffside, director Jon Matthews gets up under the dirty fingernails of West Virginia, chronicling a family getting by on essentially no money, despite the young father's drug problem and the ongoing expenses of entering their daughter Makala into a series of Junior Miss pageants. Matthews also brings the pervasive effects of drug addiction throughout the community into grimy focus. Once you get past the shock of how the family scrounges together a living, what emerges is a strange kind of normality—a family that sticks together and somehow manages to get by, investing their hopes and dreams into qualifying Makala—a survivor of grueling chemotherapy treatments for leukemia—for the statewide Little Miss West Virginia competition.
Back on the narrative side of things, writer/director John Jeffcoat tells a classic story about the small triumphs and many humiliations endured by a gifted Seattle rock band named Tennis Pro in Big in Japan. The film explores the underbelly of Tokyo in a way few films have done, as a shady promoter takes the band to Japan where they scrape by from gig to disappointing gig, meeting interesting people and staying in ridiculously cheap hotels. It's a comedy that rings true on a lot of levels; Tennis Pro is a real-life rock band. Phillip Peterson in particular stands out as an oddly childlike, funny and charismatic front man.
The festival screened two different docs told through the eyes of powerful elderly women. In P.H. Wells' My Shanghai, 92-year-old Virginia McCutcheon tells the story of growing up privileged in pre-war China and then surviving the experience of a Japanese internment camp. She's a brilliant storyteller, willing to go into uncomfortable detail; she even describes using a tampon to smuggle money. Then in a surprising final act, she comes clean about a secret dimension to the story that she had initially omitted. In Kris Kaczor and Dave Regos' Divide and Concord, 84-year-old Jean Hill spearheads a political fight to get single-serve plastic water bottles banned in the town of Concord Massachusetts. What seems like a tangential environmental issue is shown to be quite crucial, and Jean is forced to take on huge corporate interests and entrenched beliefs. Her principal antagonist, Adriana Cohen, is cinematic gold—over-coiffed in every possible way, and mouthing platitudes about freedom and children from her luxurious home.
In Tamara W., director Marko Vuorinen—primarily a visual artist—takes a minimalist approach to documentary. He uses a static camera to film his subject, a 23-year-old MTF transsexual, in public spaces in the Bronx, and frequently cuts away to extended static shots of locations throughout the borough. Tamara herself is wonderfully candid, with a surprisingly mature and thoughtful understanding of herself and her gender identity—but she also allows us glimpses of her wild, self-destructive streak. In a series of interludes, she shows off some mad vogueing skills, moving to some seriously brain-crunching underground dance tracks.
I was seemingly the only mammal left on Earth who had never seen Jim Henson's Labyrinth, so it was great to experience it on the big screen. Toby Froud, who appears in the film as Jennifer Connelly's baby brother, was in attendance with a short puppet movie of his own. The story follows The Wizard of Oz template, with David Bowie doing a psychologically layered take on the wicked witch role, in an iconic '80s frightwig. Favorite line: "Just fear me, love me, do as I say, and I will be your slave." The production values oscillate wildly, but the character design of course amazes and the climactic sequence in Bowie's Escher-inspired castle is totally mind-bending. "Duh, Paul," you say. "I've seen it."
Michael Dahlstrom's The Animal Condition is a novel take on the issues around animal farming. It starts out as an exposé in the style of Food, Inc., with its young Australian activists breaking into factory farms to document horrific conditions and suffering. But eventually the activists make a choice to get to know the farmers and hear their thoughts and feelings as well. It's a bit of a slippery slope in the sense that there's no real ethical defense for the way animals are treated on these farms, but on another level it does create a dialogue, and the activists find themselves challenging some of their own black-and-white thinking.
Amongst the short films I saw at the festival, The Game Changer by Indrani Kopal was particularly powerful: it's a doc about Susan Slotnick, who teaches dance in a men's prison, inspiring in them a sense of self worth. There was also some great stuff in the experimental shorts block. Oh Sheila by Jeffrey Sundin is a candygram of cheap '80s glamour and cheesy romance—ridiculous, inventive and full of fantastic visual comedy. Vu Pham's Baby Ipecac is a sort of theater of the absurd take on a drug deal, rough around the edges but breathlessly overflowing with ideas. And Proximity by Joshua Cox cleverly sets up a complex web of drama and murder, "acted out" (not really) by an old lady's motionless ceramic figurines.
— Paul Sbrizzi