Must-Sees At The 2013 New York Film Festival
***THIS POST WILL BE UPDATED OVER THE COURSE OF THE NEXT FEW WEEKS SO BE SURE TO CHECK BACK HERE DAILY!***
This year, we have four cine-soldiers on the ground to cover the 2013 New York Film Festival for you: Tom Hall, Nelson Kim, Aaron Dobbs, and Robert Greene. As per usual here at HTN, our post is by no means comprehensive, and we haven't seen everything. But if a film has been capsulized below, you can bet that it contains some semblance of good-to-greatness that makes it worth your time, money, and travel to midtown Manhattan to see what the fuss is all about.
FRIDAY, SEPTEMBER 27th ***OPENING NIGHT***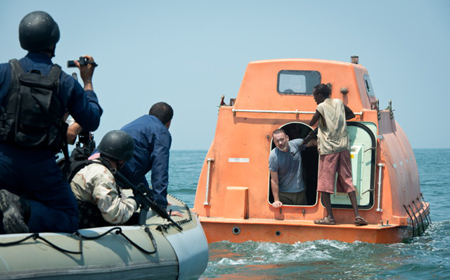 Captain Philips (USA, Paul Greengrass, 134m, 6pm/9pm) — Captain Phillips is the true story of Rich Phillips (Tom Hanks), an American freighter captain taken hostage by Somali pirates in 2009. Perhaps the film Paul Greengrass has been building toward his entire career, Captain Phillips utilizes his signature handheld technique which, in this case, emulates the destabilizing motion of life at sea, to ratchet up the immediacy of this harrowing scenario. The film uses the confinement of ever-reducing space to escalate the action and draw the audience closer to the characters. While the film refuses to score political points or to overly sentimentalize the situation, Greengrass clearly wants to examine male authority, with an array of twists and turns that steal and grant power to the film's characters, allowing parallels to be drawn naturally and with deft subtlety. Ultimately, Greengrass draws on Hanks' inherent good will with audiences to keep the story simple and compelling—a smile or a knowing look from Hanks speaks volumes without too much unnecessary exposition—yet despite expectations, the film also delivers a surprisingly emotional rendering of the story's inevitable, well-documented conclusion. As a bravura piece of man-made action filmmaking in the age of CGI, Captain Phillips is as taut and engaging a thriller as could be imagined, a movie about real people in peril that delivers on every level. (Tom Hall)
SATURDAY, SEPTEMBER 28th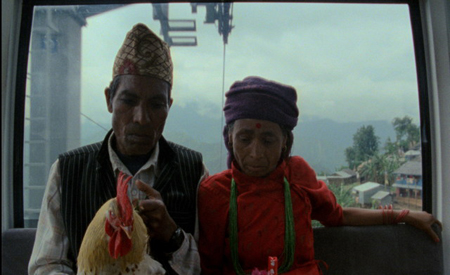 Manakamana (USA, Stephanie Spray and Pacho Velez, 118m, 1:30pm) — Manakamana is structuralist ethnography, a nonfiction cinematic poem that is haunting, hilarious, meditative and meaningful. The latest creation from the Sensory Ethnography Lab (the folks behind Leviathan, Sweetgrass, People's Park, etc.), Spray and Velez's film is a series of eleven 16mm portraits of passengers in a cable car as it goes up and down a breathtaking mountain in Nepal, to and from the famous Manakamana Temple. The camera is fixed, but the frame is lively with emotion and motion. Present-tense in the extreme, Manakamana is about the acts of seeing and hearing, with all the complexity that implies. This is cinema for people who tune into the rhythms of passing railroad tracks or find narratives in the familiar trees on their drives to and from work. This is a cinema of faces, bodies, relationships and customs. It's an alternately sad, funny and calming experience, where the relationship between person and camera becomes subject and narrative. Hidden stories build with each new passenger. Goats get scared, snacks cause messes, people think, viewers think, transcendence is glimpsed. Manakamana is a film for those that still see the movie theater as a cathedral. (Robert Greene)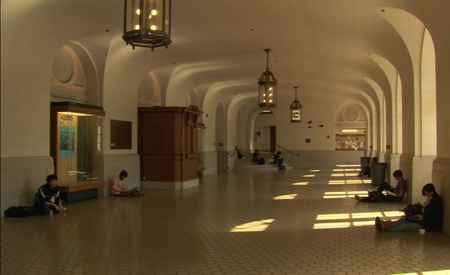 At Berkeley (USA, Frederick Wiseman, 244m, 4:30pm) — Everything is interesting to master filmmaker Frederick Wiseman. Well, everything is potentially interesting, and his impeccable eye for detail and ear for conversation, bits that become cinema in his editing room, are what has made him one of our greatest artists. When that uncommon knack for elevating simple gestures, straightforward exchanges and small visual details into the stuff of movies is matched by a big time subject, the effect can be enormous. Many of Wiseman's best films—Essene, The Store, Boxing Gym, for example—are hyper-focused and metaphorical. But sometimes, like with the great Belfast, Maine, he reaches for the big statement and creates something that says, um, everything. At Berkeley is a Big Statement film. Here Wiseman turns his attention to the campus of the iconic University of California, Berkeley, but the subject is nothing short of the ideals and struggles of public education itself. It's a massive film, with huge ideas and a characteristically attentive gaze that takes turns being meditative, exhilarating, philosophical and (slightly) frustrating. (RG)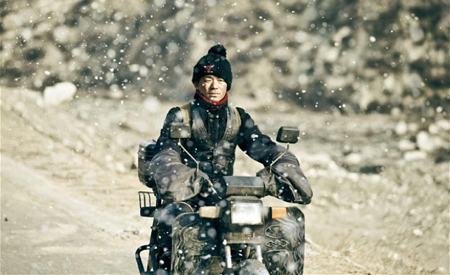 A Touch of Sin (China, Jia Zhangke, 125m, 6pm) — Jia's latest is a collection of four loosely interconnected narratives based on real-life stories the director read about on Weibo, the Twitter-like social-media platform that disseminates news ignored by China's government-sanctioned media. Each of the four concerns a seemingly ordinary working-class citizen driven to a horrific act of violence: a miner enraged by the greed and corruption of his superiors; a migrant laborer who commits armed robberies without a flicker of conscience; a massage-parlor receptionist treated with contempt by a crass, wealthy customer; a young man who moves from greeting customers at an upscale nightclub/brothel to a wretchedly dehumanizing existence at a Foxconn-like workers' colony. Jia is revisiting his usual themes—rootlessness, alienation, the human costs of breakneck social and economic change—and stylistic tropes: wide-open frames, meditatively paced long takes, a restrained realism interrupted by bursts of fantasy and surrealism. But he's never made a movie where blood and death flow this freely. The graphic violence is inseparable from the harshness of the film's message: its critique of a money-maddened, morally bankrupt society is tightly focused, furious, and startlingly direct. Some longtime admirers may view A Touch of Sin as uncharacteristically blunt or vulgar in its reliance on tabloid-y source material and action-movie/thriller tropes, but it strikes me as a logical outgrowth of Jia's earlier work. He's still reporting on daily life in contemporary China—if this time he's dressing up his dispatches with sensationalistic headlines and lurid full-color photo spreads, the reports themselves are as thoughtful and necessary as ever. (Nelson Kim)
SUNDAY, SEPTEMBER 29th
Le Week-end (UK, Roger Michell, 93m, 6pm) — The Burrows have traveled to Paris for the titular weekend in order to celebrate their 30th wedding anniversary. "You can't not love and hate the same person, usually within the space of five minutes," says Meg (Lindsay Duncan), describing her own feelings to her devoted husband, Nick (Jim Broadbent), even as he shares them. Before long, Michell's film feels like it should be called Before Retirement as it follows Nick and Meg's meanderings around Paris, continuing this ebb and flow of love and hate. In fact, the two are roughly the age the Jesse and Celine will be in another 18 years should the trio of Linklater-Hawke-Delpy continue their project. Broadbent and Duncan are absolutely magnificent, allowing Michell to carefully balance the often hilarious but melancholy-filled action. Michell, Broadbent and Duncan succeed in depicting the nuances of love and anger, success and failure, and trust and insecurity that feel almost mandatory in any multi-decade relationship. Le Week-end's greatest success is that it is a brutally honest, thoroughly engaging and beautifully uplifting exploration of two people who love each other desperately, even in those moments when they want to run away. (Aaron Dobbs)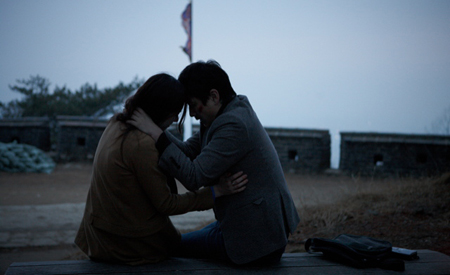 Nobody's Daughter Haewon (South Korea, Hong Sang-soo, 90m, 9pm) — Thematic consistency has been crucial to Hong Sang-soo, with the director's signature style—a dash of Eric Rohmer's talkative city dwellers in the less cosmopolitan provinces, part Woody Allen's neurotic love affairs, part soju-soaked commentary on class and authority in Korean society—providing a framework for the majority of his films. So, while Nobody's Daughter Haewon breaks little new ground for the director, still, Hong's fans will find plenty to enjoy and newcomers to his work should find an easy point of entry into the specificity of his cinematic world. The story of a drama student who is covering up an affair with her emotionally needy professor, Nobody's Daughter Haewon sits comfortably within Hong's corpus, but also new delights, including a handheld tape recorder that plays a diegetic musical theme (I won't spoil which) that changes meaning from scene to scene, and a walk down memory lane between a mother and daughter that continues to build a moving sense of pathos as it carries on. Ultimately, Hong's film is about becoming your own person, as Haewon moves out the shadow of her mother, her mentor and lover, and her peers (hence the title) and, in an act of personal determination, finds the determination to face the world on her own terms. Accessible, funny and moving, Nobody's Daughter Haewon finds Hong continuing his rich vein of form, one that seems to revel in delight. (TH)
Child of God (USA, James Franco, 104m, 10:15pm) — The title of Cormac McCarthy's 1973 novel refers to the troubled (to put it mildly) outcast at its center. Like the rest of his 1960s Tennessee small town, Lester Barrow (Scott Haze) is a child of God, but the opening scenes reveal that he is utterly alone—shunned, reviled and barely tolerated by his community. Franco establishes his adaptation's uneasy tone with an early close-up of Lester defecating in the woods, marking just the first example of Lester's descent from man to beast. Progressively forced further from society. Lester becomes more feral, an animal seeking food, shelter and comfort without moral compass. Hiding underneath the film's depiction of his depravity and desperate desire for companionship is a morality play focused on the ease with which society ignores those who need help the most. Haze gives one of the most committed and startling performances likely to be seen this or in most years while Aaron Embry's score and Christina Voros's muted cinematography enhance the senses of isolation and loneliness that drive Lester to perform some despicable and horrific acts. Child of God may not be easy to watch, but Franco has made a powerful exploration of the human psyche that sticks around long after leaving the theater. (AD)
MONDAY, SEPTEMBER 30th
Manakamana (see above, 3:30pm)
Nobody's Daughter Haewon (see above, 3:30pm)
TUESDAY, OCTOBER 1st
Child of God (see above, 12pm)
Jimmy P: Psychotherapy of a Plains Indian (France, Arnaud Desplechin, 114m, 9:15pm) — Arnaud Desplechin has made a career of examining social institutions and their urgent need to label outsiders as psychologically troubled; from Emmanuel Salinger's possession of a severed head in La Sentinelle straight through to A Christmas Tale's brutal sibling warfare, Desplechin has always used psychological crisis in his narratives to argue for a way of seeing the world, and thus, to see his cinema. His latest film Jimmy P: Psychology of A Plains Indian is his most explicit and accessible attempt yet; the true story of a Native American World War II veteran in recovery from a brain injury that may or may not be the cause of his psychological suffering, Jimmy P is at once unmistakably the work of Desplechin and a new path altogether. Filmed in the American midwest, the film stands alongside Esther Kahn, one of Desplechin's masterpieces, in its use of period detail and the English language to articulate his protagonists' process of becoming. And while the brilliant adversarial therapeutic sequences between Mathieu Amalric and Catherine Deneuve in Kings and Queen are evoked by Amalric's manic portrayal of French anthropological psychologist George Devereux, the film takes a much warmer view of the talking cure, placing Devereux and Jimmy (played by Benecio Del Toro) as mutual outsiders, the European innovator and the Native American veteran, who seek solace through trust and understanding. This film will surprise many for its straightforward representation of psychoanalysis, but ultimately, every frame holds the Desplechin we know and love, continuing his unique and vital exploration of the path to self-awareness. (TH)
WEDNESDAY, OCTOBER 2nd
Jimmy P: Psychotherapy of a Plains Indian (see above, 3:30pm)
A Touch of Sin (see above, 6:30pm)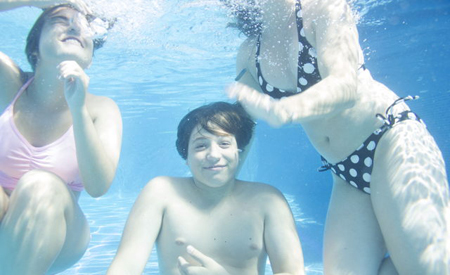 "NYFF51: Emerging Artists – Fernando Eimbcke" — In the NYFF51: Emerging Artists sidebar, two early-career directors are being honored with mini-retrospectives: England's Joanna Hogg and Mexico's Fernando Eimbcke. In addition to Eimbcke's latest Club Sandwich (2013, 82m, 8:30pm), which just world premiered at TIFF, his first two features are being screened as well: Lake Tahoe (2008, 84m, 6:45pm) and Duck Season (2004, 90m, 9pm). I've yet to see Club Sandwich, but I'm a big, big fan of Eimbcke's first two films, which owe an obvious debt to Jim Jarmusch in cinematography and deadpan tone, yet Eimbcke's decision to focus on the tumultuous time that is adolescence enables him to inject a current of genuine emotion into his work. From afar, this might seem like hipster cinema, but it is much deeper and more soulful than that. (Michael Tully)
THURSDAY, OCTOBER 3rd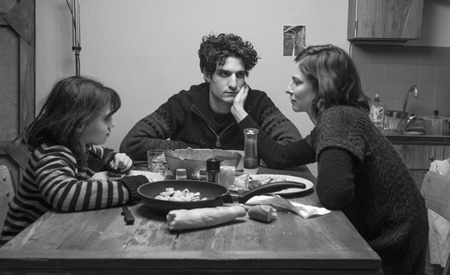 Jealousy (France, Philippe Garrel, 77 mins, 6pm) — Garrel's latest explores the meanings of the title from multiple perspectives within the packaging of a straightforward and simple story based on his own family. The film begins as young Charlotte spies her father Louis (played by the director's son Louis Garrel) leaving her mother, Clothilde, to be with Claudia (Anna Mouglalis). The passion Louis and Claudia express towards each other simultaneously leads to a certain lack of trust: He has a cute costar and already cheated on the mother of his child; she participated in that infidelity; he worships her, telling a friend he'll kill himself should she leave him. As passionate as they seem to each other, the entire relationship seems perilous, and so it is. Ultimately, what comes around goes around, and Jealousy ends not so differently than it began. The scenes of the couple apart reveal more of the conflict in the relationship than their actual interactions. Charlotte's early voyeurism places the audience in the position to watch from the empathetic perspective of the child caught in the middle; one who can't yet understand how liking her father's girlfriend will impact her mother, for instance. That was Garrel's experience, so why wouldn't it also be the film's point-of-view? The crisp black-and-white photography from the great Willy Kutner only enhances the interpersonal disconnections that feed the green monster thriving at the center of the film. (AD)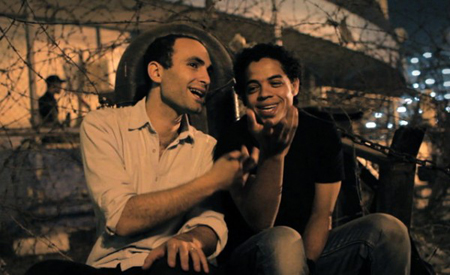 The Square (USA/Egypt, Jehane Noujaim, 104m, 8:30pm) — Egyptian-American documentary filmmaker Noujaim (Startup.com, Control Room) and her team spent almost two years filming in and around Cairo's Tahrir Square beginning in early 2011, when the anti-Mubarak protests erupted in full force. Her new movie The Square—simultaneously a work of deep-immersion cinema vérité and an unabashedly partisan rallying-cry—follows a small group of pro-democracy activists from the heady early days of the revolution and Mubarak's resignation, to the Muslim Brotherhood's 2012 accession to power and the subsequent popular backlash against it, up through President Mohamed Morsi's ouster by the army this past summer. Two years' worth of momentous action are packed into 100 very busy minutes book-ended by the fall of two governments: bloody clashes with the authorities, back-room strategy meetings, impassioned street debates, friendships forged and sundered, and a great deal more. Put aside any concerns that The Square will be dutiful, good-citizenship viewing material best suited for the small screen, and don't tell me you've been following the news from Egypt online so you won't "get anything new" from it. This is as thrilling a doc as I've seen in years, heartbreaking and inspiring in equal measure, and dramatically compelling even when the outcomes of major story events are never in doubt. If it falters a bit in its final scenes, cramming in summaries of recent developments along with speeches about the need for continued struggle, this is perhaps less the fault of the filmmakers, who were shooting and editing new material up to the last minute, than of history itself, which refuses to resolve into tidy endings. As one of the doc's main subjects says in closing, it'll take decades to know if the Egyptian revolution truly succeeded. Likewise, what The Square ultimately will "mean" depends on whether the events it depicts come to be viewed as the first flowering of a lasting freedom, or a brief interlude in a long period of darkness. In any case, as a record of history being made in the moment, this is essential viewing. (NK)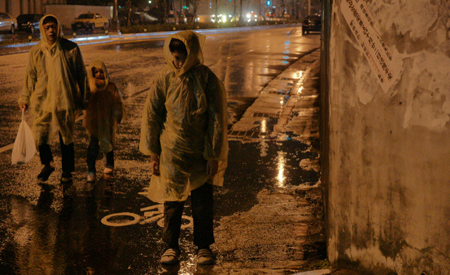 Stray Dogs (Taiwan/France, Tsai Ming-liang, 138m, 8:30pm) — A single father, who earns a meager paycheck as a "human billboard" holding up signs for apartment rentals, lives with his two young children in a series of abandoned buildings on the outskirts of Taipei. A woman enters the picture. She works in a supermarket where the children load up on free food samples; she also feeds the stray dogs in one of the buildings the family squats in. Ultimately she decides to help the children find a better life. But the woman is played by three different actresses—or are they in fact three separate characters? And what about the scenes in which she seems to be part of the family—are these flashbacks, flash-forwards, fantasies, inserts from some alternate version of the story? The movie isn't much interested in resolving such mysteries. Tsai says in the press notes, "I've exhausted my appetite for film as a mere tool for storytelling…. There's no direct connection between one scene and the next, and so there is a feeling like there's no beginning and no end." What we have instead of conventional narrative coherence is a haunting study of mood and duration, as Tsai's unblinking camera gazes at images of loneliness, desolation, and melancholy for long minutes at a stretch. If slow cinema isn't your thing, steer clear, but you'll rarely see the extended-take technique deployed with the formal rigor, emotional power, and mastery of sound/image interplay that Tsai brings to bear in what he says may be his final film, and is certainly one of his best. There are moments in Stray Dogs that are still playing in my head days later, and some of them may stay with me for life. No word yet on U.S. distribution for this one, and it has to be experienced on the big screen, so don't dawdle, New Yorkers: assume the two NYFF showings may be your only chance to see it properly. (NK)
FRIDAY, OCTOBER 4th
Good luck out there folks, we have no capsules to deliver for this day!
SATURDAY, OCTOBER 5th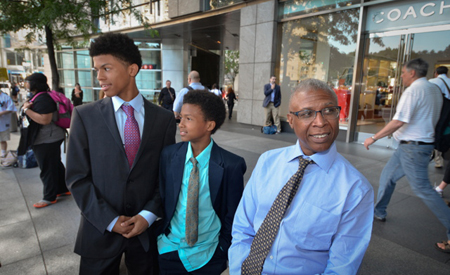 American Promise (USA, Joe Brewster and Michèle Stephenson, 135m, 12pm) — American Promise follows two African-American Brooklyn boys as they start kindergarten at the prestigious Dalton School on Manhattan's Upper East Side. Five-year-old best friends Idris and Seun eventually take different paths: Idris (the directors' son) graduates from Dalton, while the school doesn't allow Seun to progress past eighth grade, forcing him to attend a public school closer to home. The risk Brewster and Stephenson take spending 14 years on this project seems mild compared to the guts they exhibit by never shying away from exposing their own parenting choices, often ripe for hindsight criticism. Audiences won't doubt their love for Idris nor their desire for him to succeed, but their persistent critiques and demands also force immense empathy for him. I found myself wanting to shout, "Leave him alone already," while simultaneously questioning if I would have acted differently in their shoes. The straightforward and linear filmmaking, compressing 13 years into 135 minutes, might argue for a serialized docu-series rather than a single film that leaves the audience with many questions. Still, American Promise presents a fascinating case study of the racial and class issues that still block all American kids from receiving equal educational opportunities, but its exploration of the parental struggle to identify a child's needs and communicate in a productive manner proves even more profound. (AD)
SUNDAY, OCTOBER 6th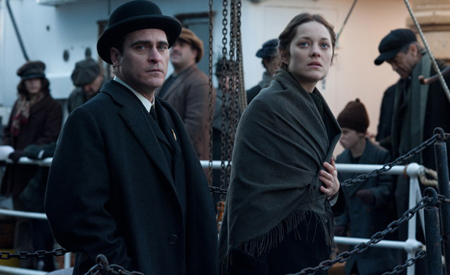 The Immigrant (USA, James Gray, 120m, 3:15pm) — Marion Cotillard stars as Ewa, a Polish woman who lands on Ellis Island with her sister in 1921. When her sister is quarantined due to illness, Ewa is left to fend for herself. She turns to Bruno (Joaquin Phoenix), a businessman and theatrical impresario, for help, but the seeming benefactor turns out to be a pimp. As Bruno's feelings for Ewa unexpectedly deepen, his cousin, a magician named Orlando (Jeremy Renner), arrives on the scene, setting off a deadly rivalry over Ewa's affections. The Immigrant is a stirring drama of degradation and possible redemption, brought to the screen with tremendous skill and intelligence. Gray has been both praised and faulted throughout his career for the "old-fashioned" (or, if you like, "classical") vibe of his films, and this one is surely no exception. My only real complaint about The Immigrant is the tameness of its depiction of tenement living—there's no stink in the nostrils here, no grime under the fingernails, little sense of ethnic or class tensions, or of the true squalor a life like Ewa's would have entailed. Which isn't to say that rubbing our noses in the dirt is always and automatically a plus, but it's a bit disappointing when one of our most talented younger directors, given the chance to deliver a fresh take on filmed history, goes the more conventional route. Aside from a few bared breasts and swear words, Gray's old New York might have come straight out of old Hollywood. However, that same throwback quality is part of what makes the movie great. As conceived and written, Ewa carries echoes of the heroines of silent-film weepies and mid-century "women's pictures," but there's nothing academic about Cotillard's performance, which is full-blooded, emotionally transparent, and utterly transporting. Darius Khondji's beautifully burnished sepia images are like daguerreotypes given breath and movement. And while the period setting allows Gray to paint on his biggest canvas yet, he directs with unerring intimacy and sensitivity throughout; the final scene, a wrenching showdown between the two leads, left me quivering in my seat. (Phoenix, in his fourth collaboration with Gray, has never been better.) (NK)
Bastards (France, Claire Denis, 100m, 9pm) — (We have no capsule for this one, but as the editor of this site I'd just like to express that having lived outside of NYC for over one full year, the first time I felt actually pangs of sorrow was yesterday, when I was unable to attend the P&I double-header of the latest films from two of my most very favorite directors in the whole wide world: James Gray and Claire Denis. So go ahead, devoted readers, see both of these films and really smear it in my face!) (MT)
MONDAY, OCTOBER 7th
Stray Dogs (see above, 1pm)
Jealousy (see above, 3:45pm)
Le Week-end (see above, 6pm)
TUESDAY, OCTOBER 8th
12 Years a Slave (USA, Steve McQueen, 133m, 7:30pm & 10:40pm) — A visceral journey into our country's greatest lingering wound, director McQueen's depiction of one man's unexpected odyssey through slavery provokes an emotional response while seeking to start a conversation rather than provide catharsis. Guided by John Ridley's outstanding screenplay, adapted from an 1853 slave narrative, 12 Years a Slave tells the story of Solomon Northrop (Chiwetel Ejiofor), a musician and free black man with a wife and two children living in Sarasota Springs. NY. Lured to Washington D.C. in 1841 and promised easy work with generous pay by two white men claiming to be circus producers, Solomon is drugged, kidnapped and sold into slavery. Northrop constantly struggles between his desire to simply survive and his need to live. Full of despair over the prospect of never seeing his family again, he never loses all hope of regaining his life. The film's single flaw lies in its unclear—or at least too subtle—accounting of time passed. Otherwise, the narrative progresses steadily, with increasingly intense peaks of conflict, culminating in a series of sequences that will challenge audiences not to leave the theater emotionally spent.
McQueen once again proves his visual storytelling acumen, working with cinematographer Sean Bobbitt (as he did in in both Hunger and Shame). The most horrific images are also the most powerful, compelling and startlingly beautiful. McQueen has made a silent film with dialogue. As the memoir was a first person narrative, so too is the film, told completely through Solomon's point-of-view. A heavy burden for any single actor, Ejiofor endures that weight magnificently, expressing every thought, emotion, hope and fear with his posture, eyes, and furrowed brow. The entire cast is pitch-perfect, with extraordinary performances of note from Michael Fassbender and newcomer Lupita Nyong'o. Simply due to its subject matter, 12 Years a Slave begs notice. Thanks to McQueen and company, it deserves it as well. (AD)
Nebraska (9pm, see below!)
WEDNESDAY, OCTOBER 9th
The Immigrant (see above, 12pm)
THURSDAY, OCTOBER 10th
American Promise (see above, 3pm)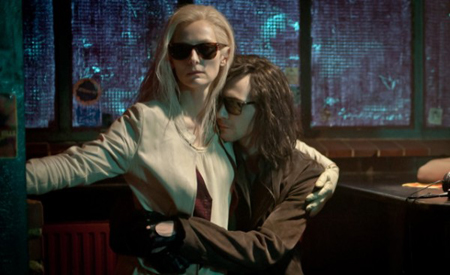 Only Lovers Left Alive (USA, Jim Jarmusch, 123m, 6pm) — Considering that Jarmusch's films often seem like they belong to a genre unto themselves, nobody should be surprised that his vampire story does not follow most of the expected plot conventions. Only Lovers Left Alive doesn't focus on the standard tropes of a woman falling in love with a monster; nor of vampires turning the living into the undead. Rather, Jarmusch uses the mythology to tell a very human story, one of true soul mates who are witnesses to history, living examples of Einstein's theory of "Entanglement," a/k/a "Spooky action at a distance." Adam (Tom Hiddleston) and Eve (Tilda Swinton) are centuries old vampires who frequently spend decades living halfway around the globe from each other, but they always remain connected. They never tire of each other, always enjoying each other's presence, even when simply making conversation. Jarmusch doesn't need to include a sex scene for us to know that their relationship is sensual and passionate. They love art, science, culture and history, but deride the present degradation of modern society, calling regular people "zombies" who are incapable of seeing what's happening to the world around them. Mia Wasikowska and John Hurt each contribute brief but memorable performances, with the latter playing the 16th century poet and playwright Christopher Marlowe (also a vampire) who, in one of the film's best lines, offers his opinion of Mr. Shakespeare. A moody but lovely character study that just happens to be about some folks who live on human blood, Only Lovers Left Alive likely won't convert those who don't have a taste for the filmmaker's style into Jarmusch lovers, but those predisposed to his body of work should certainly find much to like here. (AD)
FRIDAY, OCTOBER 11th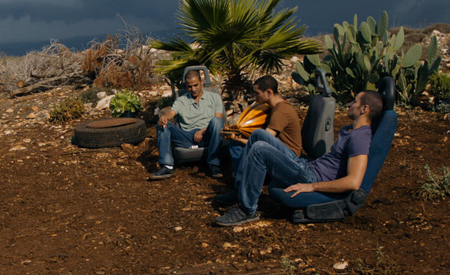 Omar (Palestinian Territories, Hany Abu-Assad, 96m, 6pm) — Not as nuanced, moving nor satisfying as his 2005 film Paradise Now, director Abu-Assad nevertheless has made a though-provoking return to similar narrative territory as he examines the Israeli-Palestinian struggle. Omar is a young baker who climbs over the mammoth cement dividing wall to visit his friends and plan an attack on the Israeli military, including his secret girlfriend Nadia. After Tarek, Amjad and he kill an Israeli soldier, Omar is captured and tortured in prison, eventually released by an Israeli police detective who believes Omar will turn over his friend who pulled the trigger. Omar finds himself caught between both worlds: the Israelis, ready to imprison him forever at the slightest provocation, and his Palestinian friends and community losing their faith in him and questioning his loyalty. Too many plot elements—including the film's climax—are utterly predictable, but the film succeeds in generating empathy for Omar, a young man trapped in an untenable situation with no positive choices in front of him. Not really successful as the thriller it hopes to be (which seems a bit worrisome considering that Abu-Assad is scheduled to helm the English-language remake of Park Chan-wook's Sympathy for Mr. Vengeance), Omar excels in its attempt to take the broad, complex, ongoing conflict, too often abstractly described in terms of nations as opposed to people, and successfully reduce it to an intimate and relatable human experience. (AD)
SATURDAY, OCTOBER 12th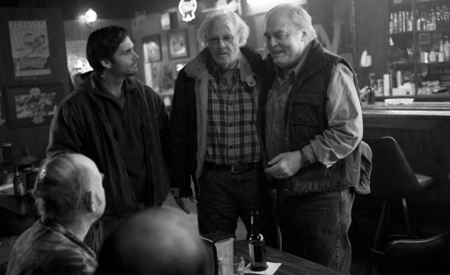 Nebraska (USA, Alexander Payne, 115m, 12pm) — Tinged with high doses of melancholy and feeling like a timeless piece of heartland Americana, Payne's latest film focuses on that certain dynamic inherent within most, if not all, families who seek to balance how they love, hate and tolerate each other. Woody Grant (a remarkable Bruce Dern), an elderly man in Billings, Montana is determined to visit a sweepstakes office in Lincoln, Nebraska, to collect the one million dollars he believes he's won, even if he has to walk there. The inevitable journey resembles a modern retelling of Don Quixote, featuring Woody's son David (Will Forte) as his Sancho Panza. After a small accident, they stop for the weekend in Woody's hometown of Hawthorne, Nebraska, with the rest of the living Grants. The gorgeous black-and-white photography combined with a prevailing absence of modern technology gives Nebraska a sense of timelessness. Hawthorne feels like a town that has barely changed since Woody left decades earlier. The same can be said of Woody's family: Everyone's older but seems in stasis. A sense of longing for connection emanates from every character in the film, but none more so than in the relationship between Woody and David at the heart of the story. Woody desperately wants to feel as if he's left something behind for his sons, and David just wants to spend time with and get to know his Dad. Of particular note is the brilliant and scene-stealing performance of June Squibb as Woody's wife Kate, a blunt, crass and controlling woman who epitomizes that love, hate, tolerate struggle better than anyone. (AD)
Only Lovers Left Alive (see above, 3pm)
SUNDAY, OCTOBER 13th
***Encore Screenings Yet To Be Announced***