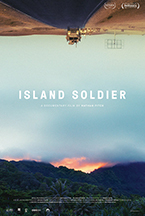 (DOC NYC started November 9 and ran through November 16. HtN has you covered with reviews so keep checking back!)
I learned a lot watching director Nathan Fitch's heartbreaking new documentary, Island Soldier. For instance, I did not know that: a) Micronesia had once been a U.S. territory, from World War II through its official independence in 1986; nor b) that its citizens, under a "Compact of Free Association," signed in 1983 with the Federated States of Micronesia and the Marshall Islands, may serve in the U.S. armed services. I had always thought that non-citizens could only serve if they are in the United States and wish to become citizens: a sort of (very dangerous) shortcut. But no: these good folks from the Pacific can, and do, serve without any future expectation of eventual citizenship. It's a job that pays better than any island job, by a significant degree, though it comes with significant risks, as we see in the opening scene.
It starts with a funeral, the family of Sergeant Sapura Nena grieving as they bury a lost son, killed in Afghanistan. We're on the island of Kosrae, population 6500. One death holds great significance. Soon, another young man, Arthur, signs up, his father Madison lamenting the fact that the younger generation is so quick to move away. Who will remain to learn and pass on the old traditions? But with on-site salaries of $2000 vs. starting U.S. Army salaries at $18,000, it's an uneven competition. Incidentally, that was something else that shocked me, seeing how little (by American-mainland standards) we pay new army recruits. Though the movie offers food for many different thoughts, the refrain that played constantly through my head was how different we, the U.S., would be as a nation if we still had a mandatory draft.
As it is, we rely on a mercenary army, of which we don't always take great care. While this movie is primarily a profile of the Micronesian people – their history and current place in the world – a subplot does reveal how little support Micronesian veterans receive from the U.S. Government post-tour of duty, since they are not citizens. Thank you for your service, now go back home.
Poor though it may be, that home is lovely to behold. Lush, green vegetation abuts the sea. Alone now, Madison gathers bananas and fishes the waters, while Arthur trains in Georgia. In archival videos, we watch the dead Sergeant Nena interact with fellow soldiers and his best friend, Mario, who later comes to visit Kosrae to pay his respects at the gravesite. Humble, hard-working, and a little lost in time, these island soldiers and their families take advantage of the compact, while it takes advantage of them. Quid pro quo? You decide. What is not in question, however, is the cinematic power of this, Fitch's documentary feature debut. Beautifully photographed and edited, Island Soldier offers a fitting tribute to its subjects.
– Christopher Llewellyn Reed (@ChrisReedFilm)