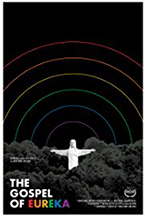 (The 2018 Ashland Independent Film Festival starts Thursday, April 12 and ends Monday, April 16. HtN Editor Don Lewis will be there bringing you news and reviews so stay tuned!)
"Everyone loves a good story," intones narrator Mx Justin Vivian Bond at the start of The Gospel of Eureka, the wonderfully engaging and profound new documentary from Donal Mosher and Michael Palmieri (Off Label). Set in Eureka Springs, Arkansas, the film chronicles the ongoing tension between the town's religious conservatives and religious liberals. Notice that I apply "religious" to both factions, since no matter what side of the political spectrum you fall on in Eureka, everyone seems to believe in Jesus. What fascinates is the wide variety of interpretations of scripture and faith.
Eureka Springs is home to two dramatic declarations of Christianity – a giant statue of Jesus (dubbed the "Christ of the Ozarks") and an ongoing Passion Play – both of which celebrate their 50th anniversary this year. It's the latter on which we spend the most time, following the actors (especially the guy playing Jesus) through their rehearsal and performance process. Though not as popular as it once was in the late 1960s, it still attracts a crowd, some of them true believers, others just curious.
Cut to the other side of town, where a very different kind of spectacle is staged nightly. It appears that this small community, population 2073 (according to a road sign), up in the northwestern corner of the state, on the border with Missouri, has a large enough number of gay residents, and allies of gays, to keep a vibrant drag show in business. I was very amused to hear co-director Mosher mention at the post-screening Q&A at SXSW that he sees a lot of parallels between the drag show and the Passion Play, calling the latter "Christian drag" (they do, indeed, both involve dressing up in robes). And so we jump between the two pageants, all the while exploring the history of the area (whence the Jesus, why the Passion Play, etc.) and the multiplicity of ways to proclaim the Word of the Lord. Even the drag queens love to sing gospel!
In St. Paul's letter to the Corinthians, Chapter 13, he famously says (translations vary), "faith, hope, love remain, these three; but the greatest of these is love." What emerges from the totality of the material assembled by Mosher and Palmieri is a beautiful celebration of love, which is supposed to be the main tenet of Christianity, after all. The filmmakers are respectful of their subjects, allowing all to be heard, no matter their points of view. Accordingly, Eureka Springs, despite some discord over a city ordinance protecting LGBT residents, comes across as a place where people can peacefully agree to disagree. It's a lesson worth learning. Let us therefore go forth and trumpet The Gospel of Eureka as a most worthy scripture for our time.
– Christopher Llewellyn Reed (@ChrisReedFilm)