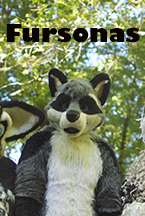 (The 2016 Slamdance Film Festival is in full swing and we have boots on the ground as well as eyes on screener links for the whole festival! Stay tuned to hammer to Nail as reviews start rolling in…)
Director Dominic Rodriguez's debut documentary feature, Fursonas – which was just picked up by Gravitas Ventures at this year's Slamdance Film Festival – offers an in-depth look at the world of Furries, those folks who enjoy donning costumes of anthropomorphized animals and living out various fantasy interactions while dressed in those costumes. It's a group around whom swirl salacious rumors of wild, masked sex orgies, but who mostly seem, here, to be your average citizens with the unconventional – if harmless – proclivity to adopt non-human personas. They're a fascinating bunch, if for no other reason than that their ordinariness as people stands in such sharp contrast to their habits. But who among us does not have characteristics that others might find strange? Such is the strength of this fine first filmmaking effort: that it places a (perhaps, slightly distorted) mirror directly in front of the viewer, making us confront our own prejudices head on.
Later the film becomes something of an exposé on the politics of interest groups, but before we get there, we first meet a captivating collection of eccentrics, some of whom, again – if you didn't know they were Furries – would not strike you as all that idiosyncratic. One of the ones who would stand out, however, is the first person we meet: Boomer. Or, rather, "Boomer, the Dog," as he would like to be known. In fact, Boomer tried to have his name legally changed to "Boomer, the Dog," a petition that was denied. Which is too bad, really, because strange as he may seem, to some, he's a peaceful sort, whose life should be his own to live. With long, flowing tresses, some of which are knotted into two dog-like "ears" on the top of his head, Boomer looks otherworldly even without his hand-made dog costume. Not shy, he is able to perfectly explain why being a dog is so important to him, and does a mean bark (honed by years of practice watching the 1980s TV series Here's Boomer).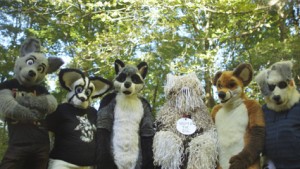 Boomer is just one of many. We also get to know Diezel the Raccoon (whose human face we never see, as he wishes to keep his anonymity); Bandit (another dog); Skye – a grey fox – another man with flowing tresses, who can dance up a storm while in costume; and Freya – a fennec fox – one of the few women in an overwhelmingly male (and primarily gay male) culture, who brings her young daughter to conventions and whose fiancé is also a Furry. Each of them offers their own take on what the lifestyle means to them; why they dress up; and what they think of the attempts from within the community to control its image.
Which brings us to Anthrocon. In its second half, the main characters firmly established, Fursonas brings us into the annual Furry convention – now in Pittsburgh (the home of the director and much of his crew) – where we meet Dr. Sam Conway, known within the Furry community as "Uncle Kage" (pronounced Kah-geh), who presides over his flock like a high priest. Apparently loved and appreciated by most, his attempts to clean up the Furry image (he kicked Bad Dragon, a purveyor of fantasy sex toys, out of Anthrocon) are seen by some (including this film's director) as overly controlling. Perhaps the most interesting part of the film is this later discussion over who gets to speak for Furries, and what and who should define what being a Furry means. It is especially jarring to see a group defined by its love of non-conformity wrestle with issues of the individual vs. the collective. Even if one has no interest in what has come before (Furries may not be for everyone), this section takes the specificity of the tale and transforms it into universal lessons for all. Which is what storytelling is all about, and which is why you should see this film.
– Christopher Llewellyn Reed (@ChrisReedFilm)