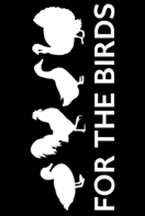 (The 2018 AFI Docs Film Festival runs June 13-17 in Washington D.C. Hammer to Nail lead critic Chris Reed, who also hosts a killer podcast on documentary filmmaking called The Fog of Truth, is at the fest and will be providing his usual excellent reviews and interviews.)
Director Richard Miron's new documentary For the Birds starts with an archival video – captured 10 years before the movie's main action begins – of married couple Kathy and Gary Murphy playing with a rescued duckling. It's a cute bird, and Kathy, especially, seems quite taken with it. Flash forward to the post-prologue now, and the Murphys are overrun with avian pets of all kinds: (more) ducks, geese, chickens, roosters and turkeys. They have not just the run of the yard, but also of the home, and are Kathy's babies, as she calls them. She denies them nothing, not even the right to sleep in her bed or defecate in her living room. Gary is less enamored of the situation, however, and ready for a change.
Kathy Murphy is a hoarder, you see; a bird hoarder, to be exact, something that the animal sanctuary in Wawarsing, New York – where the Murphys live – has never seen before. Unfortunately, while her love for her charges is obvious, she is unable to offer them the proper care they need to be healthy, and when someone (could it be Gary?) calls in the SPCA, that organization begins a rescue operation that provokes a conflict not just between Kathy and her local community, but between wife and husband, as well. Set to a soundtrack of clucks, gobbles, honks, quacks and cock-a-doodle-doos (a lot of cock-a-doodle-doos), For the Birds succeeds brilliantly in spreading our sympathies across all parties and perspectives, dividing our loyalties up to the very end. This is observational cinema at its very best.
I particularly loved how Miron, whose first feature this is, surprises us time and again with new plot developments. True, these things just happened – he did not will them to occur – but he was there, for years and years, showing persistent dedication to the process that allowed him to tell a sweeping story with many dramatic reversals. I was empathetic to all sides, if always concerned about the animals' welfare, above all else. And though Kathy Murphy has a clear psychosis in need of treatment – as Gary declares, "I've got diabetes, she's mentally ill" – she is also (or maybe because of it) a deeply compelling central character. As Shakespeare's Hamlet (sort of) said: "Fowl deeds will rise, though all the earth o'erwhelm them …"
– Christopher Llewellyn Reed (@ChrisReedFilm)