As has been the case at several film festivals, the documentaries tend to be stronger overall than the fiction features. This year at SXSW, there were several strong films as well as several great potential films.
Marwencore, which won the Jury Award for Best Documentary—read my full review here—is that rare exception, a fully realized, dynamically told, socially relevant yet still fun film.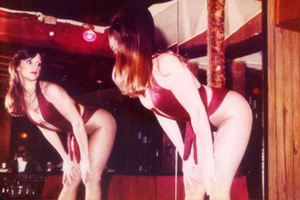 Many have great subjects and visually dramatic footage but are still searching for their ideal shape. One such example is The Canal Street Madam. Jeanette Maier was the madam of New Orleans's most famous brothel. For years she and her mother and daughter ran a house that catered to the richest and most powerful. When the FBI raided the house, Maier and her family were convicted and their livelihood was destroyed. Cameron Yates's film follows Jeanette as she tries to pull her family together and reclaim her pride by defending her profession. The Canal Street Madam is full of strong testimony by Jeannette and her family about prostitution and the lifestyle, but it falters when it tries to endorse Jeannette's anger over her own ostracism.
She is angry that her male clients all got off scot-free, that their names were never published and she was the one that suffered when in reality she was only providing the service that the men demanded. This is a noble argument and we can all agree that is it is unfair to only prosecute the prostitute and we may also all agree that prostitution should be decriminalized, but it should be pretty obvious that this is just the way of the world and it is highly unlikely that anything will change. So about halfway through the film, we start to want more than just the inside story of a smart savvy brothel madam. I wanted Yates to focus more on the interrelations of her children and their relationship to their mother rather than stay with the mother's UP WITH ME campaign. It's possible that through a re-edit the film could become less an endorsement of an articulate madam and more a portrait of a unique family.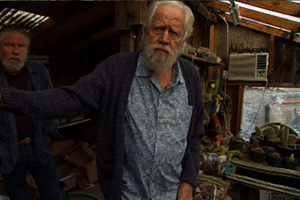 Dirty Pictures is a fascinating portrait of Dr. Sasha Shulgin, a rogue chemist who discovered and tested the mind altering effects of MDMA (ecstasy). The film is less a tale about crazy ex-hippie acid freaks and more a about the relationship of science to to illicit chemical drugs like MDMA, LSD and Psylocybin. It explores the relationship between brain chemistry and psychology through interviews with young doctors working in labs today studying the effects of drugs on mood regulation. Sasha's wife, a therapist, also talks about how the drug experience can help the taker get in touch with their 'shadow self'. Another aspect of Dirty Pictures has to do with the failure of the DEA. A retired DEA officer, who first got to know Sasha in 1969, talks about how the government completely missed the opportunity to explore the drug's potential by criminalizing it, which in turn led to further lack of understanding. If you need to rationalize an excuse to take LSD again this is the film for you.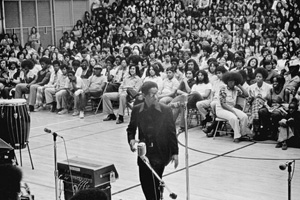 SXSW is the best place to premiere your doc if it has a significant musical component because the music aspect of this festival is so strong. Thunder Soul is about a professor of music who in the mid-1970s took a mediocre Houston High School jazz band and shaped it into a funk/soul marching band. In the process of getting the kids to inject their own musical tastes into the older jazz format they transformed into adults who learned they do have the ability to change and shape their own lives. Thunder Soul is as much an homage to the potential value of public education done right as it is a love letter to the power of one charismatic teacher's ability to change lives. This is an inspirational film that all struggling, depressed teachers should see as well as any current young financial industry workers who are starting to realize that they are wasting their lives moving money. I was lucky enough to catch the band perform live at a party and it was quite a treat to be able to stand in front of their awesome swinging and grooving power. Their act is sound designed for a big auditorium so in the smaller club where I saw them it was similar to standing behind a jet engine of energy.
— Mike S. Ryan