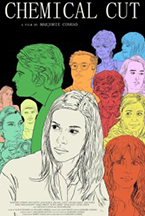 (The 2016 Slamdance Film Festival is in full swing and we have boots on the ground as well as eyes on screener links for the whole festival! Stay tuned to hammer to Nail as reviews start rolling in…)
Chemical Cut is the more-than-semi-autobiographical first feature written, directed by, and starring former America's Next Top Model contestant, Marjorie Conrad. But this isn't a dramatic reenactment of her time under the tutelage of Tyra Banks, nor is it a straightforward account of Marjorie's experiences attempting to forge a modeling career after ANTM. Chemical Cut is about modeling, but it's moreover the tale of a sheltered young woman attempting to thrive in a hostile world and discover her true self.
23-year-old Irene (Conrad) is indecisive about her career, but she knows she doesn't want to stay in her dead-end retail job. So when, thanks to a dramatic new hairdo, she is scouted by a modeling agency, she decides to give it a try. She is immediately met with opposition, as well as discouragement from her parents and her emotionally abusive childhood friend, Arthur (Ian Coster). Her new agent is grotesque in both appearance and personality. And though he bombards her with dehumanizing criticisms the moment she walks in the door, she decides to stick with it, determined to make the most of the "one good year" she has left to be a model.
Chemical Cut unfolds almost like a horror movie. Every scene is pregnant with anxiety and cruelty. Much of the abuse she suffers is disguised as constructive criticism, and that includes her interactions with Arthur and a new "friend", a fellow model called Spring. Some of what Arthur says is the truth, but 99% of the words out of his mouth are insulting and belittling. The only people in her life who truly care about her are her parents and, despite being artists themselves, they tell her in no uncertain terms that they believe she is wasting her time and talents on modeling. But sometimes (and especially when we're young), even when things are spelled out for us, we need to learn the hard way.
And what a hard way. Irene's modeling assignments increasingly feel like human trafficking. During photo shoots, the photographers give her vague or misogynistic directions such as, "be in your life" and "make me want to fuck you." During one particularly strange assignment, the person in charge refuses to speak to her at all, and later tells her agent that she was difficult to work with.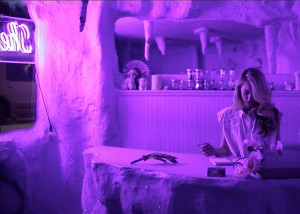 Things don't get any easier for Irene once she leaves work. Everywhere she goes she is treated like garbage. Her interactions with strangers on the street and public transportation are all too real. In these scenes, Conrad perfectly captures what it's like to be a young woman navigating the city alone. How people, and not just mentally ill ones, behave as if they have the right to her attention. Some get angry when she tries to ignore them. Scenes often end with her literally running away.
Conrad has only one other film under her belt, a short called Limehouse. But her first feature feels like a much more seasoned Art House director made it. She wears her influences on her sleeve to remarkable effect. Chemical Cut bares the tone of a Lars von Trier film, particularly regarding attitudes toward the protagonist. But visually, Conrad recalls David Lynch, frequently holding on extreme close-ups and cutting to unexpected perspectives and angles. Unlike many who attempt to harness the Lynchian look, She makes sure that each of these shots serves the story and elevates the viewing experience. Conrad shows terrific promise as a director. I expect her films will only get better from here on out. It seems she has finally found her true calling.
– Jessica Baxter (@TehBaxter)