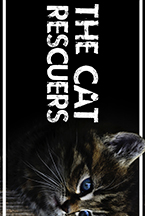 (The 9th annual DOC NYC ran November 8-15 in New York City. Lead Critic Chris Reed was there so stay tuned for his review and interviews…)
Here, kitty, kitty! Last year at DOC NYC I saw Ceyda Torun's Kedi, a delightful portrait of street cats in Istanbul. This year comes The Cat Rescuers, a look at the feral feline population of another big metropolis, New York City. The Big Apple is a little less kind to strays than is the former capital of the Ottomans, both in terms of climate and urban geography, so the hardy, committed souls profiled here – the self-designated "rescuers" of the title – have their work more than cut out for them. Fortunately, we mostly only see the good they do; the failures are often left out. This is a movie that cat lovers of all stripes should enjoy watching. Indeed, I would call it meow-datory viewing.
There are four main (human) characters (and many more furballs), all living in Brooklyn: Claire, Sassee, Stu and Tara. Each come to their obsession from different backgrounds, but they all share a love of cats. At least one – <gasp> – even has a dog, as well (have these people no cat-sistency?!?!). With determination and a huge commitment of time, our protagonists struggle to save as many abandoned and born-in-the-wild critters as they can, holding them for eventual adoption in cages in their own homes and apartments, since New York's Animal Care Centers are overwhelmed. Some have (understanding) families, others not. It can be lonely work – up early, out late – but a consuming passion like this knows no bounds.
I particularly enjoyed watching the different methods each person employs to capture their prey. The basic engineering is the same: one raises one half of a cage above the ground, with cat food as bait underneath, and then when the cat is enjoying its meal, one drops the raised portion of the cage down. Seems simple, right? But cats are fast, and keenly aware of their surroundings, so one has to be sneaky. Stu has devised a remote-controlled mechanism that allows him to wait at a distance; Sassee sits in her car with the cage on a rope. Whatever works, as long as they get the job done.
The real issue, as filmmakers Rob Fruchtman (Sweet Dreams) and Steven Lawrence (Blueprint for Accountability: Working the Dark Side) make clear, is a failure of local government to accept some share of the responsibility for solving the issue. Whether it's through "Trap, Neuter, Release" programs (which some cat groups like, but many bird groups do not) or greater funds and staff for adoption agencies, something needs to be done beyond relying on the good will of volunteers. Feral cats (and dogs) left on the street will breed, creating ever-larger populations. The movie offers a great call to action to raise our awareness of the issue, though admitting there are no immediate solutions, even if there are things we could do better. In the meantime, we can enjoy seeing the lovely furballs who do find better lives, thanks to the tireless efforts of their rescuers. I can hear them purring now…
– Christopher Llewellyn Reed (@ChrisReedFilm)