Cannes 2012 Dispatch #3: Reality Checks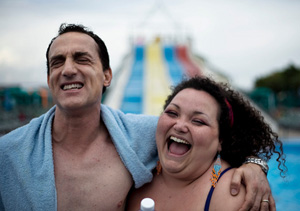 The main competition at Cannes visibly perked up this morning, thanks to Matteo Garrone's ironically titled and superbly crafted Reality: a movie about a dreamer gradually losing his grip on the eponymous environment, as he indulges in a fantasy of becoming a star of Italian TV's own Big Brother. Everything pales when compared to a vision of sharing one's life with millions of viewers—bug-eyed Luciano (Aniello Arena) goes from being a goofy and garrulous family man to Rupert Pupkin's kissing cousin in a matter of weeks. He sells his grocery stand, motivated solely by the hunch that his hour-long audition simply has to grant him access to the gilded tele-world of instant (as well as perpetual, or at least he thinks so) celebrity.
Garrone, best remembered from his meticulous and multi-layered portrait of Italy's organized crime in Gomorrah, makes a departure from sober realism to render the world of near-constant daydreaming his new character inhabits. The movie opens with an astounding aerial shot of a horse-driven golden carriage, first spotted amidst everyday car traffic and then followed to the gates of a flamboyantly luxurious wedding that itself creates a "reality" all its own. As the main narrative comes (slowly) into focus, Garrone indulges in elaborate long takes just this side of showy, all the while hinting at the fairy tale-like quality of Luciano's worldview by using Alexandre Desplat's mock-John Willams score, itself fueled by naïve wonder.
In fact, the film shares more than its enchanted musical cues with the Spielberg universe: Luciano, as played by the borderline-manic Arena, is close to Richard Dreyfus' character in Close Encounters of the Third Kind, another movie about sudden conversion to a "truth" greater than an individual. Whereas Spielberg granted his holy sci-fi fool a heavenly ascent into his fantasy world, Garrone does it only to an extent, never mocking Luciano for his silly TV-fueled dreams, but still showing how destructive can they become when treated as an actual Second Life.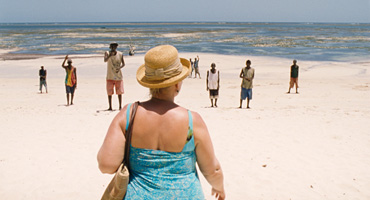 No such compassion is to be found in Ulrich Seidl's punishing—if occasionally hilarious—Paradise: Love, a vitriolic update of Les vacances de Monsieur Hulot, in which an middle-aged, overweight Austrian woman Teresa (Margarete Tiesel) heads for Kenya to tentatively indulge in pleasures of sex-tourism. The ghost of Jacques Tati hovers above the movie's meticulous mise-en-scene, if not exactly over its characters' proceedings—and least of all over the director's hateful attitude. Seidl piles on unflattering shots of his plump female cast and lets his characters to go on a rampage of nasty, unwittingly racist behavior, only to chastise their moral blindness and false sense of cultural entitlement (rightly, but too easily). All the while bits and pieces of sympathy get sprinkled over chosen scenes, until the film reaches its dead end of behavioral tedium and moral outrage, after which the viewer gets frozen in a single expression of tired disgust.
Technically, the movie is very accomplished, with every set piece perfectly timed and every composition making some kind of satirical point. What is lacking is any sense of directorial resolve—Seidl wants to have his cake and eat it too; to both hate his characters and make us feel sorry for their desperate loneliness. When the lights go up, one feels like one's conscience has just been violated, not enriched. Precisely the opposite of the complex uplift Garrone's Reality leaves its audience with, never for a second denying how faulty its main hero is and how much we all resemble him at times.
[Read "Cannes 2012 Dispatch #1"]
[Read "Cannes 2012 Dispatch #2"]
[Read "Cannes 2012 Dispatch #4"]
[Read "Cannes 2012 Dispatch #5"]
[Read "Cannes 2012 Dispatch #6"]
— Michal Oleszczyk