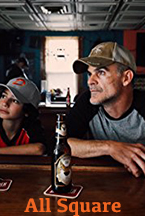 (The 2018 SXSW Film Festival kicked off March 9 and ran all the way through to March 17. Hammer to Nail has a slew of reviews and interviews coming in hot and heavy so keep your dial tuned to HtN!)
From director John Hyams (Universal Soldier: Day of Reckoning) and writer Timothy Brady (making his debut) comes All Square, a rough and rowdy gem of a movie that tells of small stakes with big consequences. Michael Kelly (Doug Stamper on Netflix's House of Cards) plays John, a bookie whose black-market business is being severely undercut by online gambling and the unwillingness of his clients to pay him the money they owe. Though not willing to resort to violence to recoup his losses, John has no compunction about robbing clients to obtain some collateral on the loans. As you can imagine, it's a recipe for trouble. So is deciding to bet on local Little League games. John is a sucker for self-destruction, it seems.
He gets the idea for the new venture when he realizes that he would face no internet competition, since no one else bets on children's baseball. Surely, then, nothing could go wrong, right? He, himself, is a former high-school baseball star, his potential pro career derailed through a combination of factors, including a sour family dynamic. Though his own father (Harris Yulin, Buddy on Netflix's Ozark) bears much of the blame for John's lack of success, the two live together, the son the reluctant caretaker of the old man. He's not all bad, then. Nor is he completely selfish in his motives for spending time with Brian (relative newcomer Jesse Ray Sheps), the son of a high-school girlfriend with whom John hooks up one drunken night. Brian needs a father figure, as well as a baseball coach, his obvious need touching something in John. Also, watching Brian gives John a ready-made excuse to attend Little League. 1+1 = big money.
Kelly brings a laid-back vibe to his performance that belies the crazy shenanigans of his character. Often – though not always – amoral, he's so chill about it that it's hard to hate him. He and Sheps are terrific together, their rapport enlivening the gentle, twisted humor of much of the script. Set in Dundalk, a suburb of Baltimore, All Square also benefits from the unfamiliar (in cinematic terms), lived-in feel of this working-class neighborhood, even if no one in the film speaks in a region-appropriate accent. With a fine supporting cast that includes Josh Lucas (The Mend), Isiah Whitlock Jr. (Newlyweeds) and Pamela Adlon (Marcy on Showtime's Californication), the film – which takes its title from the inevitable squaring of accounts that John must face up to, at the end – combines comedy and drama in a thoroughly engaging mix.
– Christopher Llewellyn Reed (@ChrisReedFilm)