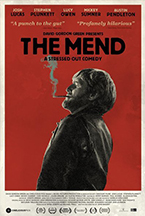 (As 2015 winds to a close, John Magary's The Mend is finding it's way onto many critics "Best Of" lists. And for good reason. While at once an uncomfortable family drama/buddy comedy it's also an unflinching and therefore refreshing look at growing up. The Mend is available now on-demand.) 
Depending on how you feel about a movie with unlikeable characters doing unpleasant things, you may or may not like The Mend. There's no question that The Mend – though filled with brilliantly innovative editing, beautiful cinematography and fine performances – can be a tough film to watch, if only because it tells the story of deeply unhappy people in a moment of real crisis. They cry, they fight, they occasionally laugh, and then they fight again. Along the way, they may or may not learn something about themselves. They're broken, in other words, and in need of mending.
First-time feature helmer John Magary (maker of the shorts The Second Line, Our National Parks and Site in Fishkill Creek) gives us a rich cast of prickly characters whose dysfunction knows little bounds. The first one we meet is Mat – played by a seemingly unhinged Josh Lucas (Little Accidents), giving the performance of his career – as he is thrown out of the apartment of the woman we thought was his girlfriend (as far as we could tell). Barely a minute of screen time has gone by, and he's wandering the streets of New York City, apparently homeless, shuffling his way between drunken encounters. Who knows how much time passes – though another character will later mention a three-month "anger loop" – before he shows up at the Brooklyn apartment of his somewhat-estranged brother, Alan.
Alan – played by a calmer Stephen Plunkett (Half Brother) – has problems of his own. When we first encounter him, he's arguing with his live-in girlfriend, Farrah (Mickey Sumner, Frances Ha). They may or may not have just been trying to consummate a sex act in their bedroom, even though they're throwing a party. We will soon discover that they're leaving the next day on a trip where Alan is supposed to propose to Farrah (it's all pre-planned, you see). Into this mess comes Mat, who shows the same sensitivity to others that we've come to expect in our brief acquaintance. We join him, Alan and Farrah at the party, where the conversations among the guests quickly become an almost-parody of pseudo-intellectual cocktail blather. But that's the point. Everyone is living a false life. Perhaps it takes an uncouth monster like Mat to shake things up.
Alan and Farrah leave, and that's when the film really gets under way. Mat stays in the apartment, making himself too much at home, reconciling with that girlfriend from the opening, who shows up with kid in tow. Soon, Alan's back, and the brothers spend the rest of the movie each forcing the other out of his comfort zone. Conflict, it seems, may be just what the doctor ordered.
Magary has a terrific way with actors. Beyond Lucas, Plunkett and Sumner – all excellent – there's Austin Pendleton (Black Box) as an old family friend and Lucy Owen (Kelly & Cal) as that on-again/off-again girlfriend, both at the top of their game, as well. Magary also knows his way around camera placement, directing his cinematographer, Chris Teague (Obvious Child) with a sure hand, revealing sites of New York – and Brooklyn – that we rarely see. It's in the editing, though, that the film really stands out. From the opening montage of Mat adrift, to many later flashes forward, backwards and sideways, editor Joseph Krings (Towheads) takes us on a temporal journey through the lives of the characters in a new and exciting way.
The Mend may not be for everyone. It's not easy watching mostly self-involved people misbehave. Still, it's refreshing to watch a film that doesn't push for easy redemptive trajectories, expecting us to do a little bit of work to meet the characters where they live. It's also frequently funny, in a somewhat depressive way, like a buddy comedy gone dreadfully (or delightfully, depending on your point of view) awry. Beyond the great acting, camera work and editing, see it to feel that much about your own life.
– Christopher Llewellyn Reed (@ChrisReedFilm)