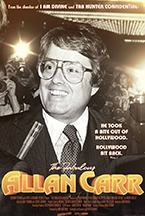 (The 43rd Annual Seattle International Film Festival starts May 18 and runs almost a month, all the way until June 11. Stay tuned to Hammer to Nail for reviews throughout the festivals monster run.)
One of the greatest things a documentary can do is introduce a wide(r) audience to someone who contributed to the cultural zeitgeist without receiving proper recognition. Case in point: Allan Carr, a movie producer who brought us the musicals Grease, and La Cage Aux Falles and invented both the Village People and saying, "And the Oscar goes to…" instead of "And the winner is…" Maybe Grease didn't influence your life per se. But I bet you know at least a couple of bars of "Summer Lovin'." And even if you aren't proud of that fact, chances are you'll find something to love about The Fabulous Allan Carr.
Director Jeffrey Schwarz (I Am Divine) knows his way around a gay icon biopic. His latest film is based on the biography, "Party Animals: A Hollywood Tale of Sex, Drugs, and Rock n' Roll Starring the Fabulous Allan Carr" by Robert Hofler. Schwarz didn't have a lot of personal video archives to work with so he had to animate some of the story using a sort of art deco, "Bewitched" style. Sometimes animation can overwhelm a documentary, but since Carr was a larger-than-life persona, it works. Schwarz also collected a stellar group of people to discuss Allan's legacy including close friend Lorna Luft, the singular Bruce Vilanch, and sound-bite master Frank DeCaro. Allan had a lot of friends. Really, almost every talking head in the film is identified as a friend of his. And they all loved him.
Carr was perhaps one of the only children in America whose childhood dream was to become a producer, rather than a director or an actor. For him, it really was a calling. He loved the movies and the glamour of old Hollywood. In the 70s, films were becoming more serious and vérité. It was the dawn of Oscar bait. Carr saw The Deer Hunter and thought that what America really needed was to be able to escape at the movies. He decided to bring back the movie musical by adapting the popular Broadway show, Grease to the big screen. Grease really was his baby. He deserves his name above the title more than most producers. He was entirely responsible for casting the roles that are so iconic now. The film was a major hit. One of Carr's friends aptly described it as, "Star Wars for gay boys" and another as a, "hetero fantasy filtered through a gay sensibility."
Though Carr didn't have Hollywood good looks, he made up for it in fashion and charisma. His signature style involved orange-tinted sunglasses and a caftan. Carr helped create his own golden age of Gay Hollywood by throwing absolutely epic parties in his disco basement. In addition to being Bacchanalian ragers, Allan's parties were a haven for men who had to hide who they were in their public lives. As for Allan, everyone knew about his sexuality, but talked around it with euphemisms like, "flamboyant". Bruce Vilanch refers to this as being "Gentlemen's Agreement Gay."
Of course, it wasn't all "singing and dancing and optimism" for Carr. Remember how I said he invented the Village People? Well, in doing so, he also made one of the biggest box office flops of all time: the "Village People origin story", Can't Stop the Music. (PS: If you love train wreck films, put this at the top of your queue immediately.) Carr's friends had a number of terrific ways to describe this manic musical that stars then-called Bruce Jenner and young Steve Guttenberg in the shortest of shorts including, "Can't Stop the Cocaine" and, "a gay kid on acid." It was a $13 million kick in the pants for Carr, who took a long time to recover both emotionally and professionally.
I don't want to tell you much more that that because part of the fun of this film is learning about Carr's myriad connections, accomplishments, and failures. Schwarz has done a fabulous job shedding a light on this truly fascinating figure that was "in the business of making people happy." Who doesn't want to know a guy like that?
– Jessica Baxter (@tehBaxter)