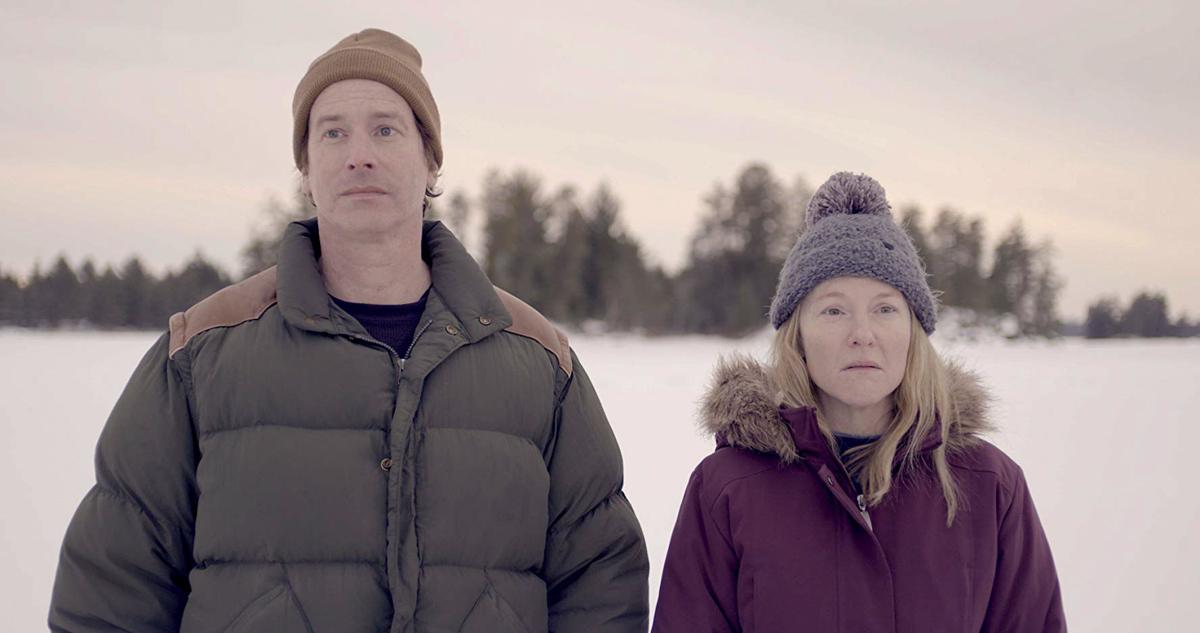 (Following a successful fest run that included The 2019 Seattle International Film Festival Amber McGinnis' debut feature, International Falls is available now on VOD via Gravitas. Like what you see here on Hammer to Nail? Why not pay just $1.00 per month via Patreon to help keep us going?)
The best comedy (and indeed, most art) tends to come from a place of deep, unrelenting pain. Even someone as family-friendly as Ellen DeGeneres has admitted that she's tapped into dark places for her bits. But just because pain can birth comedy, doesn't necessarily mean that comedy will alleviate pain. That is the underlying theme of Amber McGinnis' debut feature, International Falls, based on a two-person play by Thomas Ward, who also adapted the screenplay.
Rachel Harris (The Hangover, TVs Lucifer) stars as Dee, a middle-aged working mother who is bitter that her husband, Gary (Matthew Glave), has stepped out on her and checked out of their marriage. She works as a desk clerk at a hotel in the titular touristy Minnesota town on the Canadian border. Dee has spent her whole life in the Midwestern-as-hell International Falls, where there are no falls to speak of. It's so cold that even Smokey the Bear has to wear a shirt. The hotel hosts weekly no-name comedians, but the funniest person around is Dee herself, who keeps her co-worker, Ruthie (Jessie Sherman) in stitches during their grueling shifts.
When we first meet Dee, she's a woman who can't say no. Gary calls her toward the end of her long shift to add an oil change to her to-do list. Oh, but he can't pick up their daughters from school either and he'll see her at home after dinner is on the table.
Enter Tim (Rob Huebel, TVs Transparent, Bob's Burgers), the comedian du jour, who, despite his sardonic armor, lights a spark inside of Dee. She comes on to him after his set and, following a joyless hand job, they get to talking about the craft. Tim's comedy is based on smarmy superficial observation, despite his capacity for deeper truth. He has spent years on the road at the expense of his own marriage, and can no longer recall what first drew him to the stage. Meanwhile, Dee's passion and drive is just blooming. She feels that honesty is the cornerstone of good comedy and gets Tim to admit that he's been leaning on lies for far too long, both on stage and in his personal life.
When Tim reveals that his second show in International Falls will be his swan song, Dee makes the decision to hole up with him and let their brief-but-life-altering affair take its course. Their intercourse is more cerebral than physical and as Tim's encouragement fuels her drive, Dee discards fucks about Gary until her course of action becomes crystal clear. Little do they know; both of their fates will be sealed in that hotel room before the end.
Comedy veterans Mindy Sterling and Kevin Nealon have small, but memorable roles in this compelling dramedy that proves it's never too late to change your life. Harris and Huebel give heart wrenching and understated performances. It's not a love story so much as the tale of a woman who turns things around thanks to the inspiration from an unlikely source – a man who has given up.
Like what you see here on Hammer to Nail? Why not pay just $1.00 per month via Patreon to help keep us going?
– Jessica Baxter (@tehBaxter)