ZIDANE, A 21ST CENTURY PORTRAIT
Most people prefer one or the other: sports or art. Fewer recognize and appreciate the beauty of both. For my money, the most vital, stimulating, and glorious television events in 2008 have been (as of writing this review): the fifth and final season of HBO's The Wire, and the legendary Wimbledon showdown between Rafael Nadal and Roger Federer. Douglas Gordon and Philippe Parreno's Zidane, A 21st Century Portrait arrives as an almost direct response to this "sports vs. art" debate, in which the filmmakers attempt to bridge the gap between these acts of uniquely human expression that some find diametrically opposed and some find markedly similar. While it remains to be seen if Zidane will convert an art film lover into a sports fan, or vice versa, for this particular viewer, who would be hard-pressed to choose between attending opening night at Cannes or the NCAA men's basketball championship, it delivers an emotional, visceral thrill.
A daring, novel cinematic experiment—likely inspired by Hellmuth Costard's 1971 project Soccer As Never Before, which focused on Northern Irish football legend George Best—Zidane was shot in almost-real time on April 23, 2005, during a Spanish Primera Liga football match between Real Madrid and Villareal. Using seventeen cameras, Gordon and Parreno pointed their many lenses in the direction of one man: Real Madrid's iconic Zinedine Zidane, a commanding midfielder with a chiseled face and rare ability to single-handedly change the course of a game. Football is a team sport, but teams consist of individual players, and Zidane is one of the all-time greats. As we watch him in microscopic detail, he moves slowly, he moves quickly, he juts, he darts, he lingers, he sees, he waits, he dashes, he smiles, he fights, he runs. He is a cheetah, a bird-watcher, a soldier, a ballerina, a professional athlete with a singular, determined purpose. It's fascinating to watch Zidane, in heightened focus, throughout the course of this match, for one is used to watching soccer on television in a more standard manner. Like Michael Jordan or Wayne Gretzky, he was the center of attention in just about every game in which he participated, yet that never compared to the so-close-that-it-borders-on-stalking perspective we get here.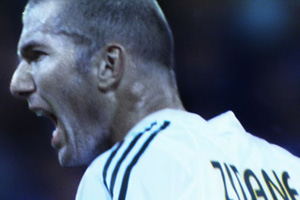 Football is more akin to baseball, as opposed to basketball or hockey or American football, for it is a game in which the downtime creates a grave, novelistic tension. For someone who doesn't get it or care to get it, watching Zidane shuffle around, the ball nowhere in sight, will prove their point that soccer is an absolute bore. But for the rest of us, this experiment casts a fascinating microscope on the duties of a professional footballer, a figure who is always at work even when he doesn't appear to be.
Sound design plays a huge part in Zidane, as Gordon and Parreno attempt to capture this particular athlete's state-of-mind while on the pitch. Zidane expresses this himself through patches of text that appear sporadically throughout the film (these moments, as well as many others, are driven by the atmospheric instrumental music of Scottish rock band Mogwai). He reveals that during the course of a game, at any given moment, he can zone in on someone sneezing in the stands, he can feel threatened by the crowd's constant taunting, and he can be filled with a deafening silence. We are witness to these shifting sonic waves, compliments of the filmmakers, a technique that adds greatly to the film's mysteriously physical allure. This isn't the only way Gordon and Parreno manipulate sound. They also present frequent, jarring juxtapositions of quieter shots from afar with thunderously loud on-the-field moments, to remind us that as much as we think we understand what it's like to be on that looming green field, we have no idea.
Even taking these immersive elements into account—the constant close-ups on Zidane's face and body, his diary-like musings, the sonic tricks that help us to imagine his state-of-mind—the film never fully captures what it's like to be this larger-than-life figure. But that might very well be the point. This isn't a what-it's-like-to-be-in-his-shoes documentary, it's an artistic National Geographic-esque portrait of a rarefied species. Zinedine Zidane is as larger-than-life as an athlete can possibly be, and to produce a standard documentary would have been inappropriate. In this way, Zidane allows us to admire this figure from closer, yet farther, than ever before. In crafting such a fragmented, poetic, experimental fusion of cinema and sport, Gordon and Parreno have done truer justice to Zidane than they otherwise might have. At the same time, they've given those of us who love both sports and art a special treat.
(Zidane, A 21st Century Portrait opens Friday, October 24th in New York City at the Anthology Film Archives and BAM.)