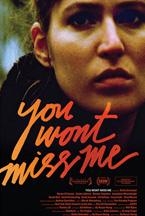 (You Won't Miss Me is now available in a Limited Edition DVD/Vinyl
release through Factory 25. It opened theatrically at Cinema Village in New York City on December 10, 2010. It world premiered in the Frontiers section of the 2009 Sundance Film Festival, which is when this review was first published. Visit Ry Russo-Young's official website to learn more.)
Is Shelly Brown mental? Or is she just another typical urban twenty-something roiling with frustration and anger? By the end of Ry Russo-Young's You Won't Miss Me, the answer might very well be neither. The more disconcerting truth is that Shelly appears to be ricocheting around in that shaky, unstable space in between. Which is what makes this deeply authentic character study so enthralling. You Won't Miss Me is not another generic, over-dramatized tale about the doomed unraveling of an unequivocally damaged soul—or, even worse, a portrait of a bored, self-absorbed, over-privileged brat. Set in a very real New York City, it is an artful collage that brings to life one of the more dynamic, complicated, and fully formed young female protagonists of recent memory.
As the ultra-fragile 23-year-old who has just been released from a psychiatric institution, Stella Schnabel delivers 2009's first standout performance. I have seen You Won't Miss Me twice, and I cannot figure out how she manages to make Shelly so excruciating, so tender, so pathetic, so brave, so weak, and so hilarious all at once. Yet she does. Most actors, when playing mentally unbalanced characters, act erratically, as if many different personalities are trapped inside the same body. Schnabel, on the other hand, conveys several conflicting emotions at once. Her Shelly is always Shelly. It's just that Shelly always happens to be on the brink of some sort of disaster.
Shelly's rampant instability is present at every moment in the film, even when she appears to be in control. But she isn't. From an early one-night stand to a group of humiliating auditions to a mini road trip to Atlantic City with a friend—which climaxes in a brutally funny instant classic of a late-night hotel room spat—Shelly cannot find steady grounding. Her desire to become an actress doesn't appear to be due to some deep inner burn. Her mother was an actress, and she seems to think that success in this field will win her mother's love and respect. Or at least some affection, which is all she really wants. But one has to wonder: even if love and affection were thrust upon her, would she know what to do with it?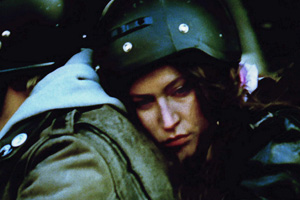 For those who were struck by the maturity and artistry on display in Russo-Young's debut feature Orphans, You Won't Miss Me will come as no surprise. Yet her sophomore effort is even more accomplished. In Orphans, her target was the past, how childhood lingers and continues to haunt the present. Visually, she used color to emphasize this theme. In You Won't Miss Me, childhood is gone and all that remains is the here and right now. This time, she embraces the texture of the medium itself, shooting on five different formats to not only reflect the up-to-the-minute-technology of the world in which we currently live, but to better reflect Shelly's internal state, with moods that swing from the gorgeously euphoric to the crushingly despondent.
Though Shelly constantly assures people that she knows who she is, her behavior belies those words, as she careens and tumbles from one situation to the next. This isn't just a case of youthful dissatisfaction and boredom; it is clearly something more troubling than that. However, Russo-Young and Schnabel are careful not to push things too far in either direction. They aren't here to solve Shelly's problems, and they aren't here to send her to the funny farm, either. In making the decision to avoid these trappings, they make her feel more infinitely believable and real.
For a film that doesn't have a traditional narrative trajectory or climax, You Won't Miss Me remains an invigorating experience throughout. This is due in large part to the dazzling visual and sonic pastiche that Russo-Young supplies. Color, black-and-white, grainy, pristine, the kaleidoscopic cinematography of Kitao Sakurai and Ku-Ling Siegel is experimental as well as traditional—and while it feels completely modern, its connection to classic underground cinema cannot be denied. Russo-Young performs a similar balance with regards to the soundtrack, combining Will Bates' melodically diverse score with energetic modern rock songs by The Virgins and Stylofone. Without showing off, Russo-Young proves herself to be a wide-reaching student of music, film, and art history.
Pay attention, everyone. You Won't Miss Me marks the official coming out party for Ry Russo-Young and Stella Schnabel, two artists whose careers have only just begun. One looks forward to what they come up with next. For now, we have this document of a troubled young woman to carefully consider. Will Shelly Brown be okay? Probably not, but only time will tell.
— Michael Tully