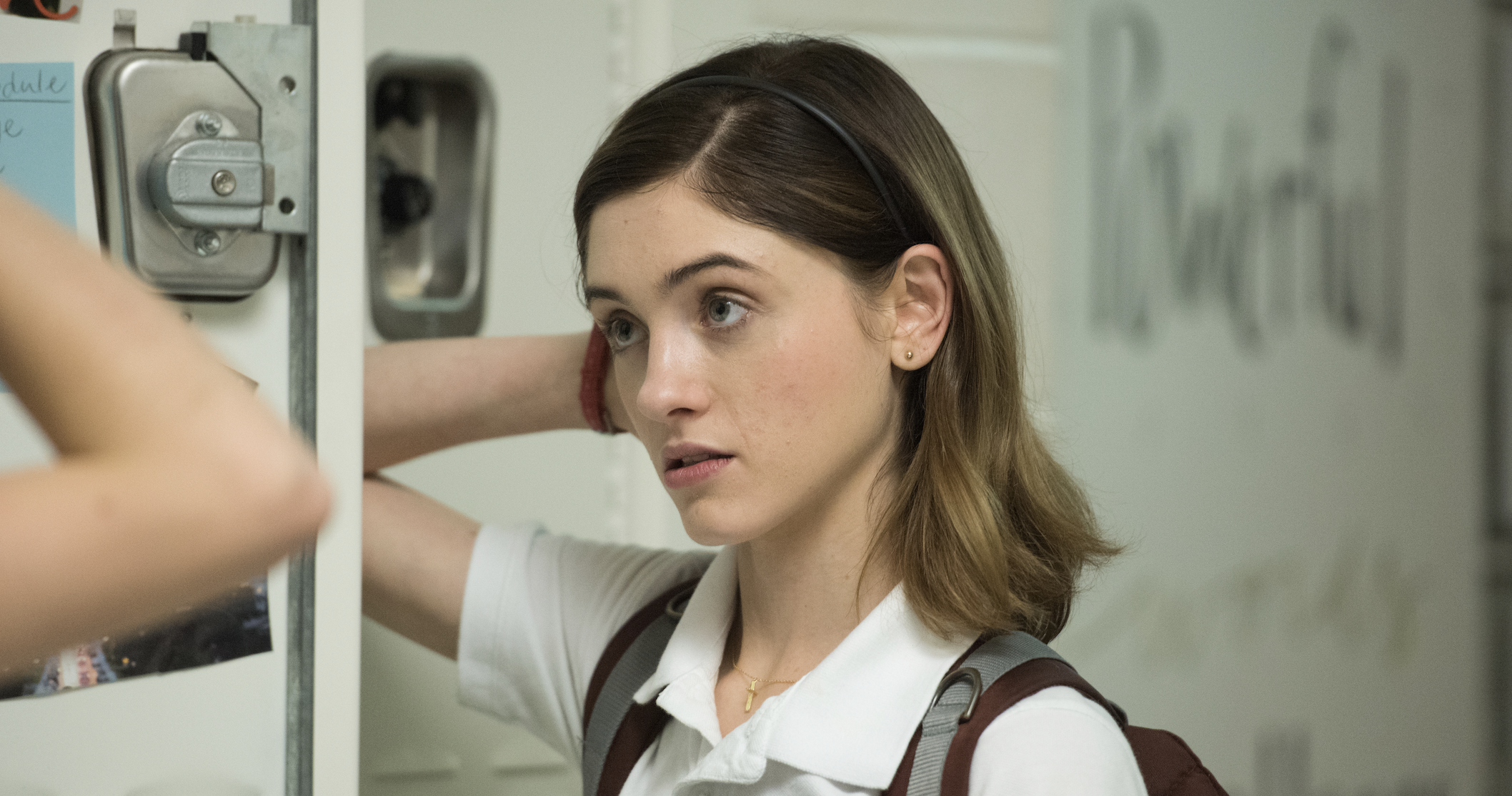 Karen Maine's debut feature, Yes, God, Yes is available on July 24, 2020 (Virtual Cinemas and Drive-ins) and July 28, 2020 (Digital and VOD) from Vertical Entertainment. Like what you see here on Hammer to Nail? Why not give just $1.00 per month via Patreon to help keep us going?)
Beneath the smiles, prayers and homilies, something wicked this way lurks in the Catholic high school attended by Alice, the 16-year-old protagonist of Karen Maine's debut feature, Yes, God, Yes. Though students and teachers are urged to live according to the proscriptive Christian values taught in class, some struggle more than others to follow the one true path. Or, maybe, more than some. This should trouble the devout, especially given that Maine opens her film with a quote from the New Testament's Book of Revelations: "As for the faithless and the sexually immoral – their portion will be in the lake that burns with fire and sulfur, which is the second death."
Are all who transgress soon to face eternal damnation? Can it be that youthful innocence is already so tarnished? What would Jesus say, much less do? Probably very little that would please the false prophets who proclaim a message which they, themselves ignore. For as we see here, sex is very much on everyone's minds (and bodies). Forgive me, Father, for I have sinned. Unless you, too, have sinned, in which case, forget it, I'll go on my merry way.
Natalia Dyer (Netflix's Stranger Things series) plays Alice, alight with burning hormones that churn below her seemingly placid exterior. One day, as she enters an AOL chatroom (the film takes place in the early 2000s, or late-stage dial-up), she ends up on the receiving end of some very dirty pictures, and before she knows it, she is touching herself, even though masturbation has explicitly been condemned in school as something not to do. Adding to her guilt and confusion, Alice finds herself the subject of a rumor that she has "tossed the salad" of a boy at school. Given that she doesn't even know what that phrase means, it's unlikely she did anything of the sort. But you know how people talk.
One thing leads to another, and Alice ends up at a weekend getaway for the faithful – the Kirkos retreat – where she hopes to avert temptation and learn profound metaphysical truths. Instead, she kind of explodes, taking others with her, though some were already lost, anyway. In fact, as it turns out, quite a lot of folks, young and otherwise, struggle with the church's strictures. Hypocrisy rules the day.
Dyer is perfect in the central role, her face an initially blank canvas that slowly fills itself in with a variegated landscape of warring sentiments. She is ably supported by an ensemble that includes Alisha Boe (Netflix's 13 Reasons Why series), Wolfgang Novogratz (The Half of It), Timothy Simons (HBO's Veep series), Parker Wierling (The 5th Wave) and, in a small but important part, Susan Blackwell. Everyone may be going to hell, but at least they're in good company. And, if they're lucky, they may just emerge with a gentler take on right and wrong, good and evil.
For that is the thrust of Yes, God, Yes, mixing drama and quiet comedy in a moving mix: judge less, lest ye be judged. Explore your options without fear of supernatural retribution. Be free, enjoy yourself and others. Or, to quote St. Paul from the First Letter to the Corinthians (not that any authority figure in the movie does): "Love is patient, love is kind. It does not envy, it does not boast, it is not proud. It is not rude, it is not self-seeking, it is not easily angered, it keeps no record of wrongs. Love does not delight in evil but rejoices with the truth." Words to live by, spiritually, emotionally, and here, cinematically.
– Christopher Llewellyn Reed (@ChrisReedFilm)