WORLD'S GREATEST DAD
Funny Ouch Ouch
Leave a Reply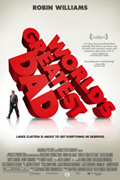 (World's Greatest Dad was picked up for distribution by Magnolia Pictures. It's now available on VOD
and opened in New York City on August 21, 2009. Visit Bobcat Goldthwait's official website to learn more, and be sure to read our HTN conversation with Goldthwait if you haven't already.)
A friendly warning to those of you who have yet to see Bobcat Goldthwait's World's Greatest Dad: be sure not to have your mouth filled with food or drink when the first line of dialogue is spoken. Even for viewers who are prepared for Goldthwait's gleefully profane, crudely sweet brand of satire, this opening exchange between father and son will provide a wide-eyed jolt (one's temperament will determine whether that jolt is a pleasant one or not). But even detractors of Goldthwait's work behind the camera must concede the following: when it comes to holding back, Bobcat Goldthwait does not.
(While it's almost always a better idea to step into a movie knowing as little about it as possible, this is an example where that concept really applies. Though having said that, I should also stress that I've seen World's Greatest Dad twice and found it as rewarding the second time around. So maybe it isn't that important after all? Just to be safe, I will do my best to proceed with spoiler-free caution. That seems like the right way to play it.)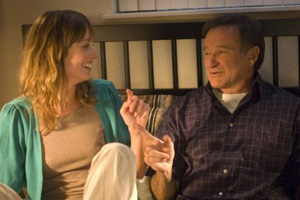 Robin Williams is Lance Clayton, a sad sack of a high school poetry teacher and single father who spends most of his time fantasizing about becoming a world-famous writer. At home, driving to school, pretty much whenever they're together, Lance is tormented by his outrageously crude son Kyle (a hilarious Daryl Sabara), who is constantly on the verge of getting expelled. Lance is doing well in one department, however. Somehow, he landed the school's prettiest teacher, Claire (Alexie Gilmore). Or maybe not. Claire's friendship with another teacher, the dapper, recently New Yorker-published Mike (Henry Simmons), seems a little too close for comfort. Whatever the case, Lance will take what he can get. But one night, something happens that changes Lance's fate—at first, for the very worst, but soon after that, for the unimaginably better.
It is difficult to write about this movie without getting into specifics, but there is much to be said about Goldthwait's ever sharpening vision. What makes World's Greatest Dad such an impressive overall achievement is how Goldthwait is able to work within a more traditional, formulaic structure and spin such an exaggerated tale, yet still present a world that feels closer to real life than most reality shows. What makes it one of the year's most vital comedies is how he pulls no punches in delivering a surprisingly thought-provoking critique of our nation's general penchant for conformity—especially with regards to the high school game (which I still relish not having to play over fifteen years later).
Detractors will no doubt criticize Goldthwait's heavy dependence on pop-musical montages, and while he does test the boundaries of that device, they are actually an integral component of his vision. It might sound silly to put it this way, but it's true: they further enhance the disarmingly unique contrast between the multiplex friendly structure of Goldthwait's movies and the profane subject matter that would be kicked out by security before their foul mouths took one step through the multiplex's front door. In fact, the most memorable montage in World's Greatest Dad, set to Akron/Family's "Don't Be Afraid, You're Already Dead," gave me actual chills.
Speaking of pop music, at the beginning of the movie, before Lance reveals that he's been listening to Bruce Hornsby, I honestly mistook the track for Sufjan Stevens. I'm not sure what that means exactly, but it's something. Later, when Hornsby appeared on screen to perform another song, I found myself seriously thinking, "I need to track down some Hornsby and give this man a legitimate spin." (Come to think of it, this might very well be Goldthwait's most impressive directorial feat.)
With World's Greatest Dad, Bobcat Goldthwait breaks out his cuddly knives to produce another excruciatingly uncomfortable, and deceptively thoughtful, comedy. In the process, he's revealed himself to be a first-class satirist who addresses subjects that most filmmakers wouldn't touch with the thickest of gloves. Twenty years ago, no one would have believed it, but in 2009, Bobcat Goldthwait is turning into an honest-to-goodness, full-fledged American auteur.

— Michael Tully
Leave a Reply