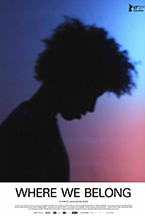 (The 2019 Full Frame Documentary Film Festival ran April 4-7 in Durham, NC. Stay tuned for a smattering of excellent reviews. Like what you see here on Hammer to Nail? Why not share just $1.00 per month via Patreon to help keep us going?)
A visually sumptuous, if melancholy, elegy on the premature loss of innocence, Swiss director Jacqueline Zünd's documentary Where We Belong follows five children of broken homes as they navigate the complexities of post-divorce life. Focusing almost exclusively on her young subjects, Zünd (Almost There) avoids all but the most peripheral inclusion of adult perspectives, the parents seen at the edges of the frame or not at all. Instead, this movie gives voice to heretofore disenfranchised boys and girls whose fractured realities, though now normalized to a degree, remain the formative influence on their lives. The camera is a powerful therapist, however, and the frank conversation it engenders allows for some powerful catharsis, with we the viewers the vicarious beneficiaries of the attendant emotional release.
The youngest, twin girls Alyssia and Ilaria, are also the happiest, their parents' separation, though initially traumatic, at present the least fraught of those we see on screen. The biracial Carleton and Sherazade are less fortunate, their father and mother so unable to function together that the children now live in a state-run home. Thomas, on the other hand, on a farm in the countryside with an inattentive father, has all the freedom that Carleton and Sherazade lack and, perhaps not surprisingly, cannot stay out of trouble. Together, they form a wholly engaging cast of characters, their frequently wise meditations on the state of things belying their youth.
Cinematographer Nikolai Von Graevenitz (Siberian Love) delivers images of uncommon beauty, whether in the talking-head interviews or in the observational footage of the five kids out in the world. I particularly loved the dreamy interstitial shots between scenes, with Zünd blending Graevenitz's shots in multicolored montages that evoke the constant transitional disquiet of separation. Though sad, the movie is also hopeful, revealing the growth and resilience that may just carry everyone forward. Where do we belong? Right here, in the minds and hearts of these thoughtful souls, old before their time.
– Christopher Llewellyn Reed (@ChrisReedFilm)
Like what you see here on Hammer to Nail? Why not pay just $1.00 per month via Patreon to help keep us going?