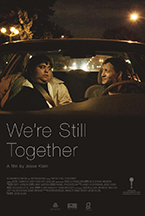 (After a successful, global run on the film festival circuit Director (and frequent Hammer to Nail contributor) Jesse Noah Klein's We're Still Together is seeing release in Canada. Stay tuned for dates in the states…)
From director Jesse Noah Klein (Shadowboxing) comes a poignant drama of discomfort that showcases the powerful performances of its two leads, Jesse Camacho and Joey Klein (the director's brother). They play Chris and Bobby, respectively, misfits who spend an awkward – but eventful – evening in each other's company, seeking refuge from the misery of their lives. Chris is an extremely overweight young man bullied by local toughs and rejected by his mother. Bobby appears, at least initially, his suave and confident opposite, but then soon reveals himself an equal outcast. By night's end, it's Chris who seems the more relaxed of the two, with hopes and dreams that might actually come true. Klein (director) navigates this dramatic reversal with skill and panache, making We're Still Together a moving (if dark and twisted) cinematic jewel.
Camacho (Lost After Dark), with his frightened eyes and armor of physical bulk, is a real find. His Chris is clearly someone who has long lived in the shadow of others, without any kind of personal agency. We're not sure how old he is, since the dynamic between him and his attackers recalls high school, though he and the bullies look like twentysomethings. Whatever age, the sad story of his life up until now is clearly etched in his face. When Joey Klein (The Animal Project) shows up, his Bobby grabs one of the bullies to teach him a lesson, then takes it a little too far, prompting the first reaction we have seen from Chris beyond fear, in which he pushes Bobby violently to the ground.
Why? For a man without friends, any interaction is better than loneliness, and at least his bullies – one of whom whispers, "I'm your friend." before hawking a loogie down his throat – see him, rather than seeing right through him. But Bobby sees Chris, too, and in in saving him hopes to save himself, as well. For he is a man on the edge of an emotional precipice that threatens to collapse ay any moment. Joey Klein plays him perfectly, capturing both his self-assurance and panic, all wiry nerves stretched to the breaking point.
The film, strong as it is, falters a bit when it comes to its female characters, however. They seem more like constructs than real people. Whether it's Bobby's wife or Chris's love interest, or the few other women we encounter, they all serve more as reflections of the male gaze and ego than anything else. Since both Bobby and Chris are deeply self-involved, this could be writer/director Klein's way of externalizing their lack of self-awareness, but it is occasionally jarring, especially since Chris's behavior verges on stalking. Still, the two central protagonists are beautifully realized and vividly unique. Overall, then, We're Still Together offers a compelling narrative with a meaningful payoff, well worth watching.
– Christopher Llewellyn Reed (@ChrisReedFilm)