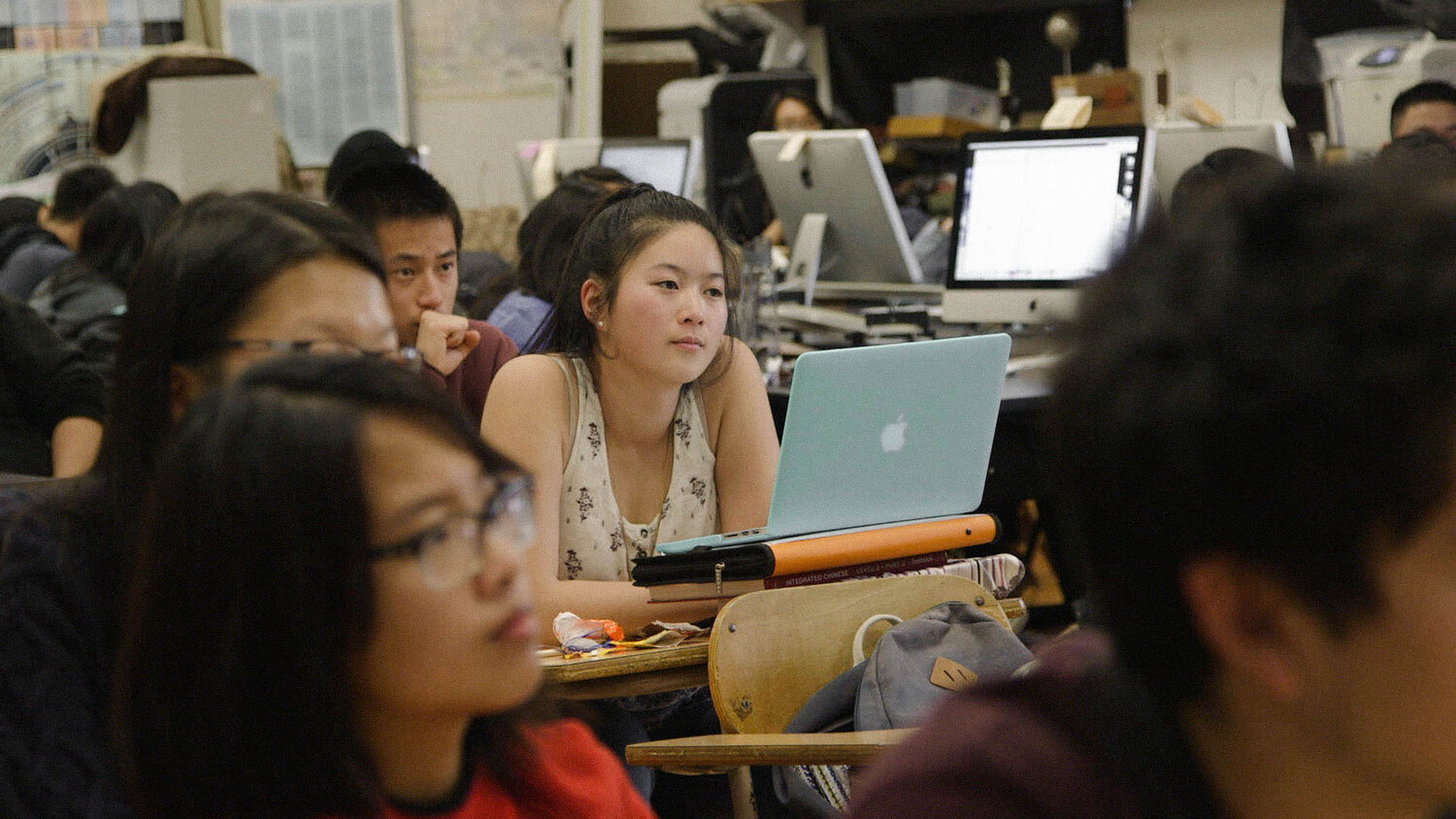 (Check out this movie review of Try Harder!, Debbie Lum's film fest favorite which is in theaters now. Like what you see here on Hammer to Nail? Why not give just $1.00 per month via Patreon to help keep us going?)
If your best isn't good enough, "try harder." That is what one might take for the mantra of the eponymously titled documentary from Debbie Lum (Seeking Asian Female), until one watches it, that is, at which point it becomes clear that the reality is more complicated than a simple slogan. Set in San Francisco's Lowell High School — "the oldest public high school west of the Mississippi…ranked as one of the highest performing public high schools in California" (according to its website)—Try Harder! follows a diverse group of students as they navigate the college-application process. For some, it goes well; for others, not as expected. If the journey is the thing, however, then important lessons are learned by all, including the viewer. 
Among the many young people we meet are Alvan Cau, Ian Wang, Rachael Schmidt, Shea Fairchild, and Sophia Wu. Ian is white and Rachael is biracial (African American and white); the others are Asian, from varying backgrounds. Each has their own unique family situation and therefore differing pressures on them to succeed (or not). For every highly motivated parent (and student), there is someone like Ian's mother, who proudly proclaims that she is the "opposite of a tiger mom" and wants her son to learn to be himself (she also went to Lowell). The fact that he may now have to go to Oxford Junior College because his grades are less than spectacular is fine by her. Plus, students at Oxford automatically (more or less) get into Emory for their junior year. Even in ostensible failure (by traditional Lowell standards), there is success. Still, Ian may hold surprises, yet. 
Rachael labors under different stereotypes. As she tells us, other students had trouble believing that a Black mother would actually care all that much about grades. Well, she does, and her daughter excels at both school and life. Shea comes from the economically poorest background of the group, struggling under the weight of his father's personality disorder; at one point, the family is evicted from their home. Alvan is the school prankster, though with very traditional Asian parents, hoping for a career in medicine. His odyssey will definitely not go as planned. Sophia is an all-around star, as athlete, newspaper editor and more, and is ready for anything. Together, they drive the narrative towards its often-surprising conclusion.
Lum mixes fly-on-the-wall filmmaking with participant interviews and supporting footage of everyone at home and work. We see how invested the teachers are in the process, how much they care and how much everyone tries to battle the notion that grades are all that matters. Apparently, Stanford University, just to the south of the city, is not only the currently most selective institution in the country but doesn't accept a lot of Lowell students because they see them as grade machines. I recommend the folks in Admissions watch this documentary, then, to see how much more there is to the story. And, as with all tales marked by this level of wonderful specificity, we can extrapolate to larger, more universal truths across the land. It's all about discovering why one is trying harder, and to what end. Know that, and anything is possible.
– Christopher Llewellyn Reed (@ChrisReedFilm)
Debbie Lum; try harder! documentary film review