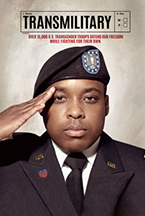 (The 2019 Annapolis Film Festival, out of Annapolis, MD, featured 70 films in 4 days and ran March 21-24. Lead critic Chris Reed was on the ground there and offered his usual compelling slate of reviews and interviews! Like what you see here on Hammer to Nail? Why not share just $1.00 per month via Patreon to help keep us going?)
Those who serve their country even in the face of continued discrimination deserve special commendation, irrespective of battlefield bravery. For a long time, the various branches of the United States Armed Forces had an active ban on openly gay and lesbian personnel, first as a blanket restriction and then through the nominally less prohibitive "Don't Ask, Don't Tell" policy, finally repealed in 2011. Allowing people to be soldiers (or marines, etc.), irrespective of sexual orientation is as it should be. Next on the list were the transgender, freed from persecution in 2016. Unfortunately, our 45th President tweeted, just a year later, his intention to walk back that decision. It's a good time, then, to check out TransMilitary, a documentary from first-time feature directors Gabriel Silverman and Fiona Dawson that profiles four exemplary trans men and women in the military whose status goes, over the course of the film, from precarious to stable to precarious once more. And yet they still want nothing more than to honorably serve.
We meet Senior Airman Logan Ireland, deployed in Afghanistan; his fiancée, Corporal Laila Villanueva, back home in the States; Captain Jenn Peace; and First Lieutenant El Cook. Prized by their commanders, they should by all rights be secure in their posts. Not so, as they feel compelled, until 2016, to hide their true selves. Ireland, for example, whose ripped, muscular physique would be the envy of any male workout fanatic, fears returning from abroad and being forced into female attire; at least in Kandahar his supervisor lets him be, more than happy to have such a qualified soldier in the field. Same goes for Peace, constantly worried that she will have to don a male uniform, or use the men's room, even though she is clearly female and performs her duties in an exemplary fashion, so much so that she is eventually promoted. Cook faces similar problems, as does Villanueva. What goes for one goes for all, to the detriment of morale. And yet they still serve.
Silverman (also the cinematographer) and Dawson are granted full access to their subjects' lives and use it to expose the fallacy that a ban on the transgender in the military is a net positive. What business of anyone is anyone else's business? What counts is the ability to do the job. At least there are high notes, such as when Obama's Defense Secretary announces the lifting of the ban, or when Ireland and Villanueva finally wed, in Hawaii. But always lurking in the background is the evil specter of irrational prejudice, today embodied by our current commander-in-chief. A fish rots from the head; time to freshen up.
– Christopher Llewellyn Reed (@ChrisReedFilm)
Like what you see here on Hammer to Nail? Why not pay just $1.00 per month via Patreon to help keep us going?