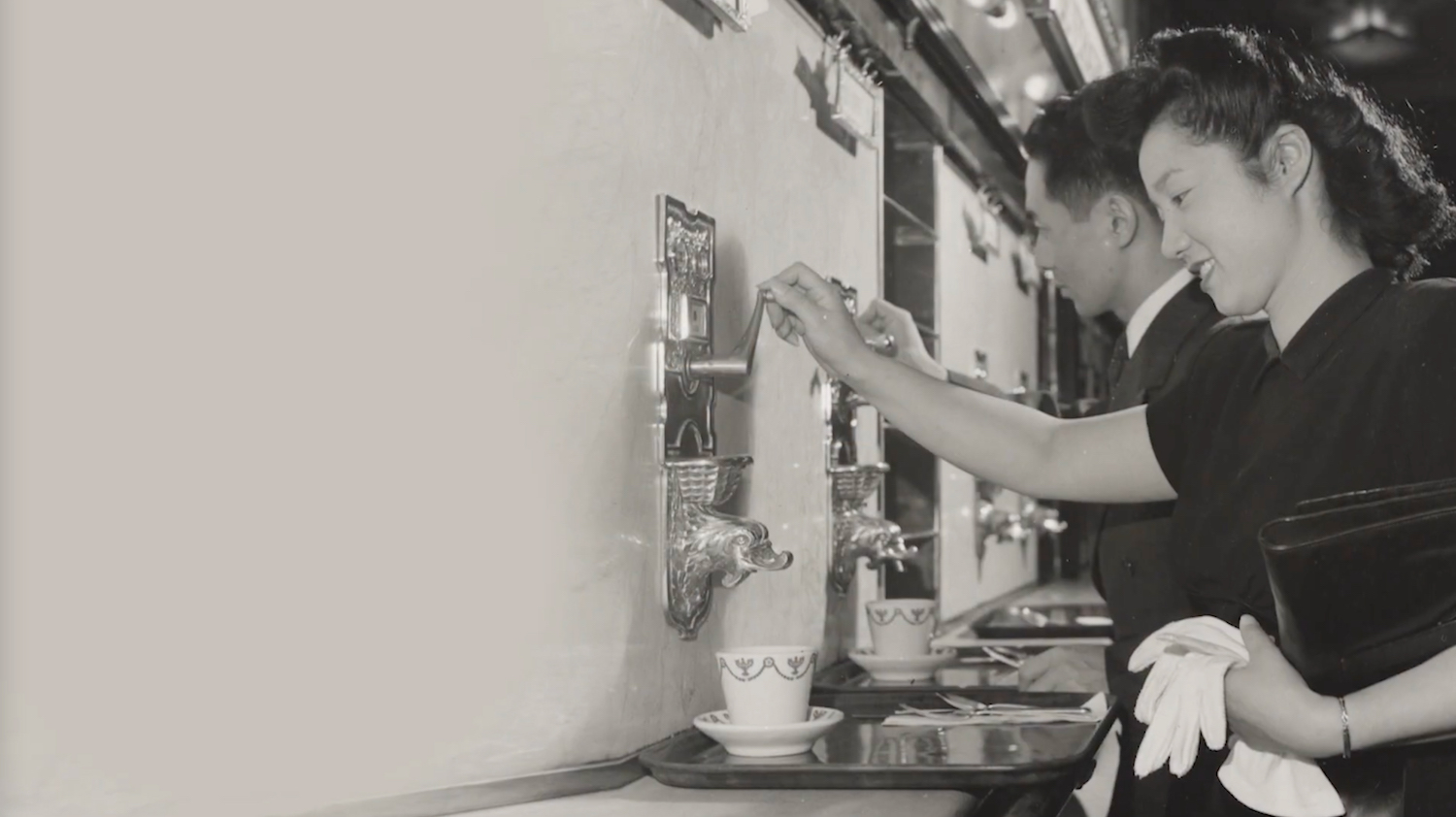 (The 2022 Annapolis Film Festival runs March 31-April 4. Check out Chris Reed's movie review of The Automat. Seen it? Join the conversation with HtN on our Letterboxd Page.)
For much of the 20th century, Horn & Hardart Automats were a fixture in the cities of Philadelphia and New York, especially in the 1930s, '40s and '50s. Inside these gleaming food emporiums, customers could gaze at the offerings inside compartments on the wall, drop a coin in a slot, and then reach in and grab the item, whether it be savory or sweet. If one needed a caffeine fix, there were dolphin-headed spouts from which a carefully measured serving of coffee—with just the right dollop of milk—would pour, for just a nickel. Futuristic when first developed, the Automats eventually became artifacts of a bygone era. Clean and efficient, they were safe havens in which to relax and eat. It's no wonder so many remember them with fond nostalgia.
In The Automat, her documentary on the rise and fall of Horn & Hardart, first-time director Lisa Hurwitz interviews the likes of Mel Brooks, the late Carl Reiner, the late Colin Powell, the late Ruth Bader Ginsburg, and others, including a man who wrote his Ph.D. dissertation on the subject, Alec Shuldiner (who is also a producer on the movie and, much to my surprise when I saw him appear on screen, a college classmate of mine). He walks us through the history, along with authors Marianne Hardart (a descendant) and Lorraine Diehl, whose book The Automat: The History, Recipes, and Allure of Horn & Hardart's Masterpiece is surely a must-read if the subject appeals. 
Brooks, right from the start, appoints himself as cinematic puppet-master, offering suggestions of how Hurwitz should proceed, advice she promptly accepts with playful mise-en-scène. Indeed, The Automat is filled with fun and joy, despite the notes of sadness that creep in as we follow the inevitable trajectory of post-success decline. Using copious archival photos and footage, the former often adjusted to make certain colors pop out of the black-and-white image, Hurwitz marches forward from past to present, effortlessly collapsing time in a back-and-forth montage of triumph and regret.
And how marvelous it must have been to see these places in their heyday. Like Shuldiner, I have vague memories of childhood trips to New York during which I visited a by-then increasingly dilapidated version of grandeur. For grand they once were, shining throughout the Great Depression as beacons of prosperity, the inexpensive meals served inside what must have seemed like European palaces. Not only that, but at a time of racial and class-based segregation, the Automats catered to a diverse clientele sitting together in the same space. Founders Joseph V. Horn and Frank Hardart believed in quality and in making both customers and employees feel special. 
Those values make the loss of the one-time culinary empire sting more deeply. And even though Howard Schultz, of Starbucks, is on hand to accept the mantle of genial hang-out spots, his own creation, though ubiquitous, is no match for the loveliness of what once was. But everything has its moment, and those moment pass. Nothing lasts forever, but if you're lucky, you'll have a capable filmmaker come around one day to tell the tale of your one-time greatness. Hurwitz more than fills that role, and this brisk, though comprehensive, film does the Automat proud.
– Christopher Llewellyn Reed (@ChrisReedFilm)
2022 Annapolis Film Festival; Lisa Hurwitz; The Automat documentary movie review