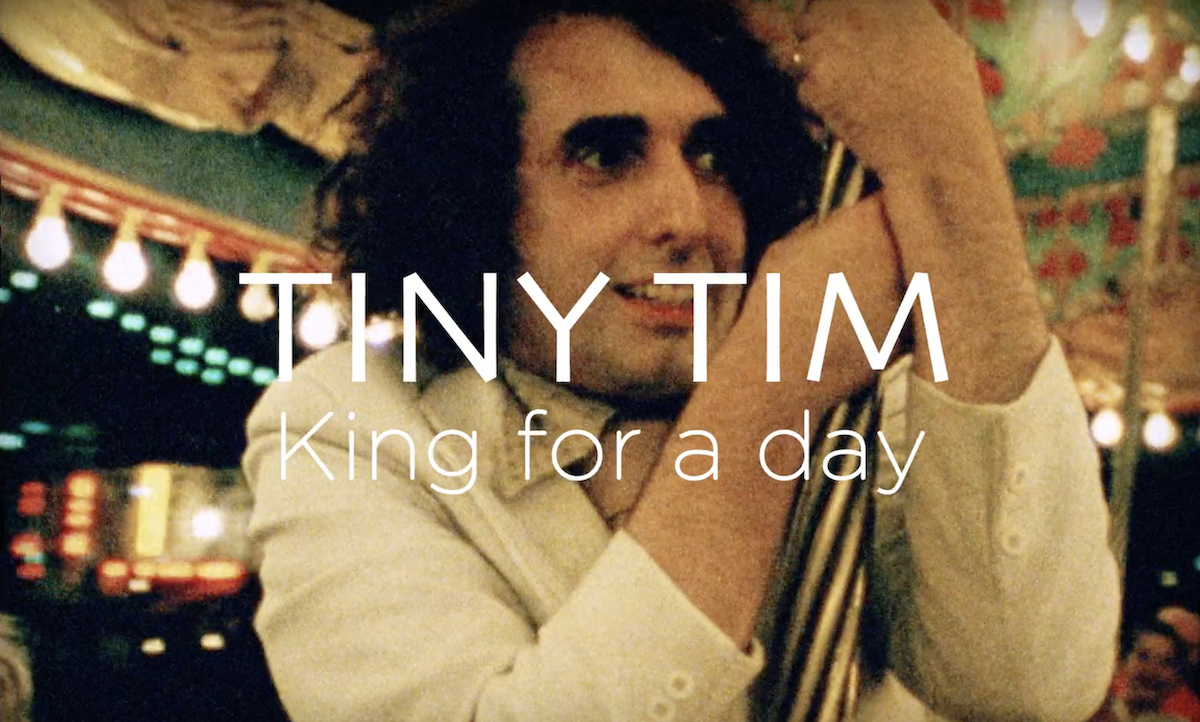 (DOC NYC ran online Nov 11 – 19, 2020 and Hammer to Nail has TONS of reviews to keep you in the loop! Like what you see here on Hammer to Nail? Why not give just $1.00 per month via Patreon to help keep us going?)
Herbert Butros Khaury, born in 1932 to a Belarusian Jewish mother and Lebanese Catholic father, was raised in New York City as something of an outcast within his own family, his parents never quite sure what to do with this strange, androgynous creature they had somehow brought into the world. Developing an interest in music at an early age, he struggled for years to find a style that would set him apart and make him a star. A self-described "freak," he finally hit upon a shtick that would, indeed, lead to fame and wealth, however short-lived.
Adopting the incongruous stage name Tiny Tim (he stood well over 6 feet), he would sing in a falsetto voice as he accompanied himself on a ukulele. Somehow, the oddity of his affect suited the 1960s ethos, and he finally garnered widespread attention by his mid-30s, with 1968 the pinnacle of his career and his big hit "Tiptoe Through the Tulips" playing on radios and televisions across the globe. In the new documentary Tiny Tim: King for a Day, director Johan von Sydow examines the rise and fall of this eccentric songbird, who warbled his way into the culture and may have then faded, but never quite vanished (though he did eventually die, in 1996).
With a mix of interviews, archival footage and evocative animations, von Sydow takes us through the highs and lows of Tiny Tim's life, starting first at the top and then doubling back to his turbulent childhood, filling in the how and why of his eventual, if fleeting success. The talking heads include his third (and final) wife Susan, daughter Tulip, a cousin, his manager, a childhood friend, the late filmmakers Jonas Mekas and D.A Pennebaker, Peter Yarrow (of Peter, Paul and Mary), Wavy Gravy, Tommy James (of Tommy James and the Shondells), Johnny Pineapple and more, many speaking at length about the appeal of Tiny Tim's sexual, ethnic and political ambiguities. In a bit of casting genius, musician "Weird Al" Yankovic narrates, reading from diaries, his own peculiar delivery a perfect match for the text. Inspired by the book Eternal Troubadour: The Improbable Life of Tiny Tim, the film feels comprehensive, offering details both pleasant and unpleasant from the subject's biography.
It may seem hard to fathom, but Tiny Tim was so big in the late 1960s that Johnny Carson offered to have him wed his first wife, Victoria (aka Miss Vicky), on The Tonight Show in 1969. He and the ceremony made for must-watch TV, the program garnering what would remain its highest ratings for quite some time. Too bad the marriage didn't last: as Tiny Tim's fortunes went south, so did the relationship. He would marry again – despite his androgyny, he mostly appeared to like women, despite a powerful early crush on a man – just as he would perform again, though in the 1970s he ended up a property of sorts of the mafia. He would eventually be free of them, after an intervention by friends, but never again would he sit atop the charts or command the large audiences. At least here, in this fine profile, he can once again hold our attention, if only for a little while.
– Christopher Llewellyn Reed (@ChrisReedFilm)