(New Zealand directors David Farrier and Dylan Reeves's documentary, Tickled has steadily built up a reputation as one of the best docs of the year. It's also slowly and steadily working its way to a theater near you via Magnolia Pictures.)
I don't know about you, but I hate being tickled and always have. There's something insidious about a person forcing uncontrollable laughter out of you despite not enjoying how they're doing it. Inexplicably, both my children love being tickled and will even request it. If they ask me to stop, I do so immediately. Their laughs are genuine, though I can't imagine why. Even as a child, I detested it and would become furious when subjected to it. On more than one occasion, my brother received a bloody nose in response to his non-consensual tickling. So when I heard about "Competitive Endurance Tickling" – the subject of New Zealand directors David Farrier and Dylan Reeve's documentary, Tickled – my first thought was, "DEAR GOD, WHY?!" The easy answer is the same as the reason people do anything unpleasant – money. A lot of money. But, as Farrier and Reeve soon discover, there's a lot more to the story than that.
Anyone familiar with Internet shenanigans can guess the "twist" in Tickled long before the reveal. But that doesn't make the journey any less compelling. When Farrier – who makes his living blogging web-based human-interest stories – stumbles upon a video of a buff young man in sportswear being restrained and tickled by two other similarly clad young men, his interest in understandably piqued. Just what is the deal with "Competitive Endurance Tickling?" He contacts Jane O'Brien Media, the production company claiming ownership over the video, asking for an interview. Debbie, a representative of Jane O'Brien, doesn't just decline. Her response is filled with homophobic vitriol directed toward the openly gay journalist. And it doesn't stop there. Farrier receives numerous abusive emails from both Debbie, and O'Brien herself, threatening litigation if he doesn't cease any and all inquiries into their affairs. Then, two lawyers representing Jane O'Brien Media fly to New Zealand to threaten Farrier and Reeve in person. This aggressive litigiousness seems an over-the-top response to a simple interview request. Needless to say, it does nothing to sate Farrier's curiosity. Soon, he and Reeve are on their way to L.A. to stake out a video shoot.
There they are met with even more threats. Eventually, they are able to track down a single former participant (out of hundreds) who is willing to talk. The would-be N.F.L. player describes analogous email harassment after his videos, which, according to O'Brien, were for a "private collection", littered the Internet, along with his personal information. He credits this harassment for ruining his professional athletic prospects and humiliating him in the process. Since Jane O'Brien already ruined his life, he reckons he has nothing to lose by giving Farrier and Reeves everything he knows. This leads them to discover a predecessor to Jane O'Brien, a woman called s, who had a similar modus operandi in the 1990s.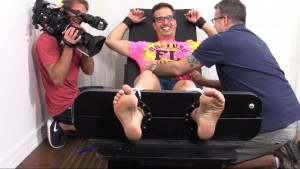 The men also meet with Richard Ivey, a man who represents the consensual side of what he openly identifies as a fetish akin to light bondage. His website, "My Friend's Feet", also depicts attractive young men tied up and subjected to lengthy and extensive tickling. The difference here is that he honors the anonymity of the participants. His up-and-up business model sits in stark contrast to that of Jane O'Brien Media and serves to show that the practice is innocuous so long as you treat the participants with respect and honor your agreement with them.
What starts as a curiosity turns into cautionary tale about how easy it is for one person with deep pockets to ruin numerous lives via the Internet simply because they feel like it. So if that Craigslist ad offering a ton of money for something superficially harmless sounds too good to be true, it probably is. Kids, there's no such thing as easy money.
– Jessica Baxter (@tehBaxter)