THREE IDENTICAL STRANGERS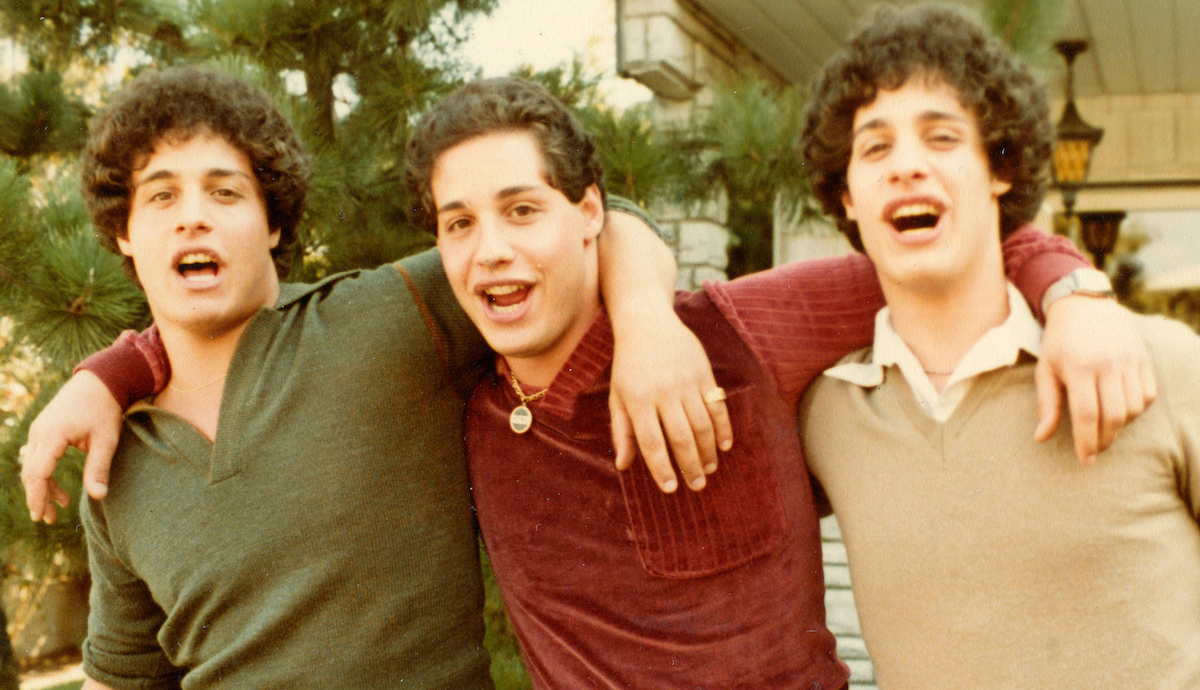 (Tim Wardle's Three Identical Strangers has been wowing audiences all summer long. It's in theaters now via Neon.)
On his first day at Sullivan Community College, in the Catskills, 19-year-old Bobby Shafran was initially pleasantly surprised, then weirded out, by the number of people who greeted him with big smiles, hugs and kisses, asking him about his summer and welcoming him back. Back? He had just arrived,,,Then, as he got to his room, a voice cried out, "Hey, Eddy!" When he explained that his name was Bobby, it was that person's turn to be shocked. After some hasty words of explanation, Bobby realized that he looked just like someone whom everybody already knew. One phone call – to said Eddy (last name Galland) – later, and Bobby was headed down to Long Island, where he met his identical twin, from whom he had somehow been separated at birth. Think that's the end? Not yet. Soon, after Newsday published an article (with photos) about the happy reunion, a third man – David Kellman, identical to the other two – came forward, making this an odd case of triplets split up while babies and adopted out to three unsuspecting families. Actually, "odd" does not even begin to describe their situation or the real-life drama chronicled in director Tim Wardle's fascinating documentary Three Identical Strangers.
Told through a mix of archival footage, reenactments and present-day interviews, the film walks us first through the personal history of each triplet and then through the larger, murkier story of how they came to be separated. It turns out that Louise Wise Services – one of New York's largest adoption agencies, specializing in the placement of Jewish children – had agreed to be part of a secret study, spearheaded, in a bit of historical irony (given the Nazi Dr. Mengele's experiments on twins), by eminent psychologist and Holocaust escapee Dr. Peter Neubauer. As we learn in the deeply disturbing second act of the film, Bobby, Eddy and David were hardly the only children deprived of their siblings, an act of administrative callousness carried out with the loftiest of scientific ideals and cruelest of consequences, all in the name of determining what the greatest influence on human nature might be: nature or nurture. Journalist Lawrence Wright (Going Clear: Scientology, Hollywood, and the Prison of Belief) is the one whose research revealed the truth, shattering what had been, up until then, a happy idyll of shared connection amongst the titular trio.
For it seems that after they found each other, the brothers experienced more than just a heretofore unknown fraternal bond; indeed, they became the talk of the town (New York) and of the nation. I was very much alive and conscious at the time, and I regret somehow missing this story, as what we see of it is a lot of fun. Fêted from talk show to talk show, they went a little wild, living together in a bachelor pad made all the crazier for having three dudes in it. By the end of the 1980s, however, they managed to settle down, get married, and start living lives of their own…sort of: their business of choice was a then-successful restaurant named "Triplets," which they collectively managed. Unfortunately, pure familial bliss was not to be their fate, through a variety of factors, and as the movie continues things take a more sober turn.
I enjoyed the opening section, cut with pizzazz to emphasize the improbability of it all, but it's the darker latter half that makes the film. The more we learn about the nefarious activities of the shadowy scientists and how the separated children (beyond the triplets) fared in later life, the more troubling the story becomes. The shattered 56-year-old faces of our once-radiant protagonists tell us, right from the start, that something didn't end well, and a certain missing person among the interviewees tells us that someone in particular probably didn't make it to the present. Wardle (One Killer Punch) proves himself a master of pacing, revealing elements of the narrative bit by bit, slowly building tension until nothing we believed at the start holds true by the end. Devastating and profound, Three Identical Strangers is gripping docu-cinema in its rawest form.
– Christopher Llewellyn Reed (@ChrisReedFilm)