(Talia Lugacy's film, This is Not a War Story is still on a festival run. It recently won the Audience Award at SF Indie and will play Cinequest end of March. Like what you see here on Hammer to Nail? Why not pay just $1.00 per month via Patreon to help keep us going?)
There's a reason that Hollywood movies about the U.S. military can feel like propaganda. It's because the Department of Defense routinely works with filmmakers to control how they're depicted on screen. According to Wikipedia, "Directors looking to borrow Army material for their movies need to apply to the DoD, and submit their scripts for vetting. Ultimately, the DoD has a say in virtually every U.S.-made movie that use military resources in their production." Talia Lugacy's bold film, This is Not a War Story, points a middle finger at what a character in the film calls, "that 'good war' bullshit". 
Lugacy writes, directs, and stars in this effective verité-style drama about the insidiousness of the United States military and the myriad ways in which society fail veterans. Rosario Dawson executive produces Lugacy's sophomore feature, which lays waste to Hollywood films like Saving Private Ryan and The Hurt Locker for glorifying war and soldiers without telling the whole story. It's not enough that we dole out painkillers for their injuries and therapy for their PTSD. The civilians who thank vets for their service don't stop to think what they might be thanking these people for. 
Lugacy plays Isabelle, a marine with a limp and an estranged mother (Frances Fisher) to show for her service. She struggles every day with physical and mental anguish. Her brother blames her for her problems. She needs direction and empathy and she is getting none of that from her family. Fortunately, she finds a place to call home in the form of a group of artistic vets who turn their uniforms into paper and then use that paper to work through their issues. Some write poetry, some draw or paint. Some turn them into mixed media sculptures using other war souvenirs. Lugacy populates her film with real vets who each get a chance to tell their story and share their art on screen. It was produced over three years as an ongoing collaboration with the thriving community of veteran artists and papermakers.
Isabelle is immediately draw to Will (Sam Adagoke), a vet around her own age who recently lost a friend and fellow vet to suicide. Isabelle comes at Will with the intensity of Deadwood's Calamity Jane, swearing up a storm, and wearing her big, raw heart on her sleeve. Will's grief is more internal. He's trying to find peace which at first prompts him to keep his distance from Isabelle. He'd been a mentor to Tim, and so he partly blames himself for his friend's death. Will doubts his ability to help another lost soul. 
Will confesses to Isabelle that he enjoys the paper-making process because it's forgiving – if you mess up, you can always start over. It's clear that Will doesn't feel forgiven for much in his life. Isabelle and Will both perk up when making the paper. The tactile process is soothing to them, and being around other vets is validating, even when they're not sharing their stories. Just knowing that they're in a room full of people who are broken in a similar way is a kind of homecoming that they can't experience in the rest of the world.  
Exacerbated by the rejection of her dying mother, Isabelle relentlessly pursues Will's friendship, following him from Brooklyn to a remote cabin upstate. There, they talk through their struggles, and find common ground. They hike through the woods and exorcise their demons around a campfire.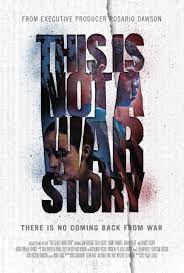 This is Not a War Story brings us the horrors of war without having to see the war itself. There are no flashback scenes. No shots of our protagonists sobbing over the bodies of their dead friends. Lugacy and Adagoke's haunted performances convey that pain effectively enough. In a particularly crushing monologue, Will imagines confronting a well-meaning civilian about what they're really thanking him for. Is it "for blowing up a school or a hospital?" The DoD would likely distance itself from a film that seeks to humanize the enemy or depict soldiers as pawns in the oil business. Will puts it beautifully when he says, "The American Dream is a nightmare for the rest of the world." 
The film also takes the opportunity to highlight other injustices brought on by capitalism and systematic racism. The line "poverty is the new slavery" really resonates in a time when the pandemic serves to further widen the class divide, as does Will's observation that you would never find an army recruiter on the upper west side. Tim overdoses on a crowded subway car because no one will look at him long enough to see that he is dying. 
The film's opening follows Tim from up and down the line, popping pills and napping on a bench as other passengers keep their distance. The song Luang Prabang by Dave Van Ronk plays like an internal monologue:
"And now the boys all envy me.
I fought for Christian Democracy
With nothing but air where my balls used to be.
Now I'm a fucking hero
In Luang Prabang there is a spot
Where the corpses of your brothers rot, 
And every corpse is a patriot, 
And every corpse is a hero."
The title could not be more apt. A war story glorifies battle and makes the protagonist a hero. But these former soldiers don't feel like heroes. They feel broken, cheated, used, and forgotten. And what good is being a hero when you're dead or wish you were. A war story paints a picture of bad guys vs. good guys. It's a fabrication. This is not a war story because it tells the truth. Fuck "that 'good war' bullshit".
– Jessica Baxter (@tehBaxter)