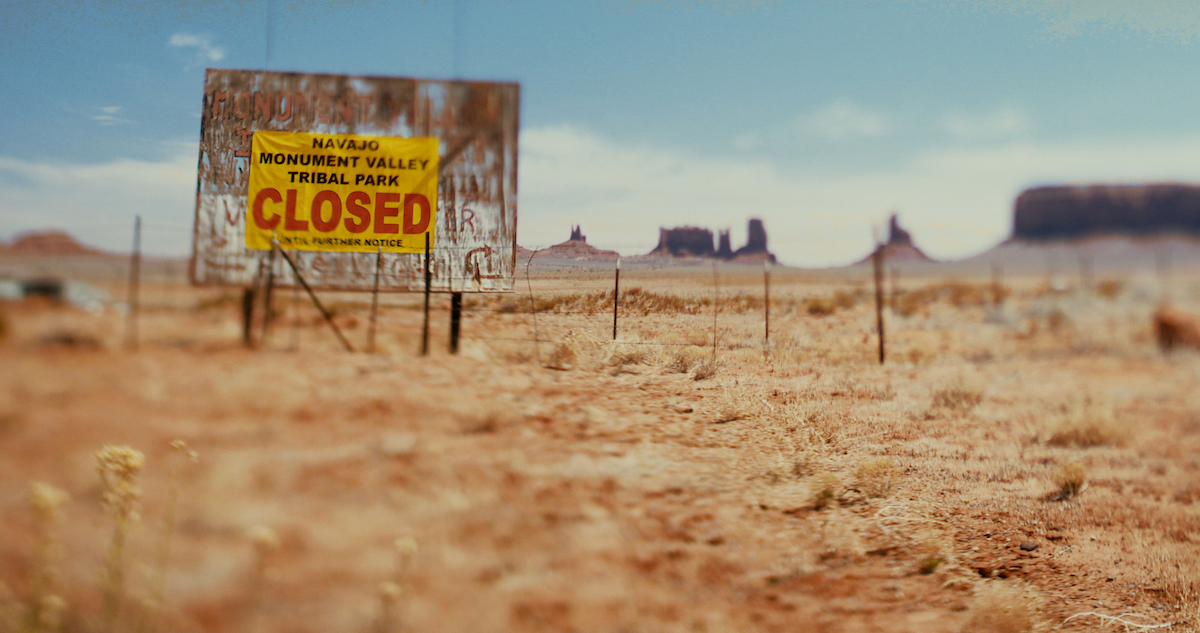 (Check out Chris Reed's movie review of The Taking, in theaters May 5, 2023 via Dekanalog. Seen it? Join the conversation with HtN on our Letterboxd Page.)
My initial visit (of two) to Monument Valley came in 2018, many years after I had first become acquainted with its striking landscapes, courtesy of many cinematic Westerns. 20th-century director John Ford is the man most indelibly associated with popularizing the location, with his 1939 Stagecoach marking his first of use of it on screen (his final film set there was the 1964 Cheyenne Autumn). Since my early appreciation of his movies is what drew me to the park, this makes me The Taking's target demographic. The film is the latest insightful documentary from Alexandre O. Philippe (Leap of Faith: William Friedkin on the Exorcist), who has become his generation's primary chronicler of Hollywood myths.
The Taking is much more than a celebration of Monument Valley—whether the real-life place or the stuff of movie magic—but instead an examination of its appropriation by people of white European background. For thousands of years before colonizers arrived, it was sacred ground to the Navajo, who now once again have controlling rights over its use. The key to Philippe's approach lies in the title: he is most interested in the violence meted out to indigenous people and how that complicates our modern-day interactions with this overly photographed (but o so beautiful) geographic marvel.
In just 75 minutes, the director walks the viewer through a vast array of images—moving and still—that show how important Monument Valley remains to the now-outmoded notions of "the West." It's not just Ford, but everyone who followed. There's something about those majestic, bleak sandstone towers, sculpted by wind and water, that captured the feeling of rugged individualism so central to the American mythology. Manifest Destiny may be justly discarded as an exalted ideal, but the iconography of the frontier remains embedded in the national psyche (at least for whites).
Even if we never see the faces of the many experts Philippe has assembled (until the final credits, though we can't at that point know who said what), their words fill the soundscape with a great variety of perspectives on the valley's history and representation. Call them "speaking voices" rather than the usual "talking heads." From indigenous authors and academics to film critics and historians and more, these knowledgeable commentators enrich the narrative, throughout.
What emerges by the end is a fascinating, robust account of a natural wonder and its function as more than just a movie backdrop. From firsthand experience (my second trip was in 2019), I can say that it takes one's breath away. Armed now with the additional understanding granted to me by the grand The Taking, I will definitely head back at least one more time. These stones deserve proper tribute.
– Christopher Llewellyn Reed (@ChrisReedFilm)
Dekanalog; Alexandre O. Philippe; The Taking documentary movie review