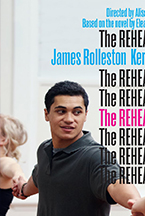 (Alison McLean's The Rehearsal, her first film since 1999'S Jesus' Son, had a pretty fair festival run and is now sneaking into theaters nationwide in limited release.)
There is something rather godlike about academic committees who determine who is accepted into their prestigious programs. If accepted, the student has a potential to become rich and famous; if declined, they might never have a chance at succeeding. Alison Maclean's The Rehearsal, which is loosely adapted from Eleanor Catton's first novel, begins with this exact idea. A selection committee from a prestigious drama school, The Institute, hovers over a tabletop covered with applications and head shots for potential students. They are determining the fates of these teenagers. (It is also hard to ignore that this film was probably cast in a similar manner.)
Their most important selection is probably Stanley (James Rolleston), a shy but handsome applicant who enters the program as a blank canvas. Stanley seems to have no personality or charm, and he has presumably never felt a strong emotion. The question remains, can his demanding instructor, Hannah (Kerry Fox), motivate Stanley to use his blankness to his benefit as an actor?
Stanley seems to use his burgeoning relationship with Isolde (Ella Edwards) as a way to experience intense emotions firsthand, but he also utilizes personal details about Isolde's family as a means to succeed in school. Their relationship is particularly transfixing because we never know when Stanley is being honest with Isolde, especially since we are aware of at least one monumental secret that he is hiding. How much of this relationship is educational research? How much of this relationship is just acting? Does Stanley love Isolde or is he just learning how to pretend to love someone?
Maclean's first feature since Jesus' Son (1999) finds intriguing ways to highlight the concepts of art and performance in a cinematic space, as The Rehearsal alternates between experimental motifs and dramatic narrative. Where this film truly exceeds is in its portrayal of the interpersonal relationships, specifically within the concept of the collective. Maclean finds way to stress that actors are not individuals, but part of a cohesive whole. They must collaborate, as the actors need to feed off each other's performances in the context of The Institute but also the film itself. Probably most importantly, The Rehearsal exemplifies the significance of passion in performance and theater.
– Don Simpson (@thatdonsimpson)