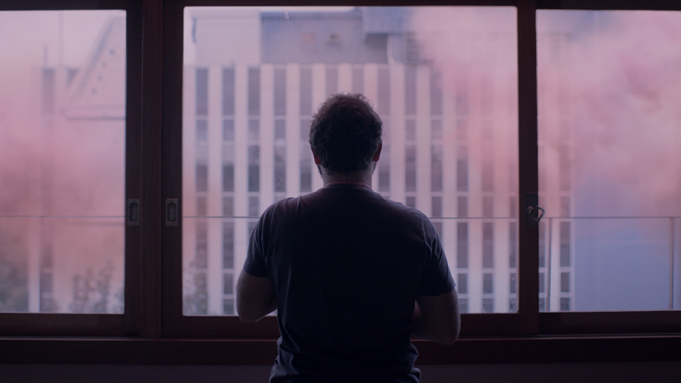 (Iuli Gerbase;s  The Pink Cloud, is still making the rounds at film festivals, most recently at the San Francisco International Film Fest. Like what you see here on Hammer to Nail? Why not pay just $1.00 per month via Patreon to help keep us going?)
The pandemic has inspired loads of films about isolated people because isolation is where we've all been for a year and a half. Surprisingly, The Pink Cloud was filmed pre-COVID, but you wouldn't know it by the way it poignantly captures the maddening nature of being stuck inside. This quiet Brazilian sci-fi feature posits: What if, when the deadly thing hit, you were immediately confined where you stood indefinitely. You're at a slumber party with your fellow tweens and one single dad. You're at the grocery store with strangers and your partner is at home, alone. You're spending a leisurely morning with the person you picked up in a bar the night before, expecting them to leave soon. No walks around the block to cool off. No therapeutic trips to Trader Joe's. These walls are now your entire world. 
That's what happens to the protagonists of The Pink Cloud, a meditative, understated disaster film from writer/director Iuli Gerbase. In this case, the McGuffin is a toxic, pink cloud that inexplicably rolls in all across the globe and kills anyone who breaths it in within 10 seconds. 
A web designer named Giovana and a chiropractor named Yago are roused after a one-night-stand by an announcement to immediately shut themselves indoors. There's not much information about the deadly pink cloud that poisoned the air, but all they need to know is that if they go outside, they will die. They check in with their loved ones and settle in to wait out the cloud. 
Gerbase's debut opens with a crucial disclaimer that she wrote the film in 2017, and filmed it in 2019. In a way, the pandemic was advantageous to the reception of the film because who couldn't relate to this story now that we've all been in quarantine for over a year? But, it's also helpful to know that it's not a film about our pandemic. We're watching a parallel universe global crisis that is relatable without being too on-the-nose. 
Giovana (Renata de Lélis) and Yago Eduardo (Mendonça) eventually come to realize that this is the "new normal" and this date is not going to end anytime soon. Their relationship status is literally make-it-work-or-die. It soon becomes apparent that they're relatively lucky. Giovana's little sister, Julia (Helena Becker) is at an eternal slumber party, with a dad that eventually starts creeping on the young girls. Her best friend, Sara (Kaya Rodrigues), is getting more and more depressed in her apartment all alone and taking a short stroll is starting to look like a good option. Yago's invalid father is at the end of his rope with his live-in nurse and talks about murdering him. Yago laughs it off at first, but his dad is not joking. This poor guy is at a job he can't quit and it might be the death of him. 
Gerbase cleverly sets the allegorical tone of the film early on when Giovana asks why the cloud isn't seeping through the cracks of the house. Yago doesn't know and anyway, it doesn't matter. The point is that they're safe inside and not outside. Likewise with the feasibility of a tube connecting distribution sites to every house via drones. You don't need to know how they can get a daily delivery of meals and whatever supplies they need through a miraculously infallible tube. It's about what living like this with no end in sight does to a person. I don't want to spoil the plot for you because not knowing what's coming is part of the relatable viewing experience. But I will say there's a moment when they think a solution is on the horizon and when it doesn't come to fruition, I felt the crushing blow in my very bones.
The propheticalness of Gerbase's script is staggering, at times, most notably in the way information circulates. At one point, there's a rumor that the cloud "might go away in winter." Giovana hears a story about a woman who died when she received a poisoned cake through the tube. Some say the cloud is a hoax, but who is brave enough to test that theory? 
We watch a relationship cycle through all the phases in record time, including trying to spice up their sex life, having a kid, separation (with a schedule for childcare and using the kitchen), dating (via the internet only), and dealing with how to raise a child when the parents have conflicting ideologies. Yago likes the cloud. He almost worships it. He gives it credit for the life he has with his partner and child. In painfully stark contrast, Giovana sees it as her jailer, trapping her in this life she never wanted. She gazes longingly at photos of nature scenes, desperately clinging to small ways of keeping life fresh inside the house.
Adding to the claustrophobia is the choice to only show external characters through communication devices. There are hints of a hellscape beyond these walls: The slumber party with the creepy dad, the woman going insane alone in her apartment, and the poor nurse trapped with a possibly homicidal senior are all having a pretty bad time. But we can see how this is a nightmare for Giovana too. She never wanted kids because she liked her freedom. Once she loses her freedom she concedes. The child won't be the one stopping her from traveling or doing what she wants. Though she loves her son, the viewer is well aware that this never would have been her life had it not been for the cloud. 
The only one enjoying himself in the film is the straight CIS man. At one point, he tells Giovana to relax. That says it all right there. 
The cloud looks so innocuous. It's pretty and fluffy, like a cloud would be above a tropical beach at sunset. So, it's annoying that it is the very thing that stops the world. The pervasiveness of the cloud gives much of the film a pink tint that casts an incongruity over the proceedings. Looking at the world through rose-colored glasses is no longer a good thing. The clever sound design includes a deceptively tinkling tune for the cloud and making good use of the ominous nature of the whooshing pulse inside Giovana's womb. One wonders if Iuli Gerbase was somehow more mentally prepared for quarantine than the rest of us. She really nailed it. On the other hand, has anyone checked on her lately? 
– Jessica Baxter (@tehBaxter)