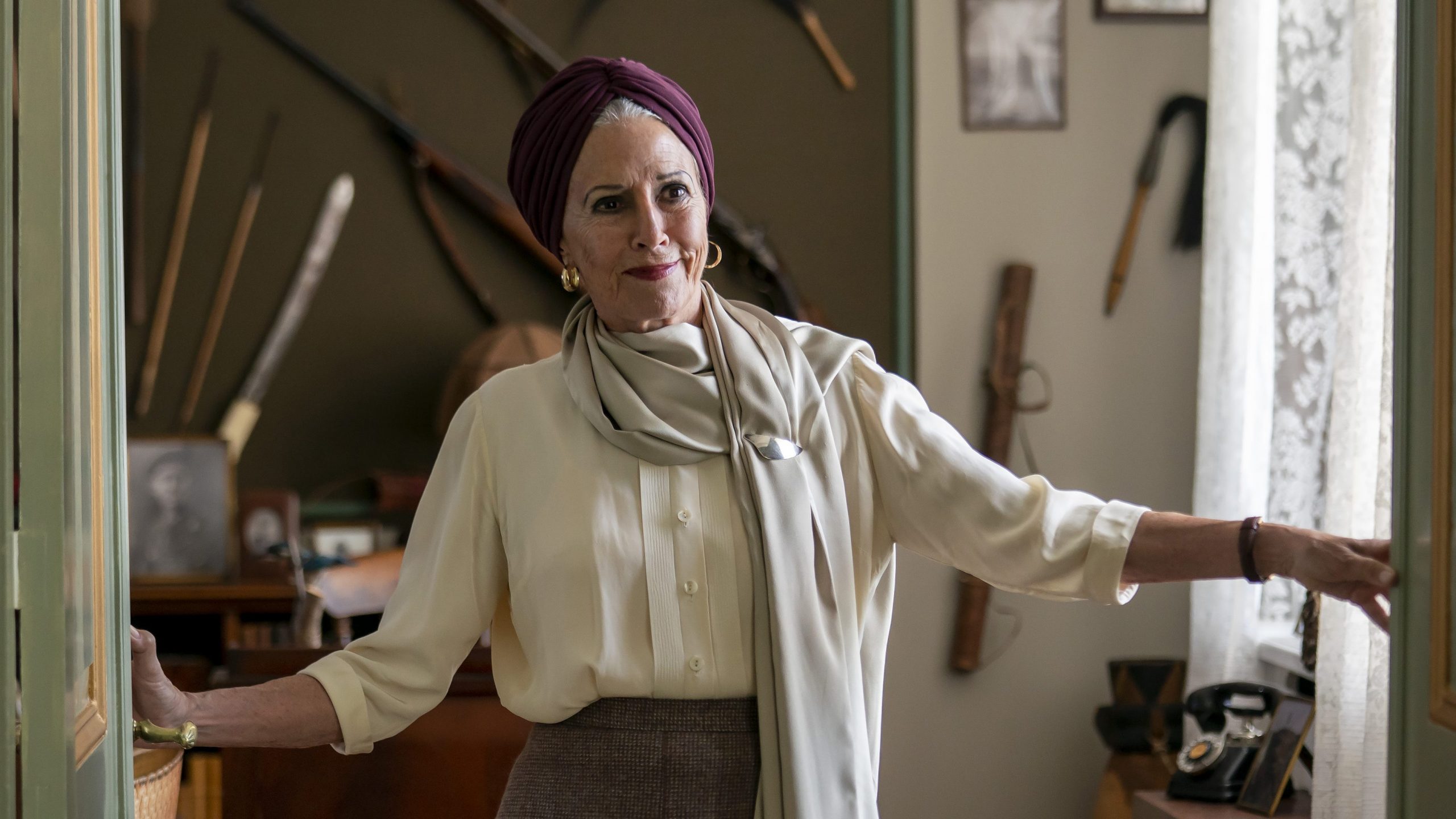 (Jonathan Marlow has this movie review of The Pact, the latest from filmmaker Billie August. Like what you see here on Hammer to Nail? Why not give just $1.00 per month via Patreon to help keep us going?)
In the opening moments of Pagten [The Pact], director Bille August wastes little time in establishing the titular arrangement between celebrated author Karen Blixen (alias Isak Dinesen, largely best-known for the collection Seven Gothic Tales and her novel Babette's Feast as well as the memoir of her time in Kenya, Out of Africa) and poet Thorkild Bjørnvig (whose autobiographical book-of-the-same-name served as the source for this adaptation): in exchange for absolute allegiance, Blixen will mentor Bjørnvig, utilizing her grand wisdom to forge the pathways to his success. Therein, August is largely less interested in the pact itself than with its aftermath.
Bjørnvig, whom Blixen affectionately and respectfully addresses as "magister" whenever their paths cross, soon leaves his wife and son to reside with his benefactor in an effort to glean whatever knowledge possible from this elder expert. Sunset Boulevard set amongst the Danish literati, perhaps (which, coincidentally, is set during the same time-period and yet seems worlds apart).
Others have found it necessary to note the so-called Faustian bargain of their relationship, invoking the words and works of Christopher Marlowe (no relation, at least as far as I know), Thomas Mann and, significantly, Johann Wolfgang von Goethe. Blixen even casually mentions a deal she'd made with the devil long ago to take everything she experiences and turn it into a story. Indeed, she tends to think of herself and those around her as characters in some grand plot. Post-pact, in the midst of a conversation about Blixen's continued despair over the death of Denys Finch Hatton decades earlier in an airplane crash, Bjørnvig mentions that there is a poem which describes the driving force of a longing both beautiful and destructive. Blixen asks for him to recite this poem from memory and he does, from its original German into Danish (and then translated into English from the Danish in the subtitles). Tellingly, though, Goethe's The Holy Longing is missing its final two lines in Bjørnvig's recitation:
And so long as you haven't experienced this: to die and so to grow,
you are only a troubled guest on the dark earth.
Thereafter, the ploy Blixen consequently constructs springs from an altogether different Goethe work: his first novel. The Sorrows of Young Werther concerns a love triangle between a young, melancholy poet and his unrequited passion for a woman already married to another man. Blixen constructs circumstances to keep Grete, Bjørnvig's wife, at a distance while persistently pairing him with Benedicte, the wife of another author. Things do not quite go as planned—do they ever?—and Blixen as puppet-master explodes when the tryst progresses beyond an intended affair to the beginnings of something plausibly more concrete. What she'd believed would be character-building has the potential to become character-destroying (since, clearly, the "longing" is far more artistically beneficial than the "having" in her estimation).
Early in the film, Blixen plays a record for Bjørnvig during a visit to her palatial estate, telling him that she hopes that the melody, when heard later in his life, will remind him of his time there. That it is one of the most substantial of melodies—the Andantino of Franz Schubert's Piano Sonata No.20 (D.959)—is otherwise unmentioned nor is it, like the Goethe poem, presented in its complete form. If you know the piece by name, the earworm is firmly planted already. If not, you'll undoubtedly recognize it (and you'll hear it again and again as a persistent reminder of their complicated—albeit platonic—relationship).
The complexities of Blixen's motivations in re-experiencing the blossoming of talent vicariously through her youthful protégé are beautifully realized by the great Birthe Neumann, perhaps best-known in the U.S. for her role in Festen [The Celebration], recently reissued in a director-approved restoration by the Criterion Collection. She is more than aptly supported by Asta Kamma August—daughter of the director and star of the forthcoming third season of The Kingdom—as Benedicte Jensen along with comparative newcomer Nana Skaarup Voss as Grete Bjørnvig. The "magister" protagonist, Simon Bennebjerg, might be familiar to some viewers from his role on the greatest of Danish television series, Borgen.
Bjørnvig, incidentally, is the autobiographical author of this tale and this detail remains unmentioned until its conclusion. Are we to assume that he is a reliable narrator in these events, someone who appears to allow things to happen to him rather than instigating any action? This sort of passivity would be potentially excruciating in the hands of lesser talents and yet adapter Christian Torpe (an in-demand television writer who previously collaborated with the director on the Ingmar Bergman-esque Stille hjerte [Silent Heart], in the way that all Scandinavian family dramas owe at least some inevitable debt to the aforementioned dramaturge) and director Bille August, one of the few filmmakers to be awarded Palmes d'Or on multiple occasions. The pair have masterful control of this material; dry, indeed, but never dull. Some have inaccurately interpreted Pagten as an overdue take-down of Karen Blixen and yet it is nothing of the sort. Bille August has a "pact" of his own (with Netflix) to adapt her Ehrengard for the small-screen. 
Any viewer expecting a period melodrama of typical biopic proportions will be in for much more if they allow themselves to be rewarded with its slow-burn of subtle details. 
—  Jonathan Marlow (@aliasMarlow)
THE PACT  [PAGTEN] movie review (2021)  dir. Bille August [115min.]  Juno Films / SF Studio [Svensk Filmindustri] / Motor Productions