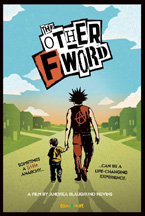 (The Other F Word is now available on DVD. It world premiered at the 2011 SXSW Film Festival and was picked up for distribution by Oscilloscope Pictures. It opened theatrically on Wednesday, November 2, 2011, at the Film Forum. Visit the film's official website to learn more.)
In its early chapters, Andrea Blaugrund Nevins's The Other F Word ambles along congenially yet unremarkably. Perhaps it's the popumentary aesthetic—snappy editing, uptempo guitar rock soundtrack, behind-the-scenes glimpse into the daily lives of notable musicians—that might have you thinking this project would have been better served as a half-hour MTV show rather than a 100-minute feature film. But something unexpected happens along the way. Insights are shared and emotions are exposed that turn The Other F Word into a genuinely poignant statement on fatherhood. Considering the source, that's saying something.
For her investigation into the what seems to be laughably hypocritical concept of "punk rockers as fathers," Nevins assembles a who's who of the sub-culture. While she initially seems to concentrate on the movement that emerged out of Hermosa Beach, California, in the 1980s, she doesn't stop there. Interviewees include: Jim Lindberg (Pennywise), Ron Reyes (Black Flag), Fat Mike (NOFX, Fat Wreck Chords), Mark Hoppus (Blink 182), Tim McIlrath (Rise Against), Duane Peters (U.S. Bombs), Tony Adolescent (The Adolescents), Art Alexis (Everclear), Lars Frederiksen (Rancid), Flea (Red Hot Chili Peppers), Brett Gurewitz (Bad Religion, Epitaph Records), Mark Mothersbaugh (Devo), Rob Chaos (Total Chaos), and more. But as we get to know these men, and as they speak upon the particular circumstances that led them to embrace punk rock culture in their early years, things don't seem so laughably hypocritical anymore.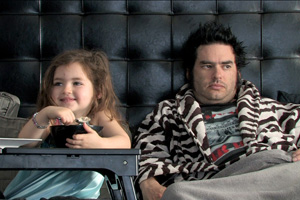 Just about all of the film's subjects came from broken homes, where they were neglected at best and abused at worst. But here's the thing about these troubled young men. Yes, they rejected authority, yes, they drank and drugged, and yes, they broke stuff, but at the same time, they were using their frustration to make music and create a new life for themselves. Along the way, lo and behold, they found new families of their very own who loved them the way they always wanted to be loved. Much is made of the concept of the "cycle of violence," but The Other F Word proves that theory wrong. It seems ironic, but the truth is that the creative souls assembled here, who felt the pain of bad parenting first-hand, who grew up angry, bitter, and isolated, actually have that rare alchemy of sensitivity and strength that simply won't allow them to be absent fathers. Of course, their profession's dependence on touring, combined with their rising age in a genre built for adolescence, complicates matters. Nonetheless, the realization that these rabble-rousers have grown to become healthy, well-adjusted father figures doesn't make sense until it makes perfect sense.
There are more joys and pains to be found throughout. The following of Pennywise lead singer Lindberg over the course of one long touring year provides the film with its most direct narrative arc, but The Other F Word is at its best when simply capturing a sweet moment between father and child (Fat Mike and his insanely adorable daughter Darla are laugh-out-loud funny), or, on the flip side of that coin, in moments of frank personal revelation (Alexis, Peters, and Flea are particularly heartbreaking). Like punk music itself, The Other F Word packs a punch; it's just surprising how sweet that punch actually is.
— Michael Tully