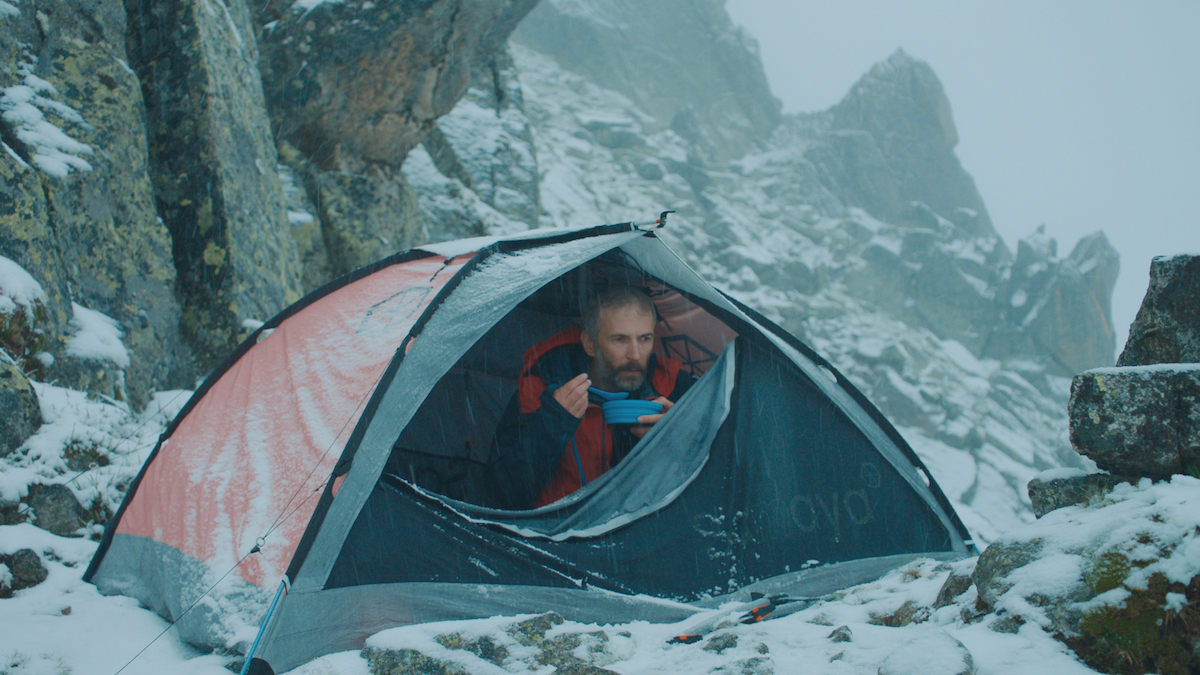 (Check out Chris Reed's movie review of The Mountain which opens today in NYC via Strand Releasing.Seen it? Join the conversation with HtN on our Letterboxd Page.)
French actor and director Thomas Salvador (Vincent) stars as Pierre in The Mountain, his latest film, which is both a gorgeous ode to the French Alps and a gentle meditation on loneliness and healing. Add some fantastical elements as commentary on climate change, and the result is an intriguing, if not always entirely cohesive, cinematic confection. With Salvador's own central performance as our sensitive guide across the peaks, we follow along, allowing each oddball twist to move us into ever stranger territory. Wild imagination can always facilitate improbable plot turns.
At the start, Pierre travels with colleagues from Paris down to Chamonix for a presentation on the latest engineering marvel of their firm. That work done, everyone prepares to leave, but Pierre begs off. There's something about the mountains looming high above the town—among them Mont Blanc, the highest summit in Western Europe—that pulls on Pierre's soul, igniting a desire within. And so he stays behind, ostensibly for the weekend.
A quick trip to a mountaineering store to buy equipment and up he goes in the gondola, reaching the top station from which he departs, backpack and snowshoes donned, to set up camp in sight of the awe-inspiring snowy caps. Still, something is a little off in this natural splendor, for the weather is hotter than normal and the glaciers are receding. Our frozen paradise is in trouble.
Salvador does not rub the viewer's nose in the science of global warming, but it is there, throughout. Mostly we are with Pierre on every step of his transformation. What was meant to be just a few days' break turns into a vacation without end, work and other aspects of his life forgotten as he proves unwilling—or unable—to leave the mountain. And though he makes a new friend in Léa (Louise Bourgoin, Dreamchild), the chef at the station restaurant, he spends his time in virtual isolation, only occasionally chatting with those who have pitched their tents nearby.
Still, melting ice nevertheless moves the story forward, drawing Pierre to visit a rockslide, and what he finds there completely transforms the narrative. What had heretofore seemed a drama about a lost man finding himself becomes, in one swoop, a work of science fiction. There's a thrill in that sudden jolt, though I was very happy enjoying the movie before this switch. What thereafter transpires continues to fascinate, albeit in very different ways.
Ultimately, Salvador mostly succeeds in bringing it all together in a satisfying, if elliptical, whole. The beautiful cinematography, courtesy of Alexis Kavyrchine (Tokyo Shaking), makes the Alps come alive (in every way, as we discover), and the emotional restraint of both Salvador and Bourgoin serve to heighten the eventual catharsis at the end. It may crumble in a few places, but The Mountain stands tall and proud.
– Christopher Llewellyn Reed (@ChrisReedFilm)
Strand Releasing; Thomas Salvador; The Mountain  movie review