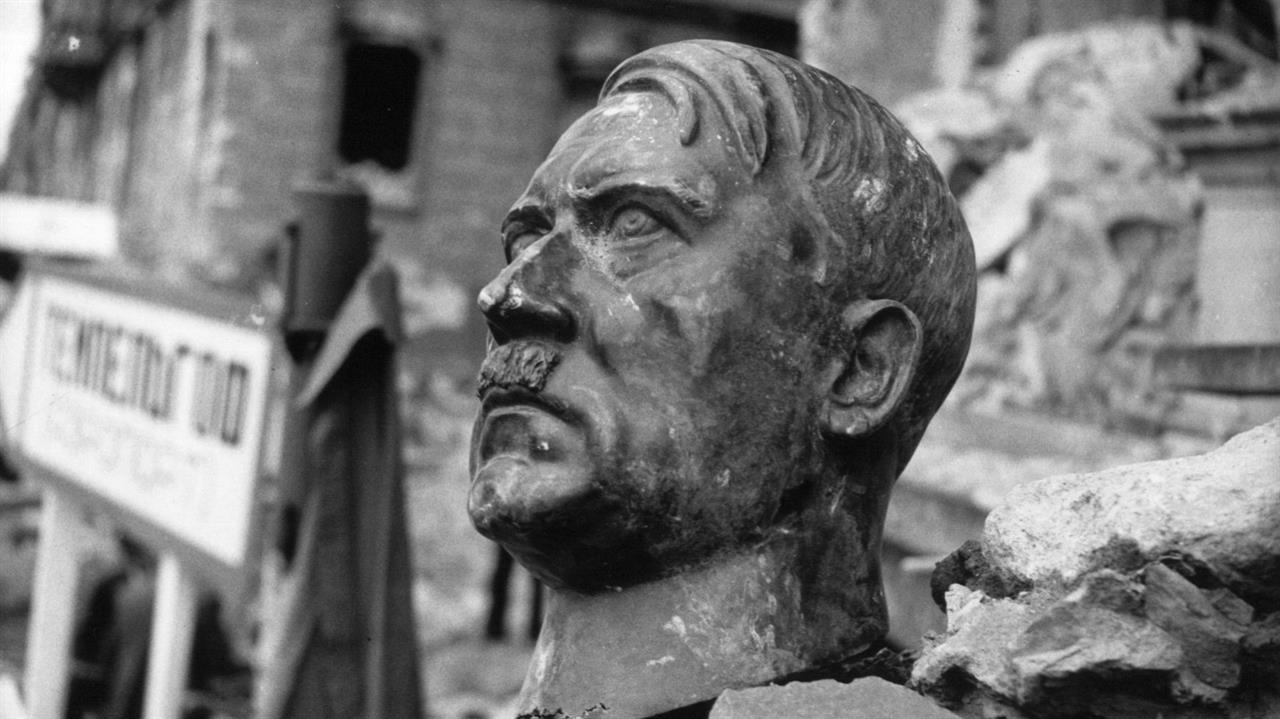 (DOC NYC runs online Nov 11 – 19, 2020 and Hammer to Nail has TONS of reviews to keep you in the loop! Like what you see here on Hammer to Nail? Why not give just $1.00 per month via Patreon to help keep us going?)
What, exactly, can one still say about Adolf Hitler, one-time dictator of Germany and genocidal murderer of millions, most of them Jews? Actually, recent studies have shown that far too many Americans do not learn about that terrible legacy, so perhaps much is still to be said! But for those of us not living in a delusional, alternate-history, Man in the High Castle-like bubble, Hitler and the Nazis seem like a well-worn (if important) subject. Enter directors Petra Epperlein and Michael Tucker (Karl Marx City) with their new documentary The Meaning of Hitler, which posits that today, with the disturbing rise of right-wing demagogues around the globe, is a perfect time to revisit who Hitler was, how he rose to power, and how he convinced millions of previously upright citizens to join him in a murderous crusade. It could happen again, and it could happen everywhere, so watch and learn.
Taking their title and structure from the eponymous 1978 book by author Sebastian Haffner (the pseudonym of Raimund Pretzel), Epperlein and Tucker interview writers, historians, museum curators, Nazi hunters and more as they travel between the United States and Europe, examining what embers still smolder from the ash heap of the past and how to avoid a future conflagration. From Martin Amis to Francine Prose, from Saul Friedländer to Deborah Lipstadt, from the director of the Führerbunker museum to the forensic scientist who examined Hitler's skull, we encounter a variety of fascinating and diverse voices on the topic at hand. We also spend time with Holocaust denier David Irving, joining him on a tour of Nazi death camps where he and his fellow anti-Semites wax ridiculous (and also quite dangerous) about their specious claims. All the while, the filmmakers ponder the serious question of whether one can make a film about Hitler without further spreading the message of Nazism.
There is, indeed, always a danger of fetishizing abhorrent ideas in the discussing of them, but here the balance of presentation vs. refutation is managed well enough to mitigate that risk. Whether we visit the Wolf's Lair in Poland, Berchtesgaden in Germany, or the U.S. Army warehouse at Fort Belvoir in Virginia (home to a collection of Nazi art), all the audio-visual information is carefully curated, both by our narrator and the experts, to contextualize what we see in the larger history of fascism and its adherents. Furthermore, Epperlein and Tucker make sure to draw clear parallels between the othering of Jews in the 1930s and the attacks on immigrants in our time. Despite these dispiriting discussions, however, they manage, somehow, to keep the tone surprisingly playful, whether via jaunty transitions, clever onscreen titles, or a lively score. This never detracts from the gravitas; it just makes it all flow nicely.
And then finally, yes, there are the obvious – but very necessary – comparisons to one Donald J. Trump. Historian Uta Frevert walks us through the mysterious power of Hitler's oratorical magnetism, explaining how he was able to motivate his followers, in cult-like fervor, to destroy the old system and engage in mass violence. The CMV3 Neumann microphone – also known as the "Hitler bottle," or "loudspeaker of the people" – was to Adolf what Twitter is to Donnie. Both served/serve as the perfect tool to amplify the message of hate spewed forth from the diseased, if (sadly) persuasive, mind of the incendiary despot. What is the "meaning of Hitler," then? That history is cyclical, and that the only defense against its repetition is knowledge and vigilance. So be aware, be afraid, and do not give up the fight.
– Christopher Llewellyn Reed (@ChrisReedFilm)