THE KING
Long Live The King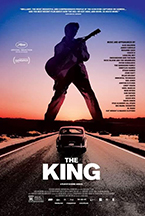 (Eugene Jarecki's documentary The King is in theaters now via our pals at Oscilloscope with more dates being added each week.)
A crazy, wild and digressive ride of a cinematic essay, director Eugene Jarecki's documentary The King uses the life of Elvis Presley as a departure point for analyzing the myth of the American Dream. Is it real? If so, does it still exist? If it ever did, then who is it for? With profound meditations on race and class, the film examines the ongoing experiment that is our nation. What makes it deliriously entertaining, instead of merely polemical, is that much of it takes place in the back seat of Presley's 1963 Rolls-Royce as it makes its slow way across the country. The fact that the car occasionally breaks down could not be a more perfect metaphor for the state of these United States in 2018.
Jarecki (The House I Live In) is no stranger to sweeping sagas, and is not afraid to make himself part of the story, as he does here. At one point, ruminating to a member of his road crew (driving the vehicle towing the broken-down Rolls) about his intentions, he asks, "What kind of film do you think I'm making?" The man replies that he thinks Jarecki is, indeed, using Presley's rise and fall to reflect our own country's decline, but that he, himself, believes we are stagnant, rather than tumbling. Perhaps. Whatever one thinks of Elvis or America, it's fun to be part of the process.
Many other voices become part of the conversation, including actor Alec Baldwin, political strategist James Carville, hip-hop musician Chuck D (of Public Enemy), singer Emmylou Harris, actor Ethan Hawke (a bit of an Elvis aficionado, it turns out), actor Ashton Kutcher, TV showrunner David Simon, news commentator Van Jones, blues musician Leo "Bud" Welch (an Elvis contemporary, now deceased) and more. There could be more women, but it's still quite a mix. We are also treated to performances – in said backseat – by the likes of EmiSunshine and the Rain, The Handsome Family, Immortal Technique and M. Ward. All of these disparate bits, recorded mostly in the subjects' respective hometowns and linked by the Elvis connection, are stitched together into a fascinating patchwork quilt of a movie, holding our interest throughout.
I particularly enjoyed the passages on race and cultural appropriation, courtesy of Van Jones and Chuck D, who differ (only slightly) on the meaning of Presley's legacy. Jones sees Elvis as a symbol of how white America stole the contributions of black America and called them their own, whereas Chuck D sees the process as slightly more organic, less directly intentional or malicious. For Presley, a poor kid who grew up side by side with poor blacks, the music of his neighbors became his own. In that sense, we could look at his story as one as much about cultural assimilation as appropriation, which truly is at the heart of the myth of America. I tend to agree more with Jones, but others may have a point, too. However one feels, it is to Jarecki's credit that he allows all to speak, making for a vibrant discussion in this bejeweled, rococo crown of a portrait that would make even late-period Vegas Elvis proud.
– Christopher Llewellyn Reed (@ChrisReedFilm
One Response to "THE KING"
Guillermo F. Perez-Argüello Says:
July 22nd, 2018 at 11:51 am

Probably one of the few people who really understood Elvis Presley was Stephen Barnard. In his book "Popular Music, Volume I: Folk or Popular?", a publication director Jarecky should have read before trying to make any metaphor, about anything, especially about Presley, he describes him as follows. And I quote 'He never understood the artistic claims that were made for him, probably thought very little of the nature of his appeal or his music; yet, as author Greil Marcus points out in 'Mystery Train', it is possible to see (all that) as a positive factor; Presley viewed his music as for the body, not the mind, so he recorded and performed accordingly; and, if much of his music sounds superficial, it was thanks to his undoubted vocal talent and extraordinary charisma that, at least, it was all gloriously superficial and celebratory; he knew better than to take it seriously and, in doing so, he become the consummate music figure, one that defines its spirit by delighting in its very limitations. Unquote Too bad neither the documentary nor the reviewer realizes, that it was not just that Presley never took himself that seriously, but that the title of the documentary, as witnessed in 1974 by some 17,000 concert goers at the University of Notre Dame Athletic Center, was what he hated the most. So there is simply no metaphor to be found. It takes two to tango….
Leave a Reply