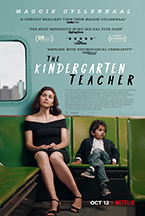 (Sara Colangelo's second feature, The Kindergarten Teacher , is available now on Netflix.)
The second feature from director Sara Colangelo, The Kindergarten Teacher – an American adaptation of an eponymous 2014 Israeli film by Nadav Lapid – tells the story of Lisa, a teacher who becomes convinced that not only is one of her students a poetic genius, but that she is the sole person able to shepherd him towards greatness. A fortysomething wife and mother of two teenagers, she feels alienated from family and modern life, dissatisfied with her place in both, and therefore more than ready to take on the role of mentor and savior to a new acolyte. What starts out as benign interest soon transforms into unhealthy obsession, however, leading to life-altering consequences. Though the film disturbs, its portrait of an unsettling midlife crisis forces us to examine our own relationship to art and profundity, asking what we would be prepared to do to safeguard a little precious beauty.
Maggie Gyllenhaal (Hysteria), as Lisa, delivers a committed, heartfelt performance, carrying us through the worst of her character's inappropriate behavior as she breaks down pedagogical boundary after boundary. When we first meet her, she sits in an after-work poetry class taught by Gael García Bernal (Museo), uninspired (and uninspiring), but hopeful. Staring out the window of the Staten Island Ferry on her way home, she clearly longs for something more than she's got, though what that is, she doesn't yet know. The next day, we see what a patient and kind kindergarten teacher she is, clearly devoted to her charges, though also a prisoner of routine. But then, when young Jimmy (a remarkable Parker Sevak) breaks out into verse as he paces, trance-like, she furiously starts scribbling it down. His is the raw voice of an untutored prodigy. She will become his muse and guide.
Unfortunately, good intentions often pave the way for something less benevolent, and Lisa quickly loses perspective in her drive to protect Jimmy from the corrupting influence of anyone who would distract him. Emboldened by her readings of his poems in night class, passing them off, initially, as her own – everyone remarks on the sudden improvement in her writing – Lisa takes further steps down an increasingly fraught path. Her own disaffection from husband and kids adds fuel to the metaphorical hellfire. How far will she go?
Despite the troubling subject matter, the film is rendered in calm tones and gentle moments, Lisa's and Jimmy's relationship always warm and affectionate (the boy is five, after all, and mostly unaware of how he is used). Gyllenhaal holds our attention with every nuance of her behavior, while Sevak is a real find, his eyes pools of simultaneous innocence and wisdom. And while we're never quite sure what to make of Lisa's slide into contained delirium, we never doubt that, in her mind, she is doing what is best for Jimmy; brilliance must be nurtured. Colangelo (Little Accidents) walks us through the existential Rubicon with a fine combination of empathy and dispassion, exploring the possibility that Lisa may not be all wrong, even if misguided. What price greatness? Though the initial answer seems easy, the great value of the film is how it makes clear the truth is never simple.
– Christopher Llewellyn Reed (@ChrisReedFilm)